Description
LexLab presents:
DRIVING CHANGE: THE LAW, ARTIFICIAL INTELLIGENCE, AND AUTONOMOUS VEHICLES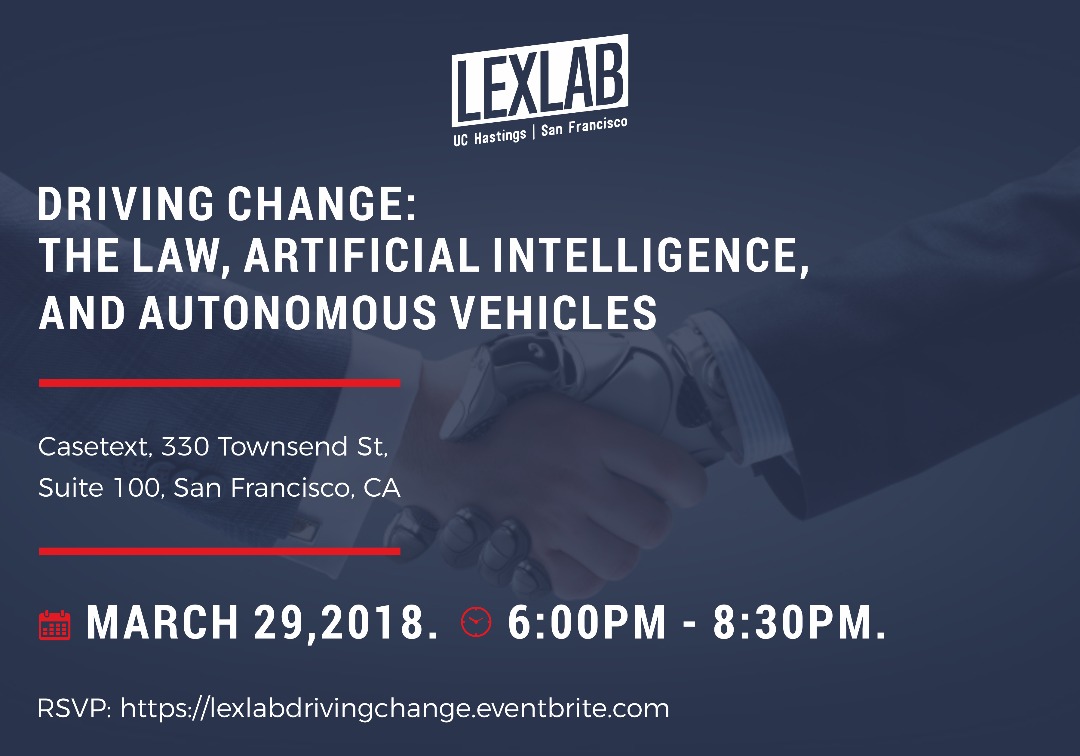 Join us on March 29th for presentations on innovation in the delivery of legal services and an exclusive discussion on the issues that arise from testing driverless vehicles on public streets.
LexTalk speakers will address the ways legal innovation and artificial intelligence will drive change in legal services, legal education, and access to justice. Speakers will include the CEO of Casetext, the Head of Legal Project Management in the Americas, HoganLovells, the Head of Intellectual Property at Square, the General Counsel at Scale Ventures and the Dean and Chancellor of UC Hastings.
The fishbowl panel on Autonomous Vehicles will bring together the foremost experts in the field to address the issues that arise from the testing of driverless cars on city streets. There will be representatives from city government, the autonomous vehicle industry, policy think tanks, and academic institutions, all of whom are leaders in the field. In our fishbowl style panel, a seat remains empty at all times. Audience members are welcome to join the discussion to add questions or comments at any point.
This panel will be governed by the Chatham House Rule. There will be no recording or public disclosure of what is said during the fishbowl panel on autonomous vehicles. This is an exclusive opportunity to participate in a frank discussion with experts in this field.
Refreshments will be served. Limited seating available.
Learn more: https://drivingchange.splashthat.com/

Visit the LexLab website: http://lexlab.uchastings.edu/