Description


Dreams don't come true because it's difficult to stick to our own plans.
DrivenWoman is a supportive network for women who want to lead a bigger life.
Imagine if you actually achieved what you always wanted. Launched that business, wrote that novel, made that career change, lived a bigger life – how amazing would that be?
DrivenWoman is a members' network that helps women define their own success, become accountable to their goals and make dreams happen. We get together once a month to create positive habits and put plans into action, one small step at a time.
This is where networking meets life coaching, but this time your coaches are other women sharing their journey. The really powerful thing about going through the shared experience of LifeWorking is that it impacts directly on your positivity and belief in your own potential. Instead of the sense of isolation you may have felt before, you will be inspired by the stories of other participants and will soon notice that the obstacles you thought were unique to you are universal to most women.
The monthly Lifeworking exercises help you expand your awareness about what you really want in life, set better and more meaningful goals and create those valuable 'aha' moments that set you on a faster path to success.
There aren't any other forums like this where women support each other in such a safe and honest environment. It's a community that encourages women to believe anything is possible if you are ready to put work into it!
Join our Lifeworking™ Workshop where you will:
- Articulate what you want to achieve – what does your 'bigger life' look like?
- Set your long-term goal and short-term tasks, and break them down into tangible, achievable action points you can tackle
- Share and hear stories of other like-minded women. Be inspired by the stories of other participants and notice that the obstacles you thought were unique to you are universal to most women.
- Get a sense of clarity of your journey ahead, be it to start your own business, take your career to the next level or simply to become more comfortable in your own skin.
There is no commitment to join DrivenWoman afterwards. Just come along.
That's what DrivenWoman is all about. Encouraging everyone to make things happen!
Group Leaders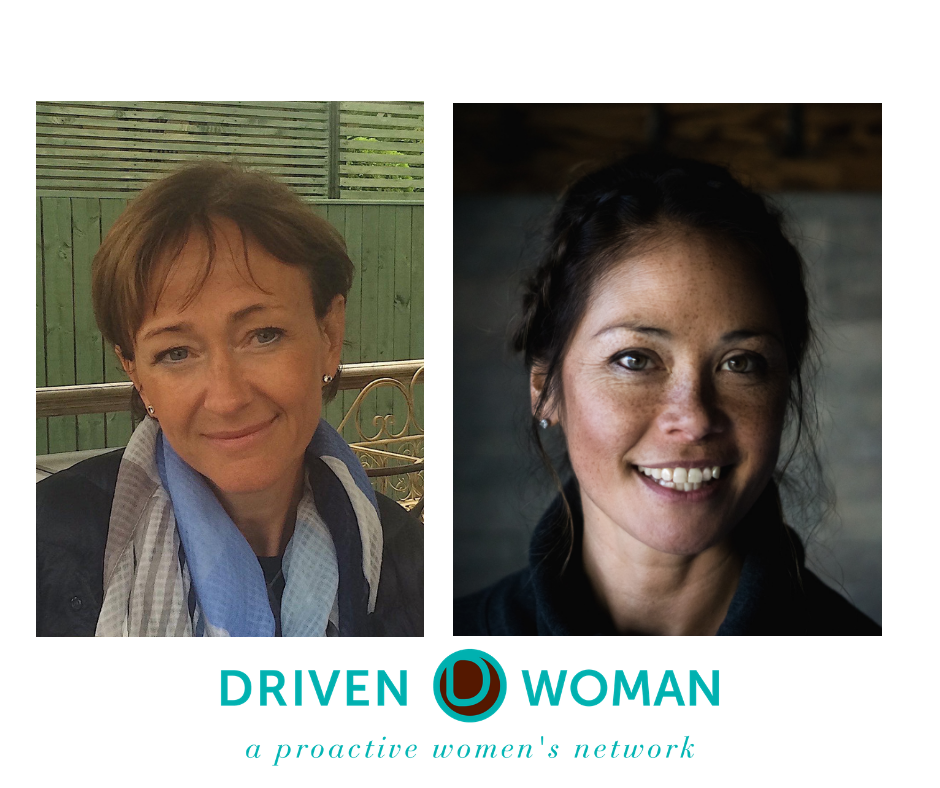 Malin is a group leader for the Geneva area in Switzerland. Malin is an accredited coach within ICF (International Coach Federation). She is passionate about helping others reach their full potential, both on a personal and a professional level. As an eternal expat, Malin has lived, worked, studied and raised a family across three continents and eight countries. Having changed directions and reinvented herself over and over again, she now wants to reach out and support women who want to achieve their goals and create their own success.
Penney is a group leader for DrivenWoman in Switzerland. Originally a physio, pilates/ yoga instructor and health coach/mentor, she is currently running online wellness programs and retreats worldwide. She is from the US but has lived with her family in Switzerland for over 10 years. She believes that everyone deserves to be living at their full potential and it starts from a place of understanding your passions. Living a life that you dream of happens when you can visualize it and take steps towards it while surrounding yourself with like-minded people who build you up. For Penney, this is what DrivenWoman provides.
After only a couple of months members notice a tangible change in their lives, here's what some of our members say:
"Since joining DrivenWoman in May, I have got more done in three months than what I got done in the previous year. It has been an eye-opening experience, super inspirational and most importantly it has got me focused on what I really need to do." Jane De Croos, founder of Chilli Drops
"DrivenWoman has been a life-changing experience for me. I previously worked in male-dominated industries, with barely any women in leadership roles to aspire to. I was fairly disillusioned about what I could achieve in business as a woman. But DrivenWoman has encouraged me to think differently, to challenge myself and to be brave. I no longer compare myself to others or aspire to be someone else, I aim to be the best, most authentic version of me and to truly value what I bring to the table. That belief in myself, and brand me, is paying dividends in terms of client work. So not only is my business thriving, but I also have the advantage of being surrounded by a wonderful network of supportive women from all different backgrounds and perspectives who are my personal cheerleaders. When I'm having tough times, they help lift me up and when I'm on a roll they inspire me to push myself further." Natalie Davison Director of Swell Communications
"When I joined DrivenWoman I thought I was signing up for a monthly opportunity to network and interact with like-minded women, but what I didn't know was that I was embarking on a transformational journey so gentle that it has changed me without me fully realising. It is only now, after 9 months, that I can look back and see how much I have travelled, first and foremost as a woman and secondly as a professional. There is some magic that happens when we get together to offer each other a supportive space where a story can be told - both the act of listening and being listened to opens up doors of opportunities within oneself and new routes for one's journey appear. With DrivenWoman, I got what I signed up for. And so much more." Francesca Lando, Designer
"DrivenWoman has not only inspired me and given me the courage to go ahead with my business, but they have also made me understand some of the fundamentals of business and what will make my company successful. It has been an eye opener and something that will change my life." Vuyisa Akuchie, founder of Sweet Couture Surprises
DrivenWoman Switzerland
DrivenWoman Switzerland is part of the dynamic group of women who meet regularly around the world (in London, Edinburgh, Manchester, Helsinki, Munich, Paris, Zurich and Bern to name but a few). Attendance at an introduction workshop is mandatory for membership. Introductions are organised every month in many cities in Switzerland.
We offer 6 or 12-month paid memberships and you can join in any month suitable for you for 69 Euros per month (minimum 6-month commitment). The fee covers the attendance to the Monthly Members' Meetings and 25% discount on other DrivenWoman events, such as workshops, socials and the Festival of Doers.
For more information please visit the membership page on our website or Facebook page.
Or join our private community on Facebook in our free Doers Tribe!
Introduction à DrivenWoman – Un réseau international de femmes
DrivenWoman est un réseau pour les femmes qui souhaitent faire grandir leurs idées, atteindre leurs objectifs professionnels ou personnels, qui souhaitent se dépasser. Dans ce réseau, chacune contribue à la réussite des autres.
Nos rêves ne se réalisent pas car il est souvent difficile de tenir nos résolutions ou qu'on ne sait pas toujours par où commencer.
Alors, imaginez obtenir tout ce que vous avez toujours voulu réaliser et atteindre dans la vie.
Créer votre boîte, enfin écrire ce livre, changer d'orientation professionnelle, améliorer votre train de vie et vivre votre 'bigger life' – ceci ne serait-il pas formidable?
DrivenWoman est un réseau de membres qui aident les femmes à définir leur propre succès, atteindre leurs buts et projets de vie, et réaliser leurs rêves.
Nous sommes convaincues que vous avez toutes les ressources en vous et nous sommes là pour vous aider à vous révéler.
Nous nous réunissons une fois par mois pour créer des habitudes positives et réaliser de grands projets. Nous croyons que ce sont des petits objectifs mis bout à bout qui mènent au succès.
La méthode 'LifeWorking'
Les réunions sont animées par des groupes leaders formées à la méthode DrivenWoman. Elles sont là pour animer la réunion, veiller au respect du cadre et de l'éthique et vous donner les clés au travers des exercices 'LifeWorking'.
DrivenWoman c'est la rencontre entre les avantages de faire partie d'un réseau et les avantages du 'life coaching', mais cette fois ici, les coaches sont d'autres femmes qui partagent leurs parcours.
Il y a un effet très puissant dans l'expérience partagée du concept 'LifeWorking' qui a un impact direct sur votre positivité et votre confiance en votre potentiel.
Si vous vous sentiez isolée avant, vous serez inspirée par les histoires des autres participantes et vous découvrirez rapidement que des obstacles que vous avez pu rencontrer dans votre cas, ne sont pas insolites mais universels et qu'ils peuvent être surmontés.
Ils n'existent pas d'autres réseaux semblables où les femmes s'épaulent dans un environnement aussi sûr, efficace et authentique.
C'est une communauté qui encourage les femmes à croire que tout est possible si vous êtes prêtes à vous investir et entrer dans ce cercle vertueux.
REJOIGNEZ-NOUS et participez à notre soirée d'introduction
Lors de cette session de 2h vous aurez la chance de
Définir vos buts – et imaginer à quoi ressemble votre 'bigger life'
Définir vos projets de vie et objectifs à long terme. De les diviser en actions plus petites à court terme, des actions concrètes, tangibles et réalisables que vous pourrez commencer à travailler immédiatement.
Partagez et écoutez les récits d'autres femmes sur la même longueur d'ondes que vous. Vous laissez inspirer et vous rendre compte que les obstacles que vous croyiez être uniques et insurmontables sont universels et surmontables.
Commencez à clarifier vos ambitions : que ce soit de devenir entrepreneur, avancer dans votre carrière, ou tout simplement vous sentir mieux dans votre peau.
Il n'y a aucune obligation à adhérer à DrivenWoman après. Venez tout simplement.
La propostion de DrivenWoman, est d'encourager chacune à réaliser l'impossible!
Au bout de quelques mois seulement des membres constatent un véritable changement dans leur vie. Voici les témoignages de quelques-unes:
« Après avoir joint DrivenWoman en Mai, j'ai pu aboutir en trois mois plus que dans toute l'année précédente. Cela a été une expérience qui m'a ouvert les yeux, m'a énormément inspirée et ce qui est plus important, m'a focalisée sur ce qui est essentiel pour moi." Jane De Croos, fondatrice de Chilli Drops
« DrivenWoman est une expérience qui a changé ma vie. Avant je travaillais dans des industries à dominance masculine, avec très peu de femmes modèles dans des positions à décisions. J'étais assez désillusionnée concernant mon avenir en tant que femme dans le monde des affaires. Mais DrivenWoman m'a encouragée à penser différemment, d´être motivée et audacieuse. Je ne me compare plus aux autres et ne souhaite plus vivre une vie à la place de quelqu'un d'autre. Je veux être la meilleure version de moi-même d'une manière authentique et de vraiment apprécier ma valeur et ce que j'apporte sur la table. Cette confiance en moi et en ma marque, a portée de véritables fruits en termes de clientèle. Ce ne sont pas seulement mes affaires qui sont florissantes, mais j'ai aussi l'avantage d'être entourée par un merveilleux réseau de femmes de différentes origines et perspectives qui sont mes cheerleaders personnelles. Elles m'épaulent dans des moments difficiles, et quand tout va bien elles m'inspirent pour aller encore plus loin." Natalie Davison Directrice < -Swell Communications
« Quand j'ai joint DrivenWoman je pensais m'engager pour une opportunité mensuelle pour des échanges en réseau avec des femmes aussi motivées. Mais je ne savais pas que je m'étais embarquée pour un voyage qui m'a transformée d'une manière si subtile que j'en suis ressortie changée sans me rendre compte. Maintenant 9 mois plus tard, en regardant en arrière, je réalise combien j'ai avancée, en tant que femme et sur le plan professionnel. Il y a une espèce de magie qui opère quand nous sommes réunies, avec un espace à écouter des histoires - le fait d'écouter et d'être écoutée fournit des opportunités pour nous-mêmes et de nouveaux chemins apparaissent. Avec DrivenWoman, mes attentes ont été comblées. Et beaucoup plus que cela." Francesca Lando, Designer
"DrivenWoman non seulement m'a inspiré et m'a donné le courage de foncer avec mon entreprise, mais elles m'ont aussi fait comprendre certains des fondements de mon entreprise et ce qui fera d'elle son succès. Cela m'a ouvert les yeux et a changé ma vie." Vuyisa Akuchie, fondatrice de Sweet Couture Surprises