"Drive: The Amazing Truth About What Motivates Us" by Daniel Pink--The Jul...
Description
"The 'Synk Notes' are better than the book. You learn the book without having to read it."
The July Book Club selection is Drive: The Amazing Truth About what Motivates Us by Daniel Pink, will challenge all of your ideas about what motivates people at work.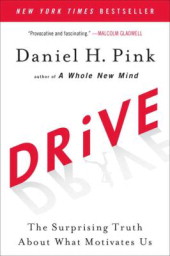 Here's a summary of the book:
"Everything about the world around us today is different than it used to be. Jobs are different. Challenges are different. And motivation has to be different. Actually understanding and embracing "intrinsic" motivation is a survival skill for this new era.."We'll begin the review precisely at 8:01 followed by a discussion. We wrap up no later that 8:45. Networking before and after. Coffee and "Synk Notes" provided.
Join us for the review and discussion of this book that will make your teams more effective.
"It's like reading, learning, and digesting a book in 45 minutes. Unbelievable"
Sponsored by: