Drive Operational Effectiveness: Increase EBITDA by 3+% of Revenue

Wednesday, October 2, 2013 at 1:00 PM

-

Wednesday, December 31, 2014 at 2:00 PM (EDT)
Event Details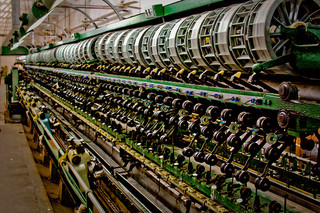 Drive Operational Effectiveness:
 Increase EBITDA by 3+% of Revenue 
An Executive Briefing on Profit Velocity
Your operations are efficient.  But are they effective?
If you are managing an asset-intensive manufacturing operation, you have probably been optimizing the efficiency of your business for years.  You have cut, reduced, and streamlined.  You have squeezed every ounce of productivity you can out of your operations and supply chain.  Yet you are still confronted by a number of challenges:
Are we offering too many products?

Are sales and production teams aligned on a common goal / metric?

How can I have better visibility into which products and customers really drive profitability, beyond raw sales figures?
Unit Margin vs Profit Velocity
For industrial manufacturers whose primary investment is in production equipment, unit margin does not reflect the return on assets invested in making the product.  When armed with the metric of cash contribution per hour of machine time (aka "profit velocity") at an SKU or customer level, management teams can precisely measure the effectiveness of their assets, and optimize their mix of customers, products, and assets to drive significant improvements in cash contribution.
Our panel of experts will present the concepts behind the new discipline of "profit velocity", along with best practices and success stories.
Click Here to See Ticket Information and Register
Who Should Attend? 
Those in executive leadership within high mix, asset intensive industries, who have already tried the usual continuous improvement techniques to drive increased profitability.



Mid-level managers who are tasked with demonstrating ROI from investment decisions and established equipment, or who plan product mix and sales decisions to maximize profitability.
About the Presenters

Mr. Timothy Raven
With more than 20 years corporate finance and business strategy experience, Timothy Raven is an expert at advising business owners and corporate executives on approaches to maximizing shareholder value.  Mr. Raven has served as a Director with Ernst & Young Corporate Finance, where he was responsible for advising on mergers and acquisitions transactions, restructurings, and for assisting clients in raising debt and equity in private capital markets. He has also held positions with Barclays Capital in its Mining & Metals Group and with Arthur Andersen.
Mr. Joseph Paris

Joseph Paris currently serves as chairman of XONITEK, an Operations Management consultancy firm founded in 1985 and specializing in helping its client companies pursue "Operational Excellence by Design" – achieving optimal and sustainable performance by exuding Leadership, establishing a Culture for Transformational Change, and leveraging the methodologies and tools of Lean Six-Sigma.
Mr. Joel Stanwood

As a partner at American Industrial Partners ("AIP") , an operationally-oriented middle market private equity firm that makes control investments in North American based industrial businesses serving domestic and global markets, Joel Stanwood has over a decade of experience in efficiency improvement and design experience within manufacturing and technology organizations.  In addition to his work in private equity, he was previously employed directly by several global production organizations, including Siemens, BMW, and Motorola.
Event Schedule - Wednesday, October 2, 2013
1:00pm - 1:30pm Eastern:  Interactive Presentation
Our panel of experts will present a briefing on the philosophy and methodology behind the Profit Velocity framework for measuring cash output in asset-intensive manufacturing organizations.
What exactly is Profit Velocity?  How is it unique?

Why is PV important in an effective Operational Excellence program?

How does it build on traditional Lean Six Sigma success?

How is it being used in successful manufacturing organizations today?

What results can be expected?
1:30pm - 1:45pm:  Open Q&A
After the briefing, the experts will remain on the session to answer questions from the audience and provide additional information and perspectives.
Photo credit: Daniel Foster (flickr/danielfoster437)
Click Here to See Ticket Information and Register
When
Wednesday, October 2, 2013 at 1:00 PM

-

Wednesday, December 31, 2014 at 2:00 PM (EDT)
Add to my calendar
Organizer
XONITEK is a boutique consulting firm dedicated to helping companies in their pursuit of achieving Operational Excellence.  Our consulting services include strategic advice, tactical training, logistical organization, and leadership support for organizations, to create a corporate culture of change and improvement.
We measure our success on how quickly our clients commit and own the environment that we have created together, working with and in the best interest of our clients.