Sales Have Ended
Registrations are closed
Looking to register for the replay? Visit AdventureClub.com > Virtual Events > Active Replays to browse our active replays, which expire one week after the program's original air date.
Sales Have Ended
Registrations are closed
Looking to register for the replay? Visit AdventureClub.com > Virtual Events > Active Replays to browse our active replays, which expire one week after the program's original air date.
Can't make it live? Register and get access to the full replay for one week! New York Adventure Club | www.AdventureClub.com
About this event
Although there were once close to 5,000 drive-in movie theaters around the United States by the 1950s, all but around 300 have ceased to exist. What made them a normal part of life for generations of Americans? And why didn't they survive, given that our love for cars and movies has only grown stronger? With the help of one documentarian, who has traveled to over 500 drive-in locations in 49 states, it's time to grab your popcorn and drive through one of the most fascinating facets of American life — one that has unexpectedly seen a comeback that could be here to stay.
Join New York Adventure Club as we explore the rise, fall, and present-day resurgence of the drive-in movie theater — invented in 1933, these outdoor cinematic destinations would come to define American culture in the decades following World War II.
Led by award-winning documentarian April Wright — Director of Going Attractions: The Definitive Story of the American Drive-in Movie — our fun, nostalgic, and captivating virtual trip through the cultural phenomenon of drive-in movies will include:
The origin story of the first drive-in movie theater, and details surrounding the roughly 100 theaters built prior to World War II
The stratospheric rise of drive-ins after World War II, thanks in part to the baby-boom to suburban expansion
Elements that came to define the drive-in, including the snack bar, in-car speakers, and neon marquees
Drive-in culture throughout the decades, from being the go-to date spot in the 1960s and '70s to a modern one in Montana that features a roller-coaster around the screen
A look at what led to the demise of drive-ins after their peak in 1958
The future of drive-in movie theaters, and whether the surge in popularity and awareness experienced during COVID can revitalize the industry
Personal stories and exclusive photos surrounding April's documentary, Going Attractions: The Definitive Story of the American Drive-in Movie
Afterward, we'll have a Q&A with April — any and all questions about drive-in movie theaters are welcomed and encouraged!
Can't make it live? Don't worry, you'll have access to the full replay for one week!
See you there, virtually!
*Immediately upon registering, you will receive a separate, automated email containing the link to join this webinar
**For the best possible viewing experience, please ensure you're using the latest version of your internet browser — Google Chrome is the most compatible. Exact technical requirements and a webinar user guide will be shared in the automated confirmation email upon registration.
***A full replay of the experience will be available to all registered guests for up to a week
About April
April Wright is an award winning filmmaker who brings a fresh and creative approach to her documentaries and narrative projects. She's drawn to material based on real events, especially stories with an unexpected hero or point of view. Working as a narrative programmer for the Sundance Film Festival for the past 15 years, Sundance has been her film school.
April is a member of the Alliance of Women Directors, Film Independent, the International Documentary Association, Women in Film, Film Fatales, and she is an alumni of the Sundance Institute. Before working in film and television, April received an MBA from Northwestern and had a successful business career working for companies like AT&T, Delta Air Lines, Mattel, and Caesars Palace. While making her documentary on drive-in movies, she visited every state except Alaska.
Testimonials
"Loved the archival pictures and video clips from the speaker's documentary." -Erin
"Love the photos in the stories and the history of why it happened is the phenomenon and where it is right now. Love her personal stories." -Sharon
"Thoroughly researched, excellent comments and lots of supporting videos and photos." -Don
"I liked the genuineness, sincerity of the presenter and her love of drive-ins. It was infectious. The audience was great too. This is the first time I saw in the chat only write kind things or something like that. I really appreciated that and the chat afforded a kind of sharing. It also help me remember a very happy time in my life, going to drive-ins with my family and loved sharing that with other people." -Ssan
"Extremely interesting and fun at the same time." -Rosmary
"The speaker had such passion for her subject and it was very well researched." -Carole
"I liked the pictures contrasting drive-ins then and now." -Ronald
"One of the best ones I've been to. her enthusiasm and knowledge of this unique topic was spellbinding."
"Fun topic, loved the nostalgia. Very knowledgeable presenter." -Robin
"Just a very interesting and nostalgic topic! I grew up going to drive-ins with my family so it brought back many memories!" -Jeanne
"April's presentation was wonderful. She was well prepared and knowledgeable about the subject matter. I loved all the photos of the drive ins and the video clips from her documentary were fun to watch. I plan to watch the full documentary." -Wendy
"I grew up going to Drive-In movie theaters. It brought back amazing memories and I enjoyed learning the history behind the Drive-In theaters." Elizabeth
"The hosts knowledge and enthusiasm; great visuals. This was just a fun course." -Jeff
"Great visuals! The presenter was knowledgeable and engaging." -Wendy
"Fascinating topic covered in depth by an expert." -Josh
Disclaimer
By attending a New York Adventure Club experience, you accept our terms of service.
Main Photo: Jona, B&W Photo: David Clode
Categories: Virtual, Landmarks
Organizer of 'Drive-in Movies: Rise, Fall, and Rebirth of an American Icon' Webinar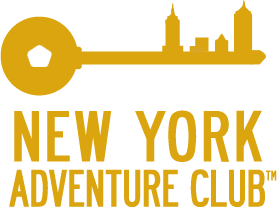 NEW YORK ADVENTURE CLUB
Unlock Your City
We give you insider access to the city's best-kept secrets. But we're so much more than a tour company.
WHO WE ARE

We are a community-driven club that curates the most unique experiences in town, with a focus on history and storytelling. We show you a city you never knew existed, and offer a community you can't live without.
You won't find our special-access tours and exclusive events anywhere else. Think after-hours tours of New York City's most celebrated spaces, themed parties in unexpected locations, and weekend excursions to incredible destinations. All of our events end with social hangouts so you can meet people who love exploring as much as you do.
THE 'CLUB' IN NEW YORK ADVENTURE CLUB

Our current community is more than 23,000 members strong and includes everyone from recent NYC transplants to lifelong residents. Whatever borough you're from (or city or country, for that matter), we'll make it easy for you to take full advantage of the unique places and great people this city has to offer.  
WHERE WE GO
To ensure a one-of-a-kind experience each and every time, we handpick events and outings specifically for the New York Adventure Club community. Recent events include:
* An after-hours tour of New York City Hall
* Special access into some of New York's most coveted private social clubs, including the Explorers Club and National Arts Club
* Petting baby kangaroos, holding sloths, and feeding leopards at Staten Island Zoo

* An NYPD Precinct tour, including a meet-and-greet with detectives and Emergency Service Unit crew members
* A tour of the Polish Consulate led by the Consul General and Vice Consul General of Poland

* A special-access tour of Brookhaven National Laboratory and its Relativistic Heavy Ion Collider (RHIC)
* A Halloween party in a historic gothic crypt, complete with a five-piece brass band
Subscribe with our newsletter to get the inside scoop on the city's most interesting events: http://eepurl.com/1cnVH
Unlock Your City with New York Adventure Club