DRIVE-IN MOVIE NIGHT AT BILLIAN LEGION PARK- JOHNNY TREMAIN
The Bound Brook Revitalization Partnership is excited to announce that Drive-In Movies are back in Billian Legion Park in Bound Brook!
About this event
The Bound Brook Revitalization Partnership presents Drive-In Movies at Billian Legion Park!
Join us on Saturday, June 19th for "American Spirit Night" when we will play the Walt Disney Classic, "Johnny Tremain."
There will be free refreshments and kids will get to meet General George Washington, get a chance to be one of the lucky ones to receive a magical key from Ben Franklin, learn how to dance Colonial style with the Van Hornes, make their own patriotic wand and meet more Revolutionary characters before the movie starts!
Gates will open at 7:15pm for parking. The movie will start between 8:30pm and 8:50pm depending on sunset as it needs to be dark enough to see the picture on the screen.
This event is free, but registration is required due to limited space. You are welcome to bring chairs or blankets and sit outside your vehicle.
Reservations are per car so if you are coming in one car you would select one General Admission ticket. This one ticket will cover everyone in your car so it doesn't matter if you have 2 people or 8 people in your car one ticket will cover them all.
If you do not have a car or do not wish to attend the event with your car, you are welcome to just bring a blanket or chairs . Please select the "no car" ticket option then.
**When you register please include how many children will be attending on the order form as we are going to have a special treat for them and need an accurate count.
Please note that the rain date for this event is Saturday, June 26th.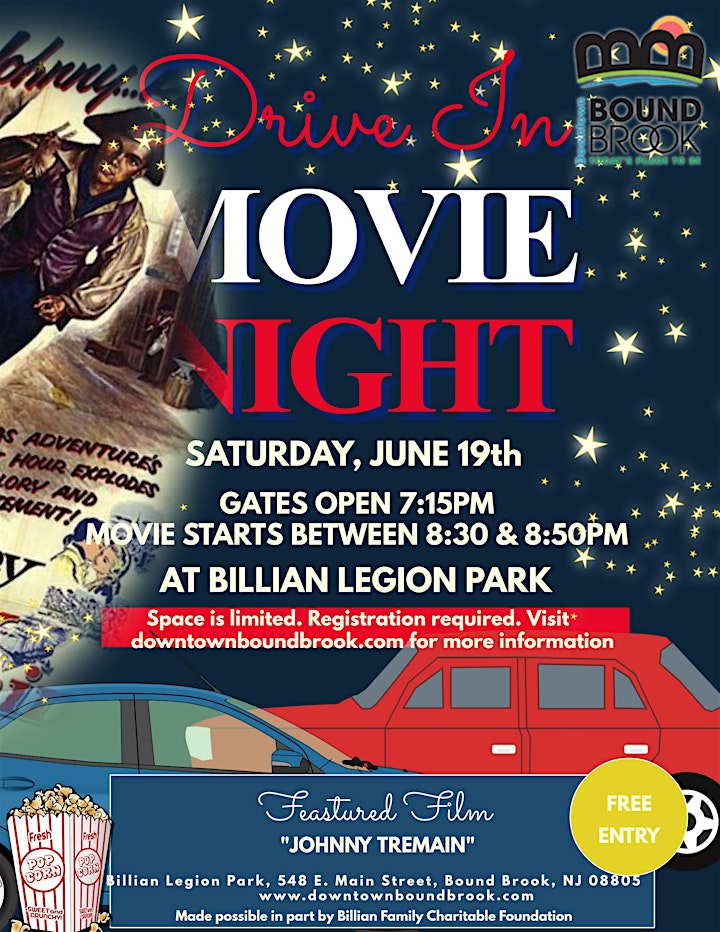 Organizer of DRIVE-IN MOVIE NIGHT AT BILLIAN LEGION PARK- JOHNNY TREMAIN
Bound Brook Revitalization Partnership is a 501(c)(3) nonprofit organized to manage the Special Improvement District (SID) created in 2015 by the Borough of Bound Brook with the mission of improving the general business climate and supporting specific business development opportunities within the District.