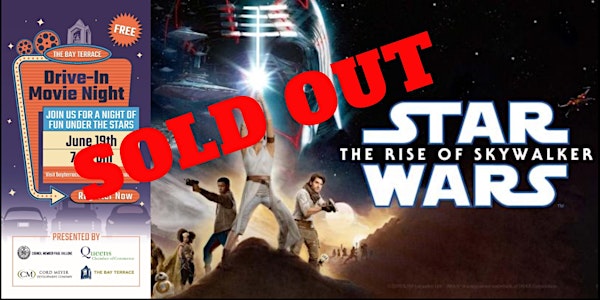 Drive In Movie at The Bay Terrace Shopping Center- 6/19/20 @ 7:00 PM
Join us for a night of socially-distanced movies at The Bay Terrace Shopping Center!
About this event
Hello Everyone,
Thank you for joining us for a socially distanced fun-filled evening at the Bay Terrace Shopping Center. Below are a few reminders for the drive-in movie on June 19th:
Arrival Information:
1) All registered cars should enter through the main entrance at Bell Blvd. and 24th Avenue (Men's Warehouse). Bay Terrace personnel and signs will guide you to the designated viewing area from here.
2) You will be allowed to enter the viewing area starting at 7:00 PM with the last car entering at 8:15 PM.
3) Please have your tickets available upon entry, only 1 car will be allowed per registration and that will be strictly enforced. Your licence plate number will appear on the ticket.
Event Information:
1) All attendees will be required to have masks for use when going to and from the restroom and while interacting with any food vendors. There will be hand sanitizing stations available for use and we will be distributing masks at the event for those who may need them.
2) Attendees must remain in their vehicles at all other times. These social distancing rules will be strictly enforced for the safety of everyone involved.
3) The movie will start at approximately 9:00 PM.
4) Movie night menus will be provided to all guests to help facilitate ordering from the local restaurants. All food will be delivered to your car.
5) Portable restrooms will be located in front of the Justice store in the parking lot.
Sincerely,
Council Member Paul Vallone
Queens Chamber of Commerce
Cord Meyer
Organizer of Drive In Movie at The Bay Terrace Shopping Center- 6/19/20 @ 7:00 PM