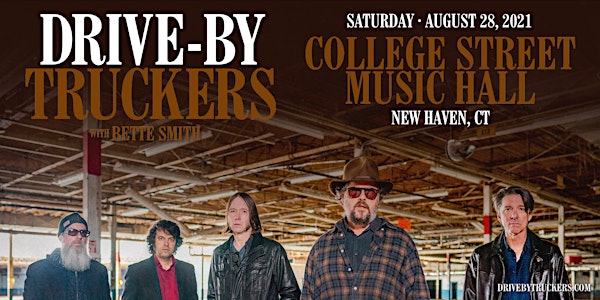 Drive-By Truckers
Premier Concerts and Manic Presents:
Event Information
Performers
Drive-By Truckers
Bette Smith
Location
College Street Music Hall
238 College Street
New Haven, CT 06510
About this event
This event is General Admission Standing Room on the Floor and Reserved Seated in the Balcony.
COVID-19 Vaccination (14 days past second shot) OR proof of negative COVID-19 PCR test (received within the past 72 hours) required for entry. If vaccinated, please bring your vaccination card or clearly legible photo of your vaccination card on your phone and a valid photo ID. If unvaccinated please bring printed or digital proof of your recent negative PCR test. Masks are required for all ticket holders and staff despite vaccination status. You may pull your mask down when eating or drinking only. These policies will remain in place until further notice.
To present proof of vaccination and/or negative PCR test results on your phone, we've partnered with Bindle, a digital health platform that is secure, easy to use and completely anonymous; your personal health information is never shared and your biometrics are not required. Visit the App Store or Google Play Store and search for MyBindle. Set-up is free and simple. If you are unable to provide digital proof, physical proof is also accepted.
DRIVE-BY TRUCKERS
An overview of our journey from post-election blues, into the heart of Memphis and onward into 2020 with a new album.
Drive-By Truckers is kicking off the new election year with The Unraveling, our first new album in 3 1/2 years (the longest space between new DBT albums ever). Those years were among the most tumultuous our country has ever seen and the duality between the generally positive state of affairs within our band while watching so many things we care about being decimated and destroyed all around us informed the writing of this album to the core.
While a quick glance might imply that we're picking up where 2016's American Band album left off, the differences are as telling as the similarities. If the last one was a warning shot hinting at a coming storm, this one was written in the wreckage and aftermath. I've always said that all of our records are political but I've also said that 'politics IS personal'. With that in mind, this album is especially personal.
Our 2018 single "The Perilous Night" acted as a sort of coda to the polemic of the last album and the original plan was to zigzag in a different direction, but alas the past few years have seen an uptick in school shootings, church shootings, racial violence, suicides and overdoses, border violence, and an assault on so many things that we all hold dear. They're literally putting children in cages. Writing silly love songs just seemed the height of privilege.
My partner Mike Cooley and I both worked through deep pools of writer's block. How do you put these day to day things we're all living through into the form of a song that we (much less anybody else) would ever want to listen to? How do you write about the daily absurdities when you can't even wrap your head around them in the first place? I think our response was to focus at the core emotional level. More heart and less cerebral perhaps.
Eventually the songs did come, some in mysterious ways. A day-long layover at an exit outside of Gillette, Wyoming resulted in "21st Century USA", the song that for me opened up the floodgates, enabling me to write my portion of the album.
I wrote "Babies in Cages" in the living room of my wife's parent's house and quickly demoed it on my phone. A portion of that original recording acts as the introduction to the version on the album. Cooley wrote "Grievance Merchants" about the proliferation of white supremacist violence we've seen in recent years. Our family's babysitter's best friend was murdered on a train in beautiful progressive Portland, Oregon in one such incident. The political is indeed very personal.
"Armageddon's Back in Town" takes a whirlwind joyride through the daily whiplash of events we are collectively dealing with, while "Slow Ride Argument" offers an unorthodox but hopefully effective method of the prevailing of cooler heads. Perhaps it should come with a disclaimer though.
Meanwhile "Awaiting Resurrection" dives headfirst into the void of despair and painful realities these times are tolling. It's a song unlike any in our band's history, yet somehow quintessentially DBT to the core. A call to deal, unblinkingly, with the horrors surrounding us all, but to also survive, with perhaps even a hint of optimism.
"In the end we're just standing, watching greatness fade into darkness / Awaiting Resurrection"
If the writing was a long and brutal process, the recording was a joyous celebration. Another of our band's many dualities, perhaps.
We convened for a week in Memphis, Tennessee at the historic and wonderful Sam Phillips Recording Service. We tracked, mostly live in the studio, aided by long-time producer David Barbe and famed engineer Matt Ross-Spang. Initially recording 18 songs in 85 hours of near around the clock sessions, the band essentially spent the whole week in an artistic marathon, housing ourselves at the Memphis Music Mansion (AirBnB), surrounded by historic photos and a mid-century vibe that seemed to even seep into our dreams each night. (My bedroom was, fittingly, The Big Star Room, named after the seminal Memphis power pop band that I have always held as an all-time favorite).
Recording in Memphis has been a life-long dream for this band. Both the city, with its dark social history and amazing musical heritage, and the studio which is a time machine set to its early 1960's origins and inhabited by the spirit of its genus founder, affected and inspired the creation of this album in ways that go far beyond the tangible and technical.
Sam Phillips left my hometown of Florence, Alabama and moved to Memphis, working in radio before opening the legendary Sun Studios (Memphis Recording Service) where he essentially discovered Rock and Roll, recording the first records of Howlin' Wolf, Ike Turner, Johnny Cash, Carl Perkins, Jerry Lee Lewis, Charlie Rich, and of course Elvis Presley. When he sold Sun, he built his dream lair, the, then state of the art Sam Phillips Recording Service which opened in 1962. If Phillips' love of 'slap-back' echo had given those early Sun records their legendary sound, his new studio incorporated three different echo chambers into its design, giving the studio a very unique and wonderful sound that we incorporated into this album.
I can't impart enough the impact that recording there had on this album. We were all beyond inspired by the surroundings and the sounds coming out of the speakers from every playback or the sound of the echo chambers reverberating down the halls. Every day we got to hang out with Sam's son Jerry who took us up to Mr. Phillips' old office on the third floor. Unlocked in time, it was still exactly as it had been the last day Sam spent there. His jackets still hanging in the closet and the bar still stocked with his favorite whiskey. There, with Jerry, we toasted our recordings and the spirits that still inhabited that sacred space.
In honor of finally getting to record in Memphis, I wrote "Rosemary with a Bible and a Gun", a sort of stream of conscious love song to that dark and mythical city on the banks of the Mississippi. Although the song isn't a literal story of such, it was certainly informed by the brutal times Cooley and I had in 1991 when we followed Sam Phillips' example and moved from Florence to Memphis in search of dreams that for us were still to be over a decade in coming. I heard the song in my head as a sort of Bobbie Gentry inspired southern gothic and we further explored that by adding gorgeous strings by Kyleen and Patti King (arranged by Kyleen). It seemed the perfect way to kick off this album.
Our sessions were rounded out by a guest appearance from Cody Dickinson (North Mississippi All Stars) who came in and played an electric washboard through an Echoplex and wah-pedal into an amp for "Babies in Cages". The song, recorded completely live, in one magical take, perfectly captured the mood and tone of the week we spent there. (We even kept the scratch vocal since it had so much live bleed from the take). The following day, Mick Jagger came by, but alas we weren't able to record with him, although his presence certainly added to the already surreal vibe of the week.
A few months later we reconvened in Athens, Georgia at Barbe's Chase Park Transduction studios where Matt and David mixed the album on Barbe's vintage 1975 Neve console. As a band that got its start essentially making albums as field recordings on mobile gear, it is indeed a treat to get to make our albums on 2" 16 tracks tape in historic studios and on beautiful vintage gear. We finished the process by having the legendary Greg Calbi master it all at Sterling Sound in Edgewater, New Jersey.
In the end, we whittled the album down to the nine songs included, saving several key songs for a foundation to the next one that will hopefully occur sooner than later. Lilla Hood designed the packaging utilizing a stunning photo by Erik Golts of two young lads watching a sunset at the Oregon coast, lettering by famed graphic artist Aaron Draplin, and once again beautiful artwork from our long time collaborator Wes Freed. We plan on touring extensively throughout the next year taking these songs around the world.
We hope to see you there.
- Patterson Hood
Links: Official Website | Facebook | Instagram | Twitter | YouTube
BETTE SMITH
Wild rock & soul singer Bette Smith traces elements of her life-affirming new album 'The Good, The Bad and The Bette' to her childhood in rough Bedford-Stuyvesant, Brooklyn. Musically, it connects to the gospel music she heard in church and the soul music on the corners. No party host would regret putting on this platter!
She remembers, "My father was a church choir director. I was singing since I was five years old. I take it to church. I just break out, start speaking in tongues." She also heard gospel around the house every weekend. "My mother listened to nothing but gospel," she recalls, citing Mahalia Jackson and Reverend James Cleveland. "Every Sunday morning, she would get up and put on these records while dressing and praising the Lord," she says. Bed-Stuy block parties would also have revivalist-style gospel acts. "I'm steeped in it!," she adds.
This injection of soul music and gospel into rock & roll powered a breakout in 2017's 'Jetlagger,' which received raves from NPR, Paste, American Songwriter, Billboard, MOJO, and a feature in the New York Times. Not just a critics' darling, the album rose to #1 on the Roots Music Report chart and topped off a banner year with a celebrated appearance at the Montreux Jazz Festival. Billboard said, "A rugged, chugging southern soul record... Like Betty Davis or Betty Wright before her, she imbues tracks with shingly, sawtoothed texture, capable of breaking off a high note with a throaty cry or scraping so low and wide that she threatens to put her bass player out of work."
MOJO opined, "An incredible debut from the next big-voiced soul sensation out of Brooklyn."
"A batch of tunes as powerful and taut as her wonderfully craggy voice... with a debut full-length as sturdy and uncompromising as Jetlagger, she's the swaggering proof that there is nothing dated about soulful rock and roll sung with attitude, defiance, and a take-no-prisoners aesthetic," raved American Songwriter.
The Brooklyn, NY native enlisted Drive-By Truckers' Matt Patton and engineer/drummer Bronson Tew as producers at Dial Back Sound in Water Valley, MS; Patton has previously helmed projects by Jimbo Mathus and the Dexateens as well as contributed to albums with Dom Flemons, Seratones, and Candi Staton. He played bass on 'Jetlagger,' which was produced by Jimbo Mathus and the two found a kinship and shared vision. She says, "When I called on my producer Matthew Robert Patton, I told him that I wanted a southern rock soul/Aretha Franklin/'I once was lost but now I'm found' theme." He in turn enlisted guests North Mississippi Allstar Luther Dickinson (guitar on "Signs and Wonders") and fellow DBT member Patterson Hood (vocals on "Everybody Needs Love") to join him on the new album.
Patton says, "We wanted to get heavy into her rock side. Even the ballads on this record hit hard. We were pulling from Ike & Tina, Betty Wright and Betty Davis, stuff like that."
Bette also went deeper in her own songwriting, vulnerably revealing a childhood trauma. She continues, "I told Matt a little about my childhood and my relationship with my mom. We outlined that we'd make the album about relationships, to reflect that part of my personality." The album is sequenced to tell her story, from a present-day portrait of the strong woman she is to a flashback of her trauma and the emotional void she tried to fill with the party life, before receiving a sign and finding healing. Bette explains, "The album message is a story seen through the lens of a child, and then an adult, who still wears her scars of childhood—but also of hope, strength and optimism going forward in life. Often people think I'm very confident and strong, but they don't know I've faced many obstacles and traumas I fought hard to overcome."
Her own artistic process helped bring clarity. She enumerates, "There are no words. You're just so small. You can't defend yourself. It's about finding the words to tell, the strength to forgive."
She says a final goodbye to her mother in the ballad "Whistle Stop," another emotional touchstone on the album. It's based on a dream that she had right before her mother died. Bette recalls, "I was on the platform and she was at the last car on the train and she was waving me goodbye and the way I analyzed the dream was that she didn't say goodbye to me when she abandoned me the first time but she did say goodbye the second time. I'm telling her, 'come spend some time with me,' because she haunts me. It's unrequited love."
Completing the cycle is a stretch of songs of love and gratitude. Her dog taught her a lesson that spurs on the wah-wah guitar-steeped rocking "(I Wanna Be Your) Human." Bette says, "I never learned how to cope with stress because my mother showed me [how she did it, by saying] 'I gotta go. I'm outta here.' That doesn't work in a long-term relationship. My dog taught me trust and vulnerability. 'When your heart is in pain, I wanna be your human.'"
All the more remarkably, Bette sang her heart out on short trips to Mississippi. Patton recalls, "Bette's performances here were incredibly clutch. The turning point for the record came early on when she figured out what the record was about. At that point it became pretty heavy. With the emotional heft, there was the fatigue of travel, times of sickness and the time constraints under which we worked. This made those wow moments that she's so capable of vocally super dramatic. Bette was delivering during the moments we absolutely needed."
She is in a good place today, saying. "I'm more than a survivor. I'm a thriver! I have hope, strength and optimism going forward in life. I've meditated twice a day every day for the past three years."
Touring has also been redemptive as well. "It's amazing, like a dream come true," she says. "It's very spiritual and I go into a trance when I'm singing. The fans are like family. I feel very loved. They are very present. I went through all of this so I could sing and now that I can sing I'm finding the love that I've been looking for all my life. It feels like a homecoming. There's an instant feeling of family reunion. They talk to me like they met their little sister. It's the same love in New York, Nashville, or Spain. When I sing these songs, it's a connection of inner children. I'm singing to their inner child."
Those are a bunch of rockin' inner children, naturally.
Links: Official Website | Facebook | Instagram | Twitter | Spotify
Performers
Drive-By Truckers
Bette Smith
Date and time
Location
College Street Music Hall
238 College Street
New Haven, CT 06510
Refund policy