Description
WalkBoston is a non-profit pedestrian advocacy organization dedicated to improving walking conditions in cities and towns across Massachusetts. Founded in 1990, our goal is to make walking and pedestrian needs a basic part of the transportation discussion. We welcome your advocacy efforts as well as your individual and corporate support. Every additional supporter strengthens WalkBoston's voice on behalf of pedestrians across Massachusetts!

Arlington residents can make walking safer, easier and more enjoyable at low cost. Learn about fulfilling Massachusetts Avenue's potential as a premier walk/bike/transit spine and the Minuteman Trail's road crossings. Discuss hopes and concerns with WalkBoston and Arlington walking champions and host Jeanhee Chung and co-hosts Phil Goff, Sonia Hamel, Rachael Stark and David Watson. Your support helps us advocate, collaborate, and advise.
Tues. October 10, 2017, 6:30 - 8:00pm
The home of Jeanhee Chung
32 Lombard Terrace, Arlington MA

RSVP by 10/3!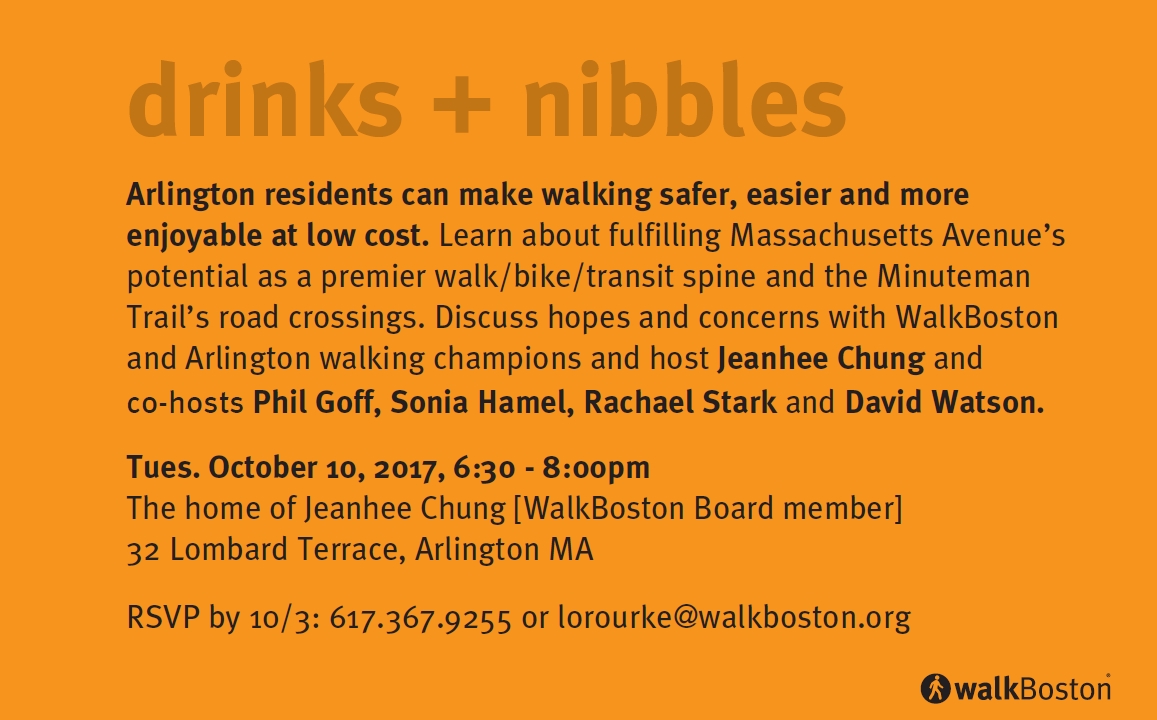 Questions? email/call Laura at lorourke@walkboston.org or 617.367.9255
About the host and co-hosts:
Dr. Jeanhee Chung—Medical Doctor and WalkBoston Board member
Phil Goff—East Arlington Livable Streets, co-chair
Rachael Stark—Walking in Arlington, founder and chair
David Watson—Complete Streets Policy & Planning Consultant, former MassBike executive director
Sonia Hamel—Environmental Consultant and co-founder of WalkBoston