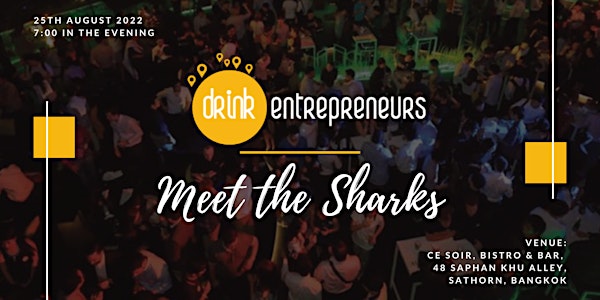 DrinkEntrepreneurs Bangkok™ - Meet the Sharks
Location
CE SOIR Cafe' & Bar
Soi Saphan Khu
Khet Sathon, Krung Thep Maha Nakhon 10120
Thailand
DrinkEntrepreneurs is a monthly social event for entrepreneurs to exchange, meet, and help peers around a drink!
About this event
It is already hard to quit your job and start your company, but it is even harder to connect with local investors and raise money. Wouldn't it be cool if you could go to an event, meet all of the local investors in 1 evening, around a cool beer?
Well, welcome to Drinkentrepreneurs - Meet the Sharks!
For this special edition of DrinkEntrepreneurs Bangkok™, our community will help you raise money, by mingling with the city's top tech angel investors (The Sharks), from the tech scene and beyond.
No business cards required, no boring presentations to listen to, just simple, genuine, human, business networking.
For this episode of Drinkentrepreneurs Bangkok™ we will invite 50+ Thais & foreigners with track record of investing in early stage startups! Come join us for a mellow, themed event aiming to bring together not only the Thai expats community in Bangkok but everyone who likes good wine, tech & more!
We will give the opportunities to both investors and startups to pitch what they do and what idea they looking to invest.
Some examples of our past attendees:
Amarit Charoenphan, Co-founder of Hubba, Thailand first coworking and Techsauce, angel investor in 30+ startups.
Tiwa York, co-founder of Kaidee.com and angel investor in 40+ startups
Shannon Kalayanamitr, founder of Moxy (exited) investor at Gobi Partners and smart city entrepreneur.
Bi Ariya., a Thai/french expatriate to Thailand to lead Google then LINE as country manager.
Topp Srupsrisopa, co-founder of Bitkup, who studied in Oxford and then came back to Thailand to build the crypto ecosystem.
Djoann Fal, french expatriated to work with Lazada then founder of GetLinks Inc, the largest tech talents marketplace in SEA and tech investor at Atlas Capital
Since 2014, DrinkEntrepreneurs is a monthly social event for entrepreneurs to exchange, meet, and help peers around a drink! We are a non-profit organization, eager to connect entrepreneurs, C-levels, and entrepreneur circles (Investor / Coder / Designers / Media and etc.) locally and globally. DrinkEntrepreneurs is currently organizing in other 40+ cities around the world such as Silicon Valley, Paris, London, Ho Chi Minh, Bangkok, Shanghai, and more.
With socializing events, bringing entrepreneurs to the top, and sharing the best practices regardless of their status, position, and country of origin, making Bangkok the Startup hub of the Asian scene.
Learn more about DrinkEntrepreneurs here