Description
DrinkEntrepreneurs is back in September after a loooong summer break for another awesome networking event, this time hosted by Surya. Get ready to enjoy their beautiful terrace with amazing views and awesome people!

This time we are sponsored by Bida (www.tomabida.com), the city's hottest app where members receive *ONE FREE DRINK EVERY 3 HOURS* at top rated bars all around BCN.

*** EVERYONE WITH THE BIDA APP WILL GET THEIR 2ND DRINK FREE (WORTH UP TO 9 EUROS!) DURING THE EVENT ***

Don't have the Bida app yet? Download the app now for free from the iOS or Play Store.
The largest entrepreneurial community meetup in Barcelona is happening once again! Pretty excited and looking forward to meeting all of our favorite entrepreneurs and hear their new projects/ideas.

✹✹✹ What are DrinkEntrepreneurs? ✹✹✹
DrinkEntrepreneurs is a montlhly event organized for the local entrepreneurial community by the local community.
It's another networking event. It's a laid-back vibe, with no dress code and no name tags.

✿✿✿ Who should attend? ✿✿✿
Everybody is welcome! The event gathers everybody interested in entrepreneurship in general. From successful entrepreneurs to wannabee or students.

❋❋❋ Is it only for tech startup? ❋❋❋
There is a majority of tech startup people, but it's open to any type of venture. Social, Food, Healthcare, Sport, there is no specific vertical :)

✹✹✹ Is it only happening in Barcelona? ✹✹✹
DrinkEntrepreneurs is a global network of events around the world (Paris, San Francisco, Bangkok,...) with more than 70 active cities in the world. Started 5 years ago in Paris, and now there are thousands of entrepreneurs gathering around the same values.

✿✿✿ How to stay in touch? ✿✿✿
Make sure to like the DrinkEntrepreneurs Barcelona Facebook Page, and to sign up for the newsletter: http://eepurl.com/dHiUE5
Hosted by Surya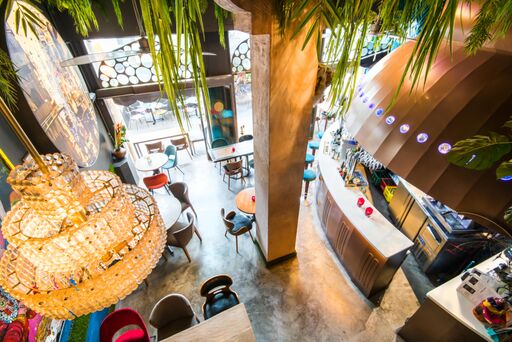 https://www.suryarestaurants.com/
Surya, exquisita comida india.
Concebido como un
estilo de vida
, los
restaurantes indios
de SURYA son el
place to be
donde descubrir una propuesta de comida india, inspirada en la
auténtica cocina callejera
de los quioscos clandestinos de Mumbai en un ambiente desenfadado,
alegre y colorista.
En
SURYA
encontrarás los platos más jugosos de la
milenaria comida india.
No te quedes sin degustar los sabores más sabrosos de los rincones más exóticos y misteriosos del mundo. Ven y
comparte
esta revolución de los sentidos con los tuyos. Y mientras esperas a sentarte puedes probar uno de nuestros deliciosos cócteles que ofrecemos en la planta baja, un lugar secreto y exclusivo que te transportará a Mumbai de los años 50.