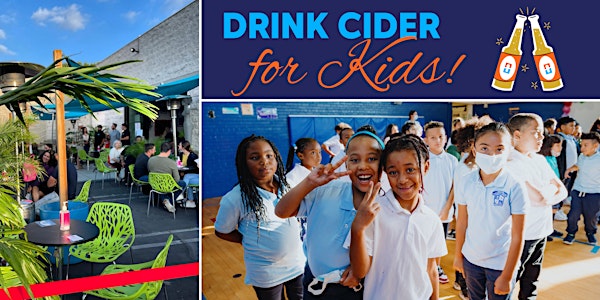 Drink Cider for Kids!
Join us for birthday cake & prizes from local businesses, and to help raise money to bring new athletic shoes to kids in need!
When and where
Location
Ironbark Ciderworks 1420 North Claremont Boulevard #Ste 107B Claremont, CA 91711
About this event
Celebrating 30 Years of Kids, Shoes, and YOU!
Join us at Ironbark Ciderworks for a special celebration of 30 years of impact, and drink cider for a good cause 🥂 There is no cost to attend, and all attendees will receive a complimentary ticket for an opportunity drawing featuring prizes from from Amelie on Yale, Creme, Ironbark Ciderworks, and birthday cake from Somecrust! ❤️
Get extra tickets for each cider you purchase, and get bonus tickets for trying a flight! Feel good knowing your supporting Ironbark Ciderworks, a local business.
Shoes That Fit CEO Amy Fass will be joined by Chair of the Board Cris Stark for brief remarks and birthday cake at approximately 5:45 PM.
Based in Claremont, Shoes That Fit is a national award-winning nonprofit that tackles one of the most visible signs of poverty by providing new, properly-sized, brand-name athletic shoes to kids in need across America so they can attend school with dignity and joy, ready to learn, play, and thrive.
This September, Shoes That Fit is celebrating 30 Years of Kids, Shoes, and YOU! Because of your support, more than 1.6 MILLION kids across the country have received new pairs of shoes over the last three decades, including 150,000+ just last year. In celebration, all gifts made during the month of September will be matched* and one lucky winner will receive the voice of award winning comedian Alonzo Bodden on their answering machine.
Learn more at ShoesThatFit.org.
From our host, Ironbark Ciderworks: "Woman Owned! At Ironbark Ciderworks we are obsessed with producing cider that is fun, tasty and yet mindful of your health. Our cidercraft is all about natural, healthy ingredients with the lowest possible calories. We always ferment our cider to dry, which means it contains no fermentable sugar and we don't have to use sulfites or any other preservatives, so the flavor of the fruit, hops and herbs stands loud and proud right up front. Our aim is to keep all the potentially harmful additives out of our cider. If it's better for you, it's better for us. That's why our motto is 'Drink it DRY!'
​At the Ironbark tasting room, our first priority is to give non-binary identifiers, people of color and women, the opportunity that has been denied them for centuries…an equal playing field, a safe space, a forum for expression without judgement or harassment. It is our twofold mission to make the healthiest alcohol and advance the cause of equity for all from whom it has been denied. Love to all!"
Learn more at IronbarkCiderworks.com