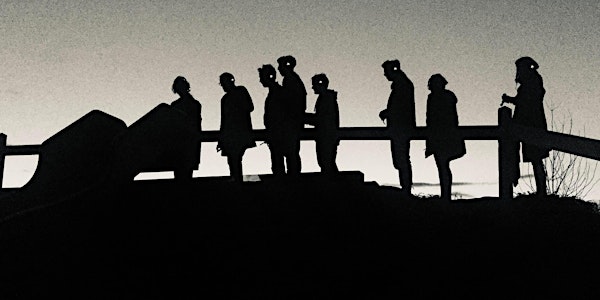 DRIFT Istanbul Performans Gecesi
DRIFT İstanbul'da ZU-UK ile geliştirilen bir dizi yeni interaktif performans parçasının herkese açık ücretsiz paylaşımı.
Date and time
Starts on Fri, 27 Oct 2023 18:00 +03
Location
Meşrutiyet Cd. No:31 daire:5 Evliya Çelebi Mh. Meşrutiyet Cd No 31 D 5 Istanbul, Turkey 34430 Turkey
About this event
DRIFT Hakkında
DRIFT Residency, ZU-UK tarafından 2006'dan beri, her türden sanatçı için tasarlanmış (https://zu-uk.com/drift/) yoğun bir gelişim programıdır. Katilan sanatcilar disiplinlerinin dışındaki alanlardan becerilerin öğrenilmesine ve ödünç alınmasına teşvik eden bir haftalık çalışma ve işbirliği oturumlarina davet edilir. Drift Istanbul, beden, teknoloji ve izleyicilerle çalışmanın yenilikçi yollarını bütünleştirmek amacıyla sanatçılar arasında diyalog ve fikir alışverişi başlatıyor.
Kabile Sahne ve Sirk Sanatları'nın sanatsal iş birliği ve ev sahipliğinde, British Council Türkiye Yaratıcı Hibe Desteği ile 13-17 Şubat 2023 tarihlerinde Kabile Sahne'de gerçekleşecek DRIFT İstanbul katılımcıları, program boyunca üzerinde çalışıp geliştirdiğikleri fikir veya projelerini sunacaklar.
" DOKUNMA MESAFESİNDE
Çoklu krizlerin ve toplu travmaların olduğu bir zamanda yaşıyoruz.
Paylaşılan bir alandaki canlı bedenler olarak insan bağını keşfetmek için dijital medyanın ve canlı performansın birleştiği yere her zamankinden daha fazla odaklanmamız gerekiyor.
Her anlamda, dijital aracılığıyla deneyimlemenin mevcut yaygınlığı, artan insani temas açlığı ve sosyal yoksunluk, toplumdaki birçok kişiyi beden zihin kopuklugu, yalnızlık ve soyutlanmaya yöneltti.
Bu DRIFT'te sanatsal, yaratıcı, teknolojik ve temelde insani stratejileri, özellikle toplumsal yapıdaki bu kopuşları ve boşlukları keşfetmek, iyileştirmekle ilgileniyoruz.
Doğrudan, duygusal insan dokunuşunun gücünü keşfetmenizi, topluluklarımızla somut temas duygumuzu geliştirmek ve canlandırmak için teknolojinin nasıl kullanılabileceğinin yollarını keşfetmeyi öneriyoruz."
Persis Jadé Maravala
Duzenleyen: Kabile Sahne
Destekleyen: British Council Türkiye
Olusturan: Jadé Persis Maravala, Jorge Lopes Ramos (ZU-UK)
Küratör: Zehra Bilgin, Eylem Ejder, Özgür Kavurmacıoğlu
Asistan: Cadu (Carlos Eduardo Pires)
https://www.instagram.com/drift_istanbul/?hl=tr
https://www.kabileart.com/
About DRIFT
The DRIFT Residency is an intensive development programme designed for artists from all kinds of disciplines (https://zu-uk.com/drift/), run by ZU-UK in over 10 countries since 2006: each participant artist brings a project to develop, and participates in a week-long work and collaborative session encouraging learning and borrowing of skills from areas outside of their normal disciplines. The Residency opens dialogue and exchanges between artists with a view to integrating the body, technology, and innovative ways of working with audiences.DRIFT Istanbul, which will take place on February 13-17, 2023, with the artistic cooperation and hosting of Kabile Sahne and Circus Arts, with the British Council Turkey Creative Grant Support, will present their ideas or projects that they have worked on and developed during the program.
DRIFT Istanbul 2023
WITHIN TOUCHING DISTANCE
We welcome artist responses with projects and performance ideas in the intersection of touch, technology and mental health.
We are living in a time of multiple crises and collective trauma.
More than ever before we need to focus on the place where digital media and live performance converge to explore intimate human connection as bodies in a shared and live space.
Digitally mediated experiences have become common, at the same time as we see increasing levels of human touch starvation and social deprivation.
Many in society have been shifting towards feelings of mind-body rupture, loneliness, and isolation.
We are interested in projects and ideas exploring the artistic, creative, technological - and essentially human - strategies towards healing these ruptures and gaps in social provision.
In this DRIFT we suggest exploring the power of direct, affective human touch to address our mental and spiritual wounds.
In what ways can everyday technology be used to enhance and revitalise our sense of embodied contact with our communities?
Jadé Persis Maravala
Orginazed by Kabile Sahne
Supported by British Council Turkey
Created by Jadé Persis Maravala, Jorge Lopes Ramos (ZU-UK)
Curated by Zehra Bilgin, Eylem Ejder, Ozgur Kavurmacioglu
Assisted by Cadu (Carlos Eduardo Pires)
https://www.instagram.com/drift_istanbul/?hl=tr
https://www.kabileart.com/