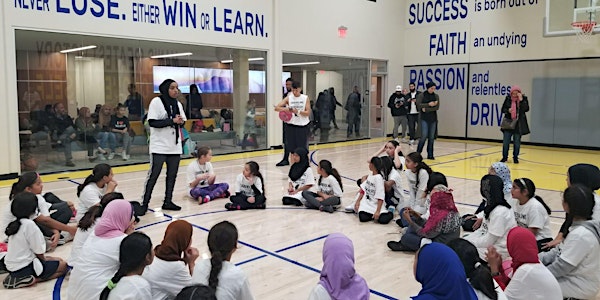 Dribbling down Barriers Basketball Clinic
When and where
Location
Multiple Locations Houston, TX
Description
Dribbling down Barriers is a basketball clinic hosted by Bilqis Abdul-Qaadir who is the first Hijabi to play Divsion 1 collegiate basketball. The clinic focuses on teaching kids basic fundamentals of basketball, dribbling/shooting competitions, and 5 on 5 play.
However, this clinic is more than just teaching basketball, it also focuses on how to use use sport as a tool to break stereotypes, educate, and fight against discrimination in all areas. At the end of the clinic, Bilqis will share her personal narrative on how she chose Islam over basketball when she was barred from playing professional basketball due to hijab.
Purchasing this ticket will allow your child to participate in a 2.5 hour basketball clinic.
The Clinics will be will be for Kids and Young Adults 7 through 17 (Boys under the age of 14 are welcome!). The Clinic on Sunday will be for Women, ages 18 and Up. The Sisters Committee of ISGH (Islamic Society of Greater Houston) is helping organizing both clinics as follows:
Saturday, February 17th, 10 a.m.-12:30 p.m., Masjid Al Salam (Champions) ,16700 Old Louetta Rd, Spring, TX 77379

Saturday, February 17th, 2:30 p.m. to 5:00 p.m., Masjid Sabireen (Brand), 610 Brand Lane, Stafford, TX 77477
Sunday, February 18th, 10:30 a.m. to 1:00 p.m., Masjid Sabireen (Brand), 610 Brand Lane, Stafford, TX 77477