Description
Dribbble Presents... Hang Time Los Angeles
Dribbble's Hang Time Los Angeles, a one-day design conference will be held on December 4, 2018, at The Theatre at Ace Hotel in Downtown Los Angeles. After a full day of inspiring presentations, we'll celebrate with an incredible after-party.
At Dribbble, we have core values that guide how we work. During Hang Time Los Angeles, we'll be exploring the willingness to Try New Things. To our team, that means we seek constant and never-ending improvement. We test new ideas and take intelligent risks. We aim to improve what matters most. You'll leave Hang Time Los Angeles with some valuable takeaways on how to do your best work.
Check out the Hang Time Los Angeles website to see our speakers and stay tuned for schedule updates!
Celebrate Hang Time Los Angeles with Us
After a full day of getting inspired by the best and brightest in the design community, Hang Time Los Angeles attendees are invited to an amazing after-party also at The Theatre at Ace Hotel. Hang out with the Dribbble community, participate in hands-on-activities, enjoy drinks and snacks, purchase merch from local designers and other vendors, and a few surprises!
Thank You, Sponsors!
We could not host such a great event without the generous help from our sponsors, so a very big thank you goes out to:
Hang Time LA Workshop: Creative Collaboration with DKNG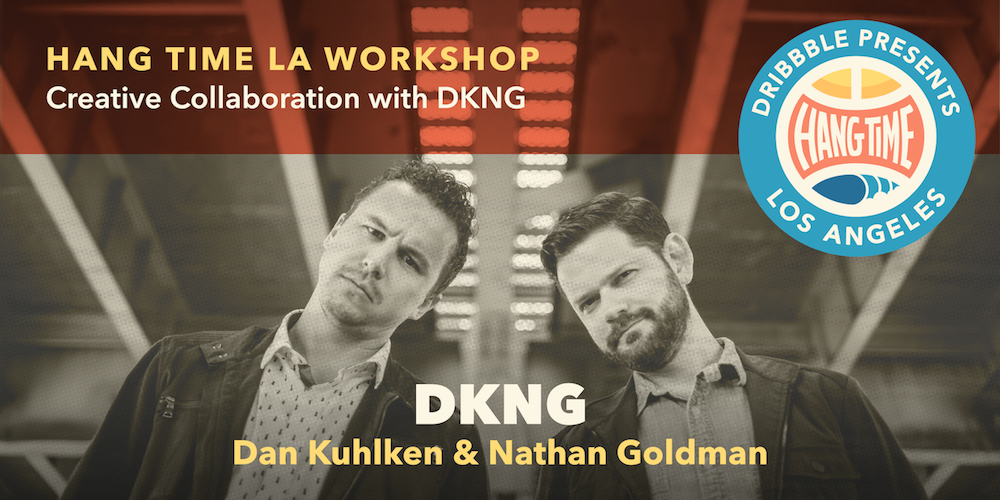 Creative Collaboration: Working With a Partner to Stretch Your Creative Limits
Rise and shine! We have a special opportunity to host a workshop before Hang Time Los Angeles begins from 8:00 - 10:00 am in Segovia Hall at the Theatre at the Ace Hotel. The workshop lead by creative studio DKNG will cover the essential steps founders Dan Kuhlken and Nathan Goldman take with every new project—from concept development, team brainstorming, providing constructive criticism and feedback, art direction, composition, adding layers of meaning, to final execution.
Workshop participants will team up in pairs to follow a design brief using the concept of play and construction using arts & crafts materials as a gateway to explore DKNG's collaborative creative process. Taking each other's strengths and weaknesses into consideration, each pair will learn to work as a team, leaning on each other's unique skill sets to build a collaborative project.
This workshop is limited to 50 people. Attendees have the option to buy a ticket to the workshop only or to purchase a ticket bundle that includes access to Hang Time LA and the workshop at a discounted price.


FAQs
What does my ticket include?
We have a few different ticket types. An early bird or general admission Hang Time LA ticket includes access to full-day of sessions and a super fun after-party at The Theatre at the Ace Hotel. You'll also receive a swag bag chock-full of goodies from our sponsors.
A ticket to the DKNG Workshop includes access to a 2-hour workshop before Hang Time LA begins.

We also have discounted ticket bundles that include a ticket to the DKNG Workshop and Hang Time LA.

All ticket types are invited to the Hang Time LA after-party.
Do you provide a student discount on tickets?
We have a limited number of discounted tickets for students. Contact us at contact@dribbble.com for availability and more information.
Do you provide group discounts on tickets?
Interested in attending Hang Time with your entire team? Contact us at contact@dribbble.com for group pricing!
Where should I stay?
We've got a sweet discount at the Ace Hotel for Hang Time attendees. Use this link book your room under our group rate. Note: the discount is subject to availability. Find more travel information on the Hang Time LA website.

How can I contact the event organizer?
Email us at contact@dribbble.com with any questions.



Do you have a code of conduct?
Yes—all attendees, speakers, and sponsors are expected to follow our code of conduct.



Are you looking for sponsors?

Yes! Please contact contact@dribbble.com if you'd like to sponsor or get involved with Hang Time.



What's the refund policy?
We'll refund your ticket up to 7 days prior to the event.