Drew Nugent & the Midnight Society CD Release Party and JIUP Record Label Launch

Wednesday, May 18, 2016 from 7:30 PM to 10:00 PM (EDT)
Event Details
Jazz It Up Philly Proudly Presents
Drew Nugent & The Midnight Society
Hot, Sweet & Sassy CD Release Party 
And
JIUP Record Label Launch
Wednesday, May 18th, 7:30pm
You are cordially invited to join us and come celebrate our New Record Label Launch and CD Release Party.
Jazz It Up Philly is proud to announce the launching of our new record lable, JIUP Records and also proud to have Drew Nugent & The Midnight Society as our 1st artist, recording Hot, Sweet & Sassy.

Also Featuring Andrew Caroll & Melody Rose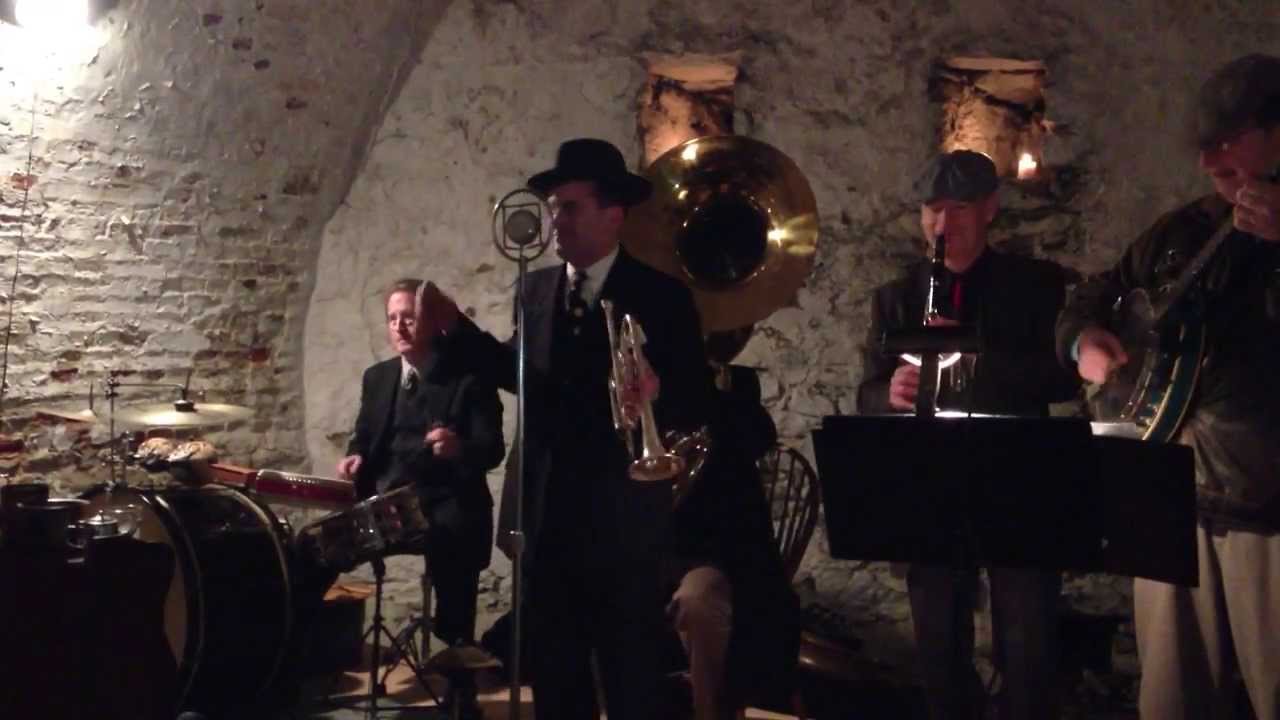 Philadelphia's own, Drew Nugent and the Midnight Society led by the accomplished pianist, trumpeter and singer, Drew Nugent, the band has been together for over 8 years now. The band always appears donning vintage, classic suits, while wielding original instruments from the 1900's - 1930's and Nugent faces a vintage 1935 Shure microphone while performing. 
"I will never forget the night I walked into the Ruba Club in downtown Philadelphia. It was like stepping back in time. It was the night I met Drew Nugent and the Midnight Society."  
 -Michael Males, MyRuralRadio.com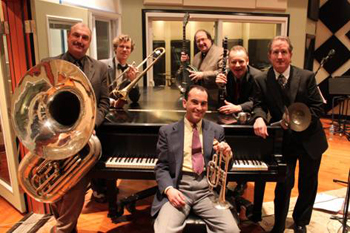 The band has made quite a name for itself on the East Coast as one of the leading ensembles in the jazz vein. For Drew Nugent and the Midnight Society, playing a gig isn't just about music. It's about taking a step back in time. Led by pianist, trumpeter and vocalist Drew Nugent, his ensemble recreates the music of a bygone era—playing what has been coined HOT Jazz—which was popularized from 1897 to 1935. "In essence, it's jazz in its original form," says Nugent, "the original American pop music." It was sadly thrown by the wayside in the wake of the swing music surge. The height of this musical phenomenon took place in the 1920s. The Jazz Age. For decades this music lie dormant, but here, almost 100 years later, Drew Nugent and the Midnight Society play these tunes as if they were written yesterday. Some even were! That's because Drew Nugent himself, is a song writer in this style of music, and from time to time you will catch him and the boys playing one of Nugent's own works.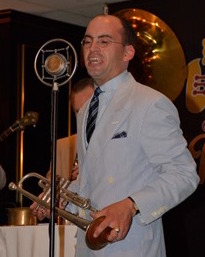 The 29-year-old Blue Bell, PA native says he came up with the concept from watching old movies with his dad. "I was blown away by the style of these old jazz icons, like Louis Armstrong, said Nugent. "I've always loved dressing up, and wondered, why aren't we all wearing suits anymore?"
 So where does he find the vintage instruments? Nugent combs thrift stores, antique marts and the internet to find these gems, like the goofus, a toy saxophone with push buttons, a novelty instrument from the 1920's. Or, you might find him playing a hot tea kettle that's outfitted with a cornet mouthpiece in the spout! His percussionist plays on a drum kit that dates back to 1914. 
Nugent (no relation to rocker Ted Nugent) says he loves all music, but this young musician with an old soul says "There's something about THIS style of music that still "makes me tingle, makes me cry and laugh. It literally puts me under a spell." 
Paris Bistro General Manager Wendy Wolf noted, "We're thrilled to have Drew play in our jazz club and expose a younger generation to his unique musical talents. Wolf continued, "Listening to Drew's music is an opportunity to be transported to another time and place... close your eyes and imagine yourself in 1920's Paris."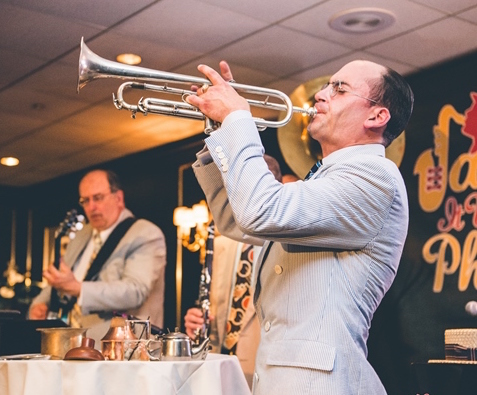 Nugent's mission is to introduce a new generation to a forgotten time in jazz. "No one is doing what we're doing," said Nugent. "We want to keep the true spirit of Hot Jazz alive, from our approach at playing and improvising, right down the line to dressing in vintage suits. It's not a costume or uniform as much as it's more a way of life."
About Andrew Carroll & Melody Rose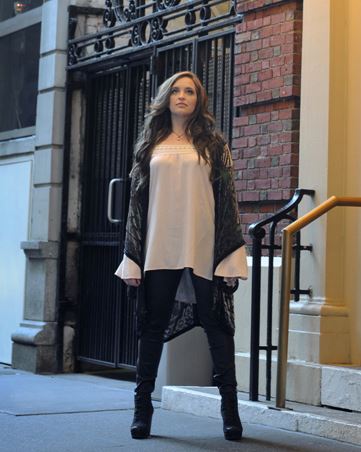 Jazz pianist Andrew Carroll hails from the Central New York area. He has accompanied vocalists such as Jane Monheit, played with Delfayo Marsalis, and has opened for Aretha Franklin. He has also co-produced the debut E.P. from Melody Rose. Their new video "These Walls" was recently featured on Songwriting Mag UK and Popwrapped. In addition, Carroll's jazz piano album 'Alliterations' recently won a SAMMY (Syracuse area music) award for 'Best Jazz 2016.'
New York native singer/songwriter Melody Rose boasts soulful vocals blended  with her jazz- influenced pop music–aligning her with powerhouse female vocalists like Norah Jones and Sara Bareilles. Melody attributes her unique vocal style to her various musical upbringings. Her mother was an aspiring singer who performed at Woodstock 1994 and her father works in the touring industry. She is also the granddaughter of Felix Cavaliere (The Rascals).
Your Master of Ceremonies Buddy Scheerer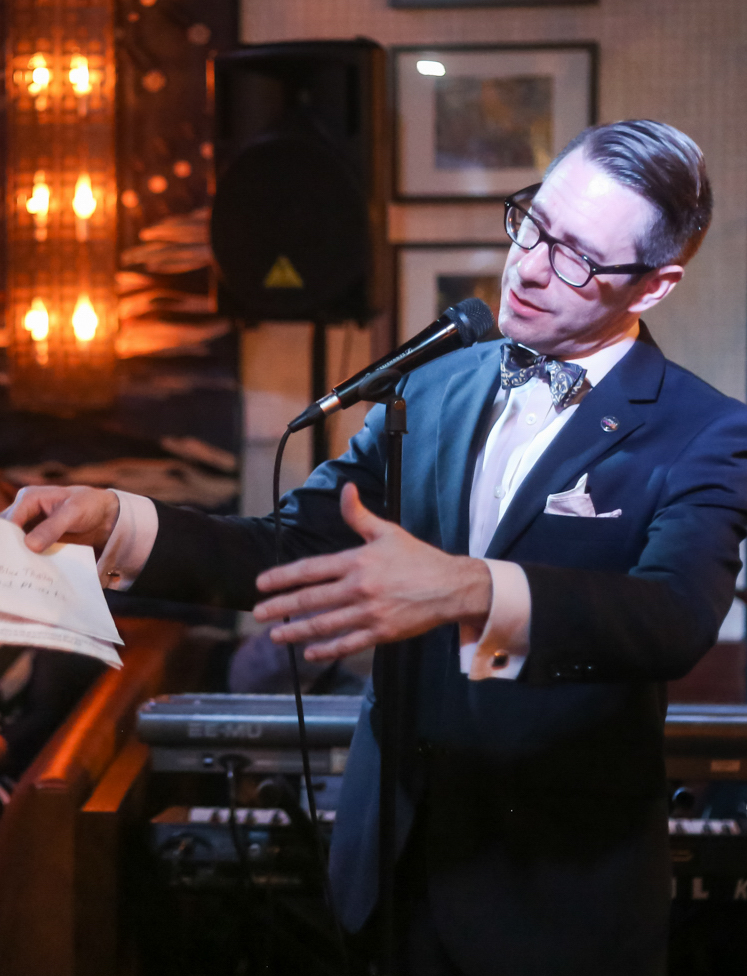 Buddy Scheerer is currently Director of Sales for The Philly POPS; his eighth year with the company. He has held positions with such local cultural organizations as The Philadelphia Orchestra and The Annenberg Center for the Performing Arts. He is an ambassador of all things music and very much enjoys connecting audience and performance; he may also enjoy the spotlight…just a little.
Jazz It Up Philly Supporting Patron Gets This Number Artist/Performers Signed Reproduction of an original painted May 26th 2015 at The Prime Rib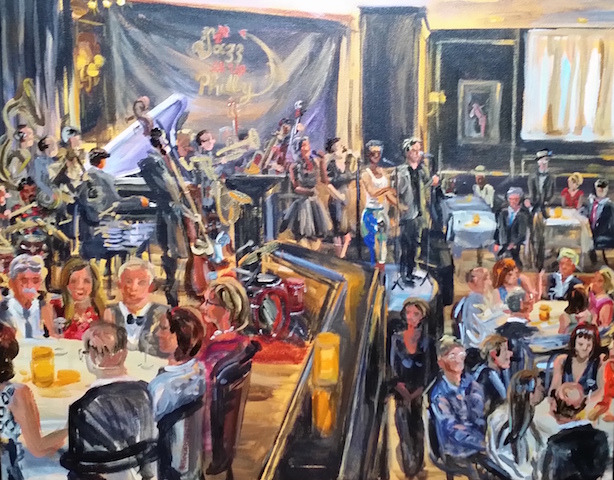 In 2015 Jazz It Up Philly sold out 24 performances and has supported the arts in Philadelphia by showcasing over 100 new and vetted Philadelphia based artists. A Jazz It Up Philly Patron is a person who believes in what we are doing here in Philadelphia and wants to see us do much more,
The experience that is Vesper.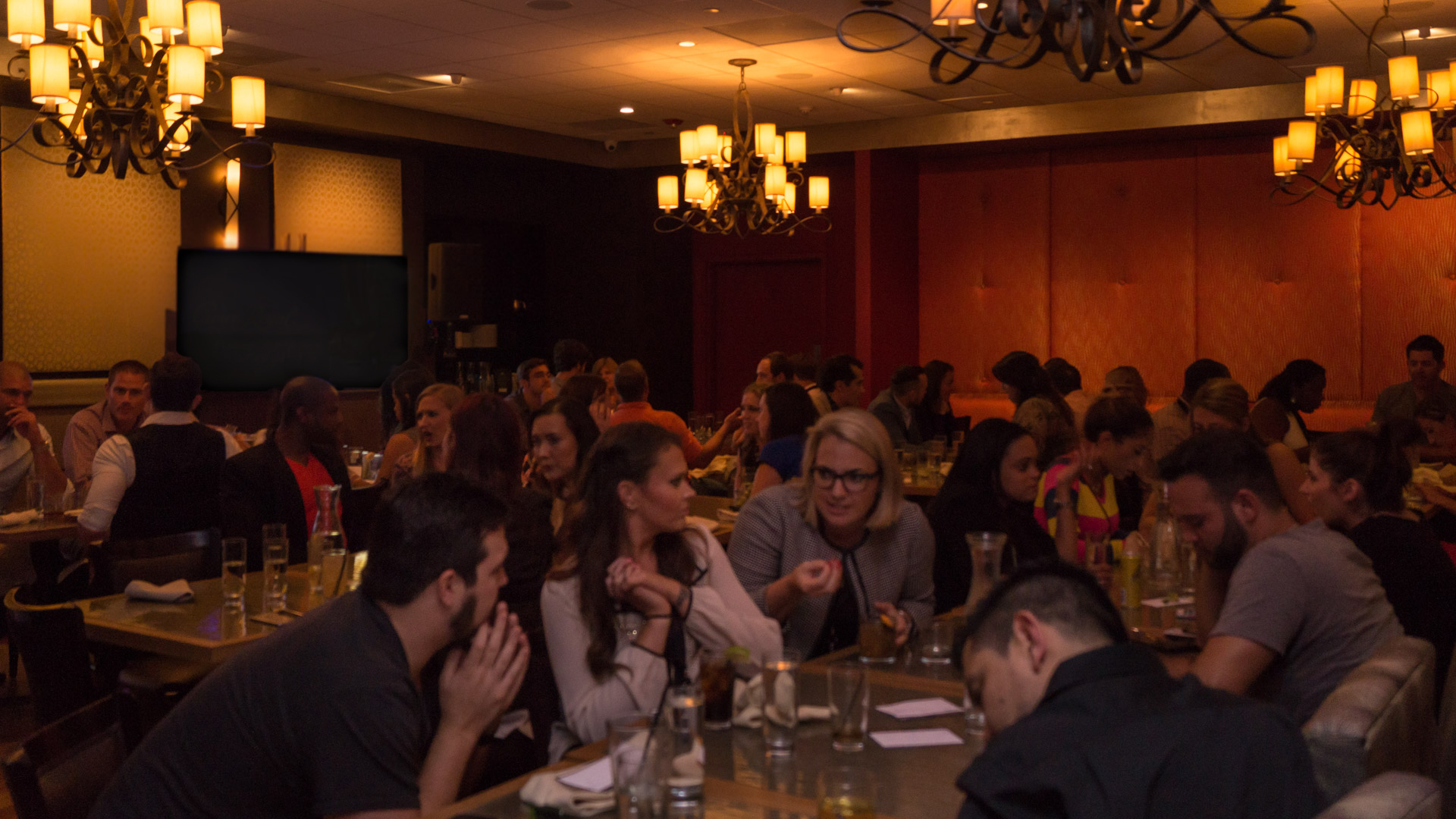 A hideaway in the heart of Philadelphia, Vesper is a modern-day supper club with an Old World feel. We invite diners into an era when meals are events to look forward to and luxuriate over: appreciating the complexity of a cocktail, every fresh ingredient, and your companion's conversation.
With its shadowy past of mob deals, bathtub gin, and general debauchery, Vesper was re-invented in 2015 by owners Brendan Smith, Chuck Ercole, and John Barry. The restaurant is a relaxing, removed oasis for an entire evening's worth of entertainment.
During Vesper Club's mid-century incarnation, prohibition lured out a mischievous side in every person, however there were also stringent rules of etiquette to abide by in polite society. Etiquette guides offered advice such as "do not shake a lady's hand first, let her do it."
While we're not so stuffy or particular nowadays, we pride ourselves on offering a refined environment for enjoying a cocktail after work, a client lunch, or date night. We advise 'smart casual' dress and appreciate your leaving flip flops and baseball hats for more desultory environments.
At Vesper, you may come for Happy Hour and wind up dancing to our live music until last call. We recommend making meal reservations and allowing yourself to open up to an evening of possibilities.
Come Join The Fun an Have A Great Time With Us!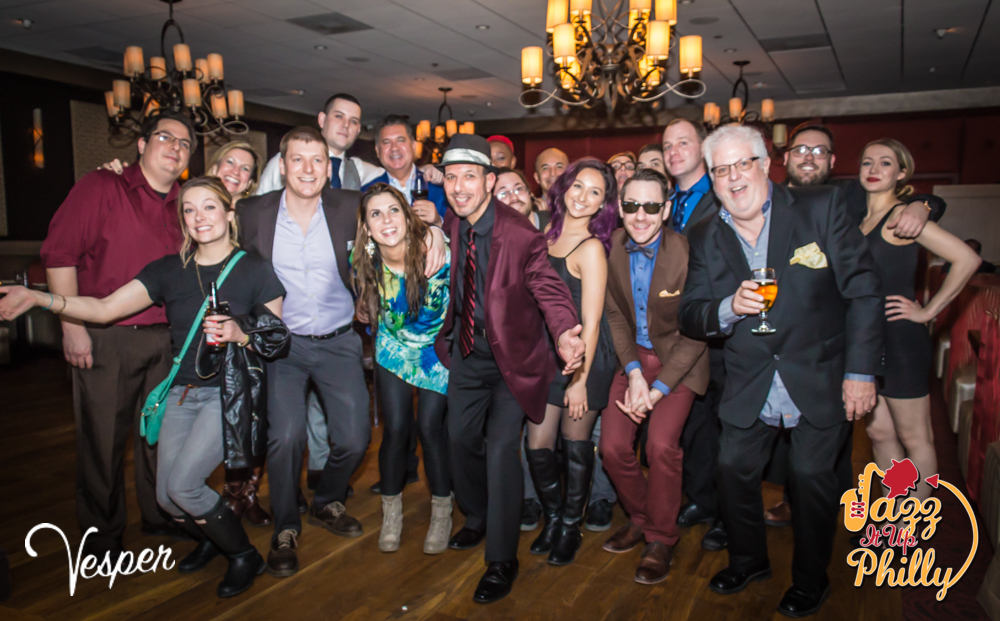 Have questions about Drew Nugent & the Midnight Society CD Release Party and JIUP Record Label Launch?
Contact Jazz It Up Philly
When & Where

Vesper
223 South Sydenham Street
Philadelphia, PA 19102


Wednesday, May 18, 2016 from 7:30 PM to 10:00 PM (EDT)
Add to my calendar
Organizer
Jazz It Up Philly
Jazz It Up Philly will give Philadelphians and their neighbors an extraordinary evening of live Jazz and Blues entertainment. These monthly live shows that will feature live Jazz and Blues bands and vocalists from the Philadelphia, New Jersey and Delaware area. Website:  JazzItUpPhilly.com; To Sponsor an Event Call 267-888-6440. Sponsored By: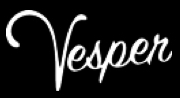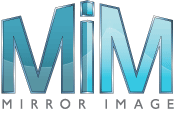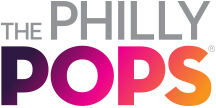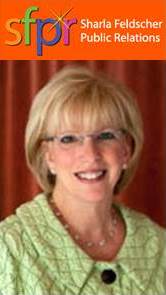 Drew Nugent & the Midnight Society CD Release Party and JIUP Record Label Launch