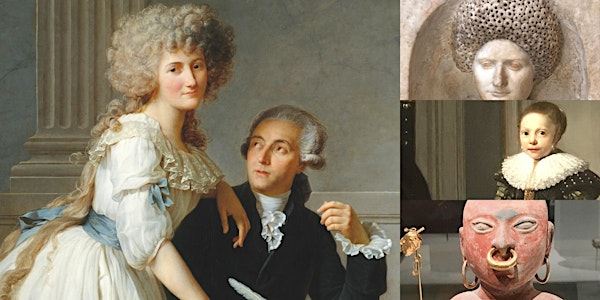 'Dressed to Kill: The Art of Fashion & Beauty Standards at the MET' Webinar
Can't make it live? Register and get access to the full replay for one week! New York Adventure Club | www.AdventureClub.com
About this event
While the world-renowned fashion collection at The Metropolitan Museum of Art (MET) is largely inaccessible to the public, there are other places in the museum where you can follow the changes in fashion throughout the ages: in the portraits of the "beautiful people" that line the great museum's walls. It's in these paintings that the beauty of people is front and center — not so much in their physical attributes as their accessories like clothes, hair, make-up, and jewelry. It's time to explore select art works that tell the story of fashion from culture to culture, and century to century.
Join New York Adventure Club as we follow the history and story of fashion through The MET's vast art collection, with a focus on the fascinating, bizarre, and painful things people have done throughout history to look "beautiful."
Led by Dr. Andrew Lear, a world-renowned expert on gender history and NYC tour guide, our virtual journey through select artworks in the museum will include:
A look at the elaborate hairdos of Roman Empresses, and their resemblance to the foot-high big hair of ladies at Marie Antoinette's court
A discussion around the incredible jewelry found in art, from gold ear plugs of pre-Columbian priest kings to bronze neck rings of African chieftains
Fashion in the Renaissance, from hoop skirts, to sexy shoes, to the slinky dresses introduced by Napoleon's Empress Josephine
A deep dive into the evolution of corsetry throughout different time periods
The fashion revolution of the late 19th century, which included department stores, unisex clothing, and athletic clothes for women
Afterward, we'll have a Q&A with Andrew — any and all questions about these artworks at The MET are welcomed and encouraged!
Can't make it live? Don't worry, you'll have access to the full replay for one week!
See you there, virtually!
*Immediately upon registering, you will receive a separate, automated email containing the link to join this webinar
**For the best possible viewing experience, please ensure you're using the latest version of your internet browser — Google Chrome is the most compatible. Exact technical requirements and a webinar user guide will be shared in the automated confirmation email upon registration.
***A full replay of the experience will be available to all registered guests for up to a week
About Andrew
Prof. Andrew Lear is a renowned expert on gender and sexuality in Greek and Roman antiquity. During his academic career, he taught at Harvard, Pomona College, and NYU. In recent years, he has founded Oscar Wilde Tours, the LGBTQ history and culture tour company and Shady Ladies Tours, a women's history and culture tour company. He is also working with actor/author Stephen Fry on a podcast about the "Scandals and Secrets of London's National Portrait Gallery."
Testimonials
"The in-depth research and information presented in a non-stuffy manner!" -Nena
"Presenter's style, knowledge & information he presentedn. So interesting & includes cultural context, which I appreciate." -Phyllis
"Andrew is very knowledgeable and interesting. Loved it!" -Gail
"I am a major fan of Andrew Lear, and have attended many of his programs (in person and online). Today's presentation was fabulous as always— very informative (even scholarly), while entertaining at the same time." -Diana
"I knew absolutely nothing about this subject and this presenter was a wealth of knowledge and background. When I get back to the Met someday I will have a whole different appreciation of that section. Thank you!" -Sharon
"Always enjoyed fashion history and the thought process behind certain looks." -Shayla
"I liked the information about styles in the different periods since I had never given much thought to the fashions of those times." -Patricia
"Lear is wonderful. He is knowledgeable and personable. My first but not last with him." -Doris
"Fun, entertaining and interesting." -Laura
"Such a fun way to show the effect of fashion on human ways of appearing beautiful and how that has changed and switched over the centuries." -Linde
"Many fun details about clothes, hair, and adornments. Interesting." -Susan
"Professor Lear gave a wonderful presentation - both in relation to content and visuals and also presentation style." -Lynn
"Light and entertaining fare for a Friday night. Informative without being taxing." -Lahring
Disclaimer
By attending a New York Adventure Club experience, you accept our terms of service.
Categories: Virtual, Art & Entertainment