Description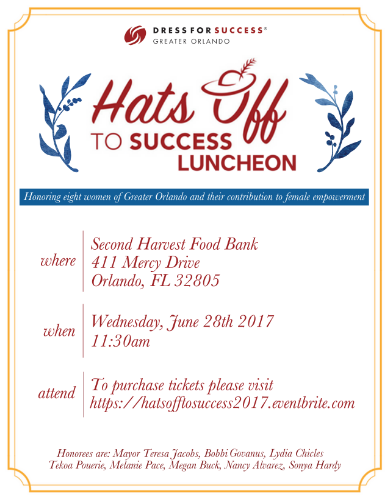 Dress for Success Greater Orlando will host our annual Hats Off to Success Luncheon on June 28, 2017. We hope you will join us on this amazing opportunity to honor outstanding women leaders of the Greater Orlando community who are living out our mission in a big way. This year's honorees made tremendous strides in their careers and important contributions to their community.
Below are our 2017 honorees:
Orange County Mayor, Teresa Jacobs
Celebrity Blogger and Stylist, Melanie Pace
Barnies Coffee Chief Operating Officer, Sonya Hardy
WFTV Anchor, Nancy Alvarez
President of Women's Executive Council Orlando, Bobbi Govanus
Harbor House Central Florida Chief Development, Officer Tekoa Pouerie
Dress for Success Greater Orlando Board Secretary, Megan Buck
CEO and Founder of BOLD Technologies, Lydia Chicles
Dress for Success Greater Orlando has responded to the needs of the women that we serve by providing professional attire, career development tools, and a network of support to help women succeed in work and in life.
Hats Off to Success Luncheon is not only a prime fundraising event. It is a celebratory luncheon, an inspiring honoree ceremony, and a chance to network with other amazing women in the Greater Orlando area.
Follow & stay connected with Dress For Success Greater Orlando on our social media pages as we continue to provide you more event updates!
Facebook:@dressforsuccessgreaterorlando
Twitter: @DFSOrlando
Instagram:@dressforsuccessgreaterorlando
We thank you for your continued support & can't wait to see you on June 28th.