Sales Have Ended
Ticket sales have ended
Pre-Sales have ended for this event. VIP Tickets available for Bottle Service only. Bottle Service/VIP Inquiries: BottleService@1015.com
Sales Have Ended
Ticket sales have ended
Pre-Sales have ended for this event. VIP Tickets available for Bottle Service only. Bottle Service/VIP Inquiries: BottleService@1015.com
Enter before 11:00PM to receive a FREE Stoli Vodka Slushee...
About this Event
Dreamstate & 1015 Folsom Present
DREAMSTATE SATELLITE SERIES with:
JOHN O'CALLAGHAN
FACTOR B
JAMES DYMOND
Christopher Terrance
Front Room:
- MARS (Vinyl Classics Special) - Dyloot - DJ TAJ (Vinyl Set) - Dustin Husain
Basement:
- Alastair James - Jonny Atom - Seventh Sign - Triode - Vangar
Friday September 20th -- 10pm-3am -- Ages 21+
Table Reservations: BottleService@1015.com // 415-988-3099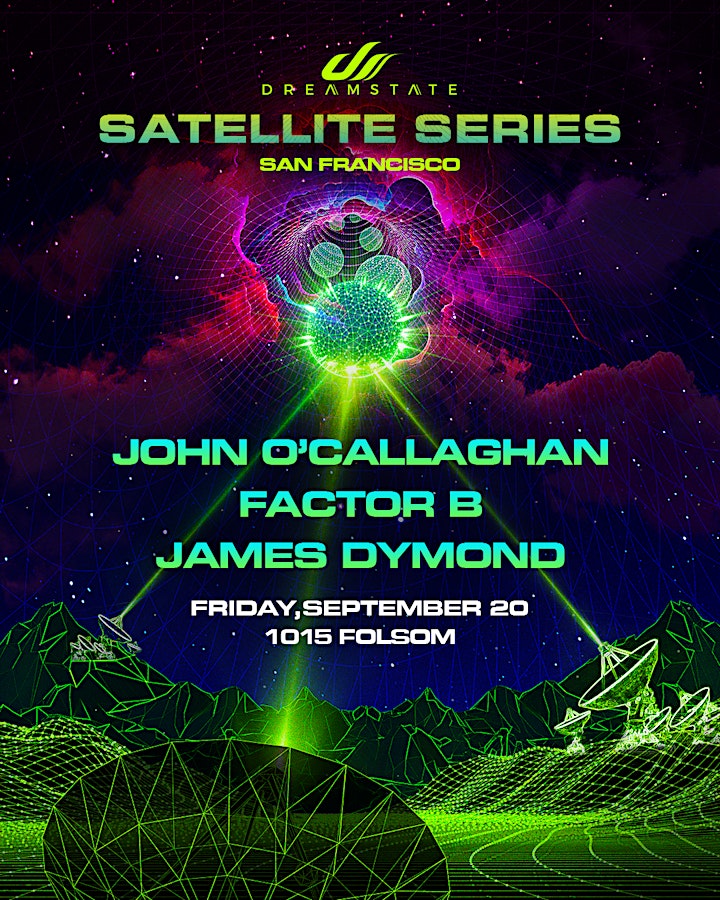 RECEIVE A FREE STOLI VODKA SLUSHEE -- Avail To All Attendees B4 11:00PM
JOHN O'CALLAGHAN
John O'Callaghan is an artist, producer, DJ and an internationally respected name in the world of Electronic music. OCallaghan or 'JOC' as his army of fans have dubbed him, has long pushed the boundaries of musical genres in ways that have earned him a stellar reputation across the dance music industry. From the ambient progressive tones of the Henrik Zuberstein guise to the techno wedged into his Joint Operations Centre productions. He always showcases true diversity in his sound, and has emerged as a leader of the trance movement.
In the past few years he has encapsulated the true artistry of uplifting melodic trance music resulting in smash hit remixes on the crème de la crème of the finest Electronic music labels around such as: Armada, Black Hole, Vandit, Garuda and of course his heavy hitting originals on his widely respected Subculture record label. John OCallaghan has long been responsible for taking vocal records and transforming them into extraordinary Trance Classics. This was evident when his remix of Gareth Emerys Concrete Angel hit Number One in the download charts, and the original was voted tune of the year by millions of fans on Armin Van Buurens A State Of Trance radio show. An artist that is responsible for creating some of the defining sounds and biggest vocal tracks of recent times, John OCallaghan has also retained unprecedented levels of credibility within the underground scene. With three studio albums and a discography littered with some of the most iconic Trance records of the recent era, such as: Big Sky, Find Yourself, One Special Particle; and Exactly.
While many of the tenants of trance have recently waved the white flag in exchange for top-dollar, big-room business, John OCallaghan has always stuck to his guns. An innovator by its very definition, the Irishman is untouchable due to his unwavering commitment to keeping the genre free from the pollutions of pandering to the masses. Tech and uplifting are his specialty, with a slew of pseudonyms at his disposal to ensure he always has a side option to spice up his discog. Either through his scene-defining sets or the sign-offs on his Subculture imprint, you can always count on JOC to push trance towards the promised land.
FACTOR B
When it comes to the world of uplifting trance, the name on everyone's lips is Australia's own Factor B AKA Brendan Blatt. In just 2 short years, his unique & classical styled productions have re-ignited trance purists across the world in big numbers, quickly establishing himself as one of the most sought after names in trance.
It began with 'Stratos Galaxias' in late 2014 & quickly grew to a string of 5 x Beatport #1's, a 'Pure Trance' mix CD for Solarstone & an elite tour schedule across the globe at some of the world's biggest festivals and club events such as Tomorrowland, A State of Trance, Dreamstate & Gatecrasher to name just a few.
The foreseeable future of #propertrance is no doubt in safe hands with Brendan taking on music full time as well as migrating from Australia to Amsterdam to keep up with growing demand for his live shows.
JAMES DYMOND
Hailing from training in classical music, James Dymond entered the Trance scene in September 2011 in a blaze of light of musical glory. His captivating sound brought him quickly to the attention of many established artists but most notably Armin van Buuren who featured James' track 'Gundam' on his 'Universal Religion Chapter 5′ CD compilation, which was later released under Armin's legendary label, Armind Recordings. Armin has also rewarded James' musical prowess by labeling multiple tracks of his as, 'Tune of the Week' on his weekly "A State of Trance" radio show where he has stated – "If you were to look up 'uplifting' in a dictionary, I'm sure you'll find James Dymond in there somewhere!"
Throughout James' music career he has had a string of hit releases, both in originals, collaborations and remixes. With his #3 Beatport collaboration hit with Ben Nicky, titled 'Refresh', the hugely supported original 'Siren's Song' released on Armada's exclusive 'Who's Afraid Of 138 Recordings' and tracks such as 'Slingshot', 'Millenium', 'Solidus', 'Carbon', 'Just Let Me Be' and 'Samples of Silk' on labels including, "Perfecto", "Mental Asylum", "Monster Tunes" and more have all shown Dymond's wide range of skills in his production portfolio. As equally on form with his remixes James has put his slant on classic Trance tracks such as, "Armin van Buuren – Communication", "Binary Finary – 1998" and "Ralphie B – Massive" (which immediately gained a spot in Black Hole Recordings' "In Trance We Trust Records" and then topped the Trackitdown Trance download charts) as well as a string of remixes for industry heavy weights Indecent Noise, Jordan Suckley and Mark Sherry.
James has regularly found support from almost every notable DJ in the scene, whether this is live at worldwide performances or on countless digital radio stations, as well as 2 plays on BBC Radio 1 'In New DJs We Trust' show. Hailed by Armada as someone who, "…could very well be the answer to a promising future of trance," James Dymond continues to prove his admirers true. His stunning rise has left a wake of successful gigs. He opened at the "Who's Afraid Of 138" stage at ASOT 600, the first time the arena was created in front of crowd that topped 5,000 people. He has headlined at the world famous Ministry of Sound in London, been booked for gigs in almost every continent of the world including sold out shows in London, Manchester, Newcastle, Glasgow, Madrid, Prague, Warsaw, Belarus, Bangkok, Borneo, Dubai, Sydney, Adelaide, Melbourne, Auckland and Argentina to name just a few. Add to that festivals such as 'Nature One' (Frankfurt), '420 Festival' (LA), 'Volksfest' (Plymouth), Grotesque (Amsterdam), Luminosity twice (Amsterdam) and 'Amsterdam Music Festival' (Amsterdam), James is no stranger to performing in front of some of the biggest crowds in the scene.
Performers
Date and Time
Location
Refund Policy