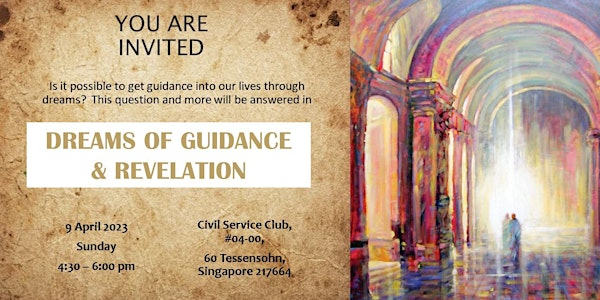 DREAMS OF GUIDANCE & REVELATION
Is it possible to get guidance into our lives through dreams? This question and more will be answered in DREAMS OF GUIDANCE & REVELATION
By Eckankar Satsang Singapore
Date and time
Sun, 9 Apr 2023 16:30 - 18:00 +08
Location
Civil Service Club @ Tessensohn 60 Tessensohn Road Level 4-01 Singapore, 217664 Singapore
About this event
1 hour 30 minutes

Mobile eTicket
"Dreams touch every level of our life. They may let us glimpse the future, or give suggestions for healing, or share insights into our relationships. Above all, they can and will steer us more directly toward God." Harold Klemp, Eckankar - Ancient Wisdom for Today, p. 25
Dreams are windows into worlds beyond the ordinary. Dreams can range from guidance into the smallest details of daily life all the way to profound spiritual insights and the experience of unconditional love. Eckankar's dream teachings can help you gain insights from the past and future, grow in confidence, heal yourself spiritually, make decisions about your career and finances, and more. Experience the sacred sound of HU which can open your heart to divine love, healing & inner guidance.
This event is held at #04-00 Civil Service Club, 60 Tessensohn Rd Singapore 217664. Next to Karate Association at Level 4. The date & time is on 9 April 2023, Sunday from 4:30 to 6:00 pm.
Kindly RSVP at this link: https://forms.gle/fku5UQoz8TXgV5Sj8
Free book on 'ECK Wisdom on Dreams'ECK Wisdom on Dreams can help you discover everything you need to know to get along in this life! Learn how to :
•Remember and interpret your dreams;•reunite with departed loved ones;•get practical help in everyday life and much more
*RSVP and collect this book at the venue & Limited to 10 first-time registered seekers (non-members).
Eckankar, the path of Spiritual Freedom is an active, individual, creative spiritual practice. A companion and road map for your journey home—to the heights of Self-Discovery and God-Discovery, and beyond. It gives practical ways for people to have real spiritual experiences—even the ultimate experience of God—in this very lifetime. You as Soul will be able to discover and become the path of truth itself. The journey is worth everything.
The Spiritual Explorer Meetup group is sponsored by Eckankar Satsang Singapore. For more information about Eckankar Satsang Singapore, please visit: https://www.eckankar.sg/For more information about Eckankar, The Path of Spiritual Freedom, please visit: https://www.eckankar.org/Kindly contact us at contact@eckankar.sg should you need further information.