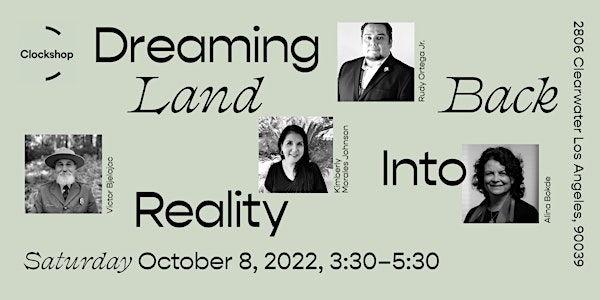 Dreaming Land Back into Reality
An exploration of the intersectional movements that work to pave pathways to the return and stewardship models of stolen land.
When and where
Location
Clockshop 2806 Clearwater St Los Angeles, CA 90039
Refund Policy
Contact the organizer to request a refund.
Eventbrite's fee is nonrefundable.
About this event
Clockshop presents a new series Dreaming Land Back into Reality, an exploration of the intersectional movements that work to pave pathways to the return and stewardship models of stolen land. Community-led campaigns working with governmental partners have lent a renewed momentum to the return of land to Indigenous, Black, and other communities of color in California. In this series, we will discuss collaborative approaches that promote interconnection, advocacy, mutualism, and land stewardship to foster the climate resilient future we need. We turn our attention to the nature of collaboration within these efforts and its processes, languages, and imaginations that have brought about change.
Ahead of Indigenous Peoples' Day, the first conversation in the series features Victor Bjelajac, District Superintendent in the North Coast Redwood District for California State Parks; Kimberly Morales Johnson, Tribal Secretary of the Gabrieleno / Tongva Tribe; and Rudy Ortega Jr., Tribal President of the Tataviam / Fernandeño Tribe. The program will be moderated by Alina Bokde, Chief Deputy Director of the County of Los Angeles Department of Parks and Recreation. The program speakers will share their experiences in navigating the co-stewardship of stolen land with Indigenous tribes and communities within and beyond colonial systems.
This event is free and open to the public. Clockshop suggests a $10 donation to help underwrite our public programs.
Seats are limited
Doors open at 3:00 PM, program begins promptly at 3:30 PM. The conversation will be hosted outdoors at Clockshop. Vaccination and indoor-use of masks are required for this event.
Dreaming Land Back Into Reality and related programs are generously supported by the Mike Kelley Foundation for the Arts.
------------------
Moderator
Alina Bokde was appointed as Chief Deputy Director of the County of Los Angeles Department of Parks and Recreation in December 2020. Prior, Alina served as the Deputy Director of the Planning and Development Agency for the Department of Parks and Recreation. Alina's passion in the field of parks and recreation is based on her strong belief that parks are fundamental community infrastructure that is essential for vibrant, healthy, and thriving communities. She brings her commitment to advancing equity in parks and recreation programs and projects. Appointed by the Governor in 2018, Alina serves on the statewide Wildlife Conservation Board. Alina received her undergraduate degree from Macalester College and a Master's Degree in Community and Regional Planning from the University of New Mexico.
Speakers
Victor M. Bjelajac is the District Superintendent of North Coast Redwoods at California State Parks. Bjelajac has been with California State Parks since 2007. His collaborative work with resources and programs that spanned management jurisdictions began in earnest in 2008 and included work with local tribes, federal, state, and local agencies, and non-profit organizations. He has been involved with the development of One Tam, Redwoods Rising, and California Landscape Stewardship Network collaborative and continues working in partnership to manage landscape-scale resource projects and programs with partners in California's North Coast region. He is a Registered Professional Archaeologist with a B.A. and M.A. in Anthropology from San Francisco State University.
Rudy Ortega Jr. (Fernandeño Tataviam) is a former Chairman of the Los Angeles City/County Native American Indian Commission and has served on the Commission since 2004. He is the Tribal President of the Fernandeño Tataviam Band of Mission Indians, a native sovereign nation of northern Los Angeles County. As the current elected Tribal President, Ortega Jr. oversees his Tribe's governmental body and manages affairs pertaining to the rights of all Fernandeño Tataviam people. From 2004 to 2019, Ortega Jr. served as the Executive Director of Pukúu Cultural Community Services, the FTBMI's non-profit that serves the greater Los Angeles County American Indian community.
Kimberly Morales Johnson (Tongva) is an enrolled member of the Gabrieleno/Tongva San Gabriel Band of Mission Indians. Morales currently serves as Tribal Secretary for the tribe and as a community-elected commissioner for the Los Angeles City/County Native American Indian Commission. She is the co-founder and Vice President of the newly formed Tongva Taraxaat Paxaavxa Conservancy Land Conservancy. Morales' father served as tribal chairman, and her family maintains Native tradition and continuity by living on their tribal traditional land. Her passion is telling the story of the Tongva with, by, and for the community. Formerly an elementary school teacher, she earned her Master's in Public Health and taught Diabetes Education with Riverside San Bernardino County Indian Health in 2010. Morales is a PhD candidate in Native American Studies at UC Davis.
Accessibility
Parking and Arrival
By car: There is street parking surrounding the building. If you are driving, we recommend searching for parking on Clearwater St, Fruitdale St, and Worthen Ave. Please be mindful of two-hour parking on Ripple Street. We always recommend carpooling or ridesharing as parking availability can be impacted by neighbors like Salazar and Zebulon.
By bus: There are two bus stops nearby: 603 on Fletcher/Ripple and 182 on Fletcher/Crystal.
By bike: If you are planning to bike, you are welcome to bring in your bike for safe keeping during the event.
Wheelchair Accessibility: Elysian's courtyard and building are wheelchair accessible.
Restrooms: There are two all-gender, single-stall restrooms on-site.
COVID Guidelines
In light of a new highly-transmissible variant in Los Angeles, we kindly ask all guests to be fully vaccinated before arriving and to wear masks indoors. There will be plenty of masks to share with anyone who forgot one at home. We will be seated comfortably but in close quarters in the outdoor courtyard. If you've been exposed, think you've been exposed, or are experiencing any symptoms, please stay home and get some rest.