Description
Dreaming In Script - Part I
Have you been looking for an opportunity to start studying pointed pen calligraphy, but haven't any idea where to start, what samples to look at, or how to use the the mysterious oblique holder? Keep reading, you're in the right place. I'm very excited to announce a beginner workshop to be hosted by my good friends at Hive & Hum on March 25th, 2017 in Santa Cruz, California!
This workshop follows a systematic approach to learning the American Roundhand script known as "Engrosser's Script" that I have been developing over several years of dedicated study and practice. Students can expect to gain a foundational understanding of the Five Basic Forms used in the lowercase or 'minuscule' alphabet, and an overall understanding of how to deconstruct, analyze, and reproduce letters.
Below is an exemplar (I.e. an example that a calligrapher studies forms from) that will be referenced during the class, written by one of the greatest penmen to ever live, Charles P. Zaner, some 100 years ago, in 1917.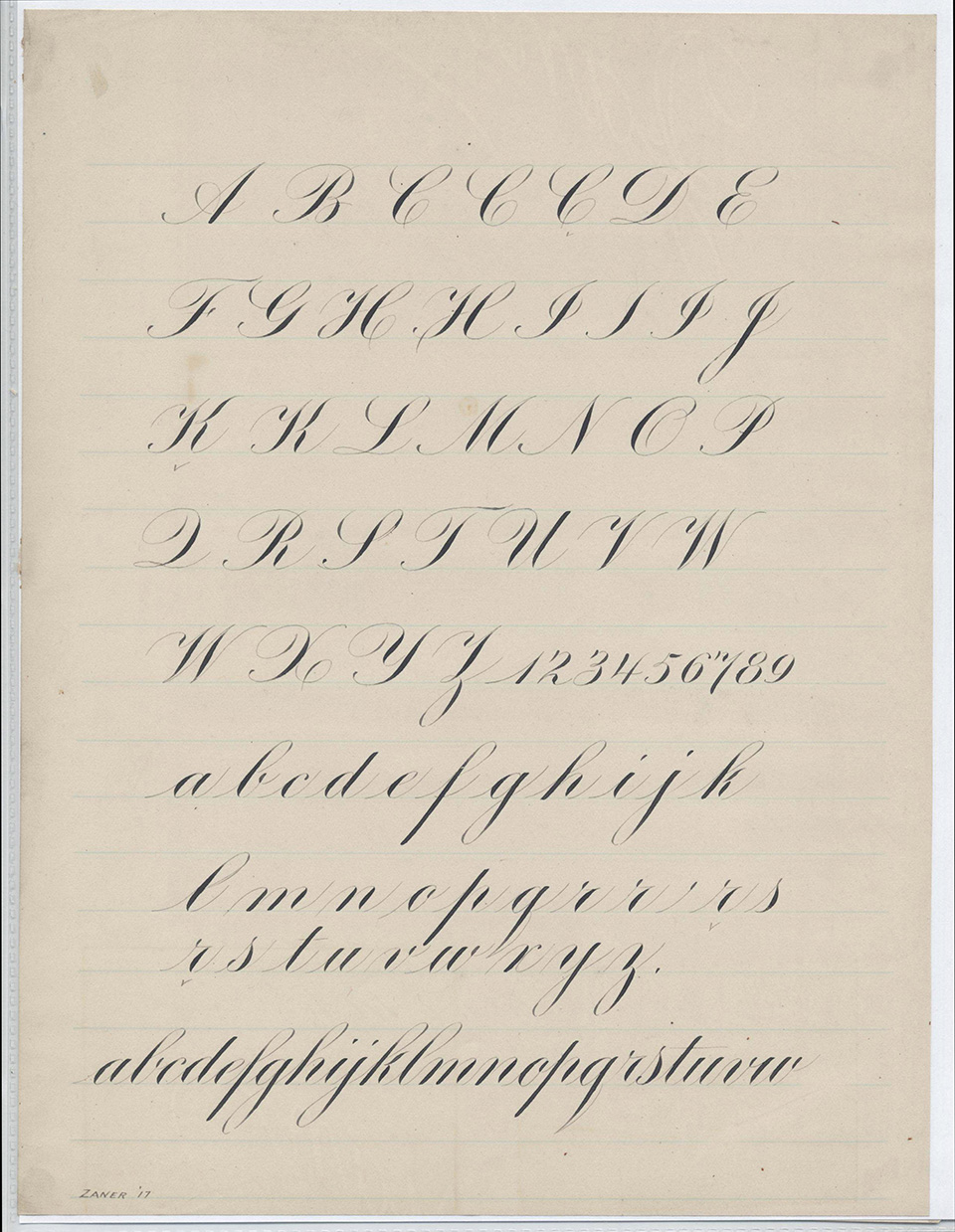 Being that this is a beginner class, all of your materials will be provided, and you simply have to show up on the day of the class ready to work hard, learn as much as possible, and get excited about what you can do with calligraphy and how it can change your life like it has changed mine.
When you register, I'll set aside the following items for you to use take home with you on the day of the class.
An Oblique Pen Holder
A Hunt 101 Nib
Lined Rhodia Paper
Walnut Ink
Pencil
Protractor
Workshops can be a scary place, but there is no better place to start your calligraphy journey than in person, surrounded by like-minded creatives. There will be plenty of time to ask questions, get feedback, and gather input on your specific challenges, goals, and dreams. You'll also get to know your fellow classmates with some really fun group exercises and activities.
This class is set up for anyone who wants to have a solid foundation in script writing. This means it caters to both absolute beginners and those with a little bit of self-guided experience equally.
Check out what some of my past students have said, and I hope to see you there!
---
What Past Students Have Said
---
"The depth of his knowledge in the technique, history, and analysis of Engrossers' was blatantly apparent and undeniable, as expected. But even more so, his teaching disposition was a pleasure. Easy going, patiently fielding my many questions and interruptions, his clear passion for the subject is infectious. It's clear he loves the art but also finds joy in teaching others."
- Hereen Oh
---
"Not only is David an inspiring artist and a natural instructor, he is uniquely perceptive and attentive. I recently participated in David's one-day Engrosser's Script workshop and realized there is no substitute for in-person instruction. David has a knack for coming up with impeccable metaphors to help individual students with their struggle spots. It's rare to find such a thorough and rigorous workshop, let alone one that is so fun. I highly recommend David's critical practice approach to script writing, no matter where you think your calligraphy journey will take you. It's a great foundation and his warm enthusiasm is contagious."
- Helen Hulskamp
---