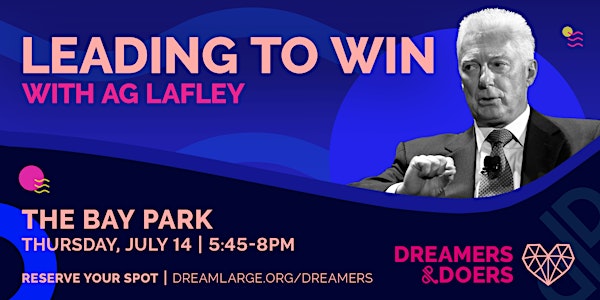 Dreamers & Doers: Leading to Win with AG Lafley
Dreamers & Doers is an interactive speaker series where local luminaries share their perspectives and ideas through meaningful discussion.
Date and time
Thursday, July 14, 2022 · 5:45 - 8pm EDT
Location
Sarasota Garden Club 1131 Boulevard of the Arts Sarasota, FL 34236
About this event
Leading to Win with AG Lafley
Meet local changemaker AG Lafley, Former CEO of Procter & Gamble and founding CEO of The Bay, to learn about his newest endeavor titled Leading to Win, engage with young professionals and visionaries, and experience an evening of discovery and learning from a leader with an incredible range of real-world leadership experience, from tiny start-ups, to private equity and Fortune 50 companies in a range of industries.
Join us for an evening of discovery, learning, and connection with young professionals and business leaders alike.
Learn more at: www.dreamlarge.org/dreamers
A schedule for the full series is included here:
Leading to Win with AG Lafley - Thursday, July 14 - Learn More Here
Recipe for Success with Michael Klauber - Thursday, August 11 - Learn More Here
Breaking Barriers with Michael Saunders - Thursday, September 8 - Learn More Here
About AG Lafley:
A.G. Lafley is the former CEO of Procter & Gamble, who worked for decades in and with large public companies. Over the past 15 years, he has turned more of his attention, energy, and time to small businesses and nonprofit organizations. He currently serves on the boards of Omeza, FIGS, Tulco, Hamilton College, and the Sarasota Bay Park Conservancy. A.G. is the co-author of two best-selling books, The Game Changer on innovation and Playing to Win on strategy, as well as numerous articles on leadership and management for Harvard Business Review.
About the Dreamers & Doers Speaker Series:
Dreamers & Doers is an interactive speaker series that activates local and global influencers to educate, inform, and engage with young professionals. These become platforms for young professionals to network with experienced leaders in their field and learn about collaboration, communication, leadership, and ingenuity, as well as the ins and outs of their fields.
About the organizer
DreamLarge is a changemaking organization. 
We are dreamers and doers, innovators and creators. We work to inspire, impact, and enrich our local community by cultivating thoughtful ideas and initiatives that we believe can sustain a long-term positive impact on our ideals. Our vision is simple: We're dedicated to fostering a greater future for generations to come. We partner, plan, invest, and strive towards building a better community. Why? At the heart of our being, we truly believe in one thing. This sentiment is our guiding light and the cornerstone of everything we do: Wherever we are, whatever we do, we have a duty to serve our community. For more information, visit www.DreamLarge.org