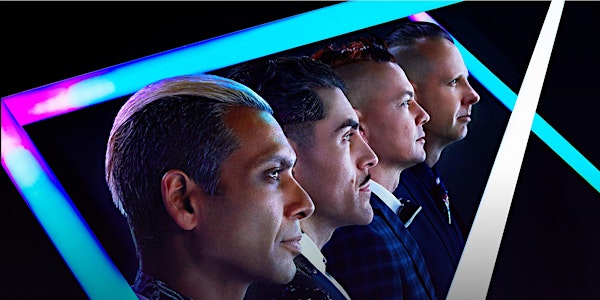 Dreamcar @ GAMH w/ Oslo - SOLD OUT!
When and where
Location
Great American Music Hall 859 O'Farrell Street San Francisco, CA 94109
Description
Door 7 / Show 8
There's something romantic about a band's early days. A sense of innocence, optimism, and wonder courses through the music. In the summer of 2014, No Doubt's Tony Kanal [bass], Tom Dumont [guitar], and Adrian Young [drums] and singer Davey Havok [AFI, Blaqk Audio] began writing and demoing music together. Without telling a soul outside of their significant others, the four musicians clandestinely moved into a cramped downtown Los Angeles rehearsal spot and revved up what would become DREAMCAR.
"It reminded me of the early days of No Doubt when we were jamming in an Orange County garage," recalls Dumont. "We felt that same sense of freedom. There was no label, no manager, no agent, and no roadies."
"For a good year-and-a-half, it was just the four of us making music," adds Kanal. "We had this opportunity to be a new band again. That's a very special thing to be able to do. We were just making music to make music."
The union of Kanal, Dumont, Young, and Havok pre-dates those magical jam sessions. Paths crossed in the music industry as they do, but Young can recall standing on the side of the stage and watching Havok with rapt attention as Blaqk Audio opened for No Doubt in 2012. "Davey was super charismatic," says the drummer. "It was powerful to watch."
"He was fearless to come from the punk world and do something that flies totally in the face of that," agrees Dumont. "We found that sense of bravery exciting. We didn't ever want to be constrained by unspoken rules of a scene or anything like that, and he was like-minded."
When Havok heard the first four demos, the music immediately resonated, transporting him back to his childhood fascination with the celebrated New Romantic movement. "It was very fun, because the songs touched on an aspect of my creative inspiration and musical upbringing that has never been directly touched on before," admits Havok. "When it comes to some of the most informative musical moments for me, Duran Duran and Culture Club were the earliest cassette tapes I ever bought."
Rife with shimmering guitar tones, percussive slap bass, bombastic drums, and a neon-lit dancefloor dreaminess, DREAMCAR gleefully nods to the decade of Boy George and Back to the Future through a kaleidoscope of wisdom earned from three decades creating and connecting with fans worldwide. Signing to Columbia Records, the boys are finishing off recording their 2017 self-titled debut with producer Tim Pagnotta [Neon Trees] in a North Hollywood studio.
"DREAMCAR speaks to a nostalgia, but as much as it speaks to the past, it also speaks to the present and the future," Havok goes on. "It mirrors hopes, aspirations, and attaining the unattainable. I would hope the songs do the same thing."
"On the surface, a dream car is a very male ideal," says Dumont. "You think of that question, 'What's your dream car?' Everyone will have a different answer. If you go a little deeper, it's like a vehicle for dreams."
Ultimately, it's that combination of delectable and dangerous which will leave listeners everywhere satisfied. "This is a big moment for us," Kanal leaves off. "It's a new beginning. We can't wait to perform the songs live!"
"I'd love for people to get a cinematic feeling," concludes Young. "If they hear it and want to see us live, that would be amazing. Let the dream begin."
TICKET INFORMATION
• Great American Music Hall is an ALL-AGES (6+) venue.
• No refunds or exchanges are permitted, except in the case of headliner cancellation or date change. Opening acts are subject to change.
• There is an 8 ticket limit per customer unless otherwise stated.
• NEVER buy third party tickets (Craigslist, StubHub, etc.) for over face value. Scalped tickets may not be honored.
• Once you purchase, you will receive an order confirmation email from Eventbrite on behalf of Slim's Presents.
• IMPORTANT: If you do not see your order confirmation in your inbox, make sure to check your junk/spam folder. If you still do not see your order confirmation, click here to access the Eventbrite help center.
• If you are having any other technical ticketing-related issues with your order, click here to contact Eventbrite. For general show info, click here.