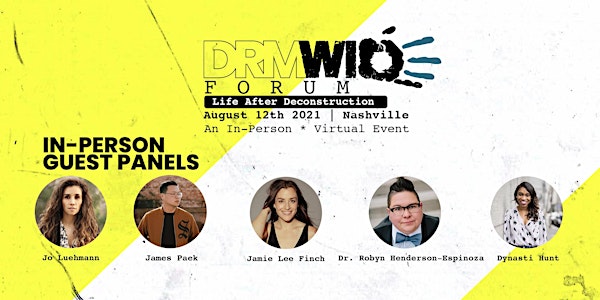 Dream Wide Forum - In-Person & Virtual
Dream Wide Forum - Life After Deconstruction
When and where
Location
Cambria Hotel Nashville Downtown 118 8th Avenue South Nashville, TN 37203
Refund Policy
Contact the organizer to request a refund.
Eventbrite's fee is nonrefundable.
About this event

Tickets:
VIRTUAL - $80
IN-PERSON (NASHVILLE, TN) - $180
USE PROMO CODE: DreamWide60 to get 60% off both Virtual or In-Person
Financial Assistance for VIRTUAL admission: Check the "Donations" box when selecting your ticket
Sponsor a virtual ticket - $80 This is a great opportunity to help someone get access to the virtual live event and be a part of the Dream Wide Community.
The Dream Wide Forum: Life After Deconstruction
The journey of deconstruction, un-learning and exiting familiar spaces can be isolating and unnerving. Doubts, crippling fears, and the struggle to find hope and community seems baked in. But there are more of us on this journey than ever before. It's time to gather, to listen, to continue the process of dismantling destructive systems, ideologies, and abuse all while setting our sights on the beautiful, more equitable future ahead of us. It's time to give hope legs.
The Dream Wide Forum is a live event that will facilitate conversations around: Amplifying Marginalized Voices, Relationships with family and friends who are still inside the church construct, Boundaries, Marriage after deconstruction, Theology on hell and salvation, building healthy relationships after leaving unhealthy churches and much more.
Topics of conversation:
Relationships - Spiritual abuse is such a disconcerting and painful reality; and one of the things that makes healing from it so difficult is the loneliness of walking away from paradigms we've held as absolutes. Relationships, after shifting away from abusive ideologies, can be challenging; but there are healthy ways to keep evolving, set boundaries, and not betray ourselves anymore.
Healing - Contrary to what many believe, nobody decides to challenge their beliefs, and walks away from their faith flippantly. It's always a very long process of considering the ways in which what we have isn't healthy for us or those around us. Healing our own relationship with ourselves is at the root of deconstruction and that can look vastly different from one person to the next.
Divesting - One of the most jarring realizations when we start questioning our spiritual frameworks, is seeing how the faith we've aligned with has been used to abuse and harm entire people groups. It's akin to waking up to realize you are the villain when you've been convinced you were the hero all along. Divesting from abusive ideologies that harm entire people groups is hard work, but necessary work.
In-Person Guest Panels: Jo Luehmann, Jamie Lee Finch, Dynasti Hunt, Dr. Robyn Henderson-Espinoza, James Paek
Hosted by: Jarreau Bowen
*More Special Guests to be announced
📌 Location: Online/Virtual + In-Person One-Day Event
💰 Admission: Event tickets are available only through Eventbrite and must be purchased online prior to arriving at the event.
*With every ticket purchased, you will have access to a lifetime membership to the Dream Wide Online Community Platform and receive updates for future events.
🖥 Visit our website for more info: www.dreamwideforum.com