Description
D.R.E.A.M Pushers
[D] emanding [R] esults [E] xperiencing [A] uthentic [M] anifestation
Men's & Women's 2K18
Being held in North Charleston, SC
July 18th -21st
The goal for this conference is to Empower men and women of all ages with knowledge, courage and the ability to achieve their goals, visions and dreams even though the obstacles of life have been designed to make them quit.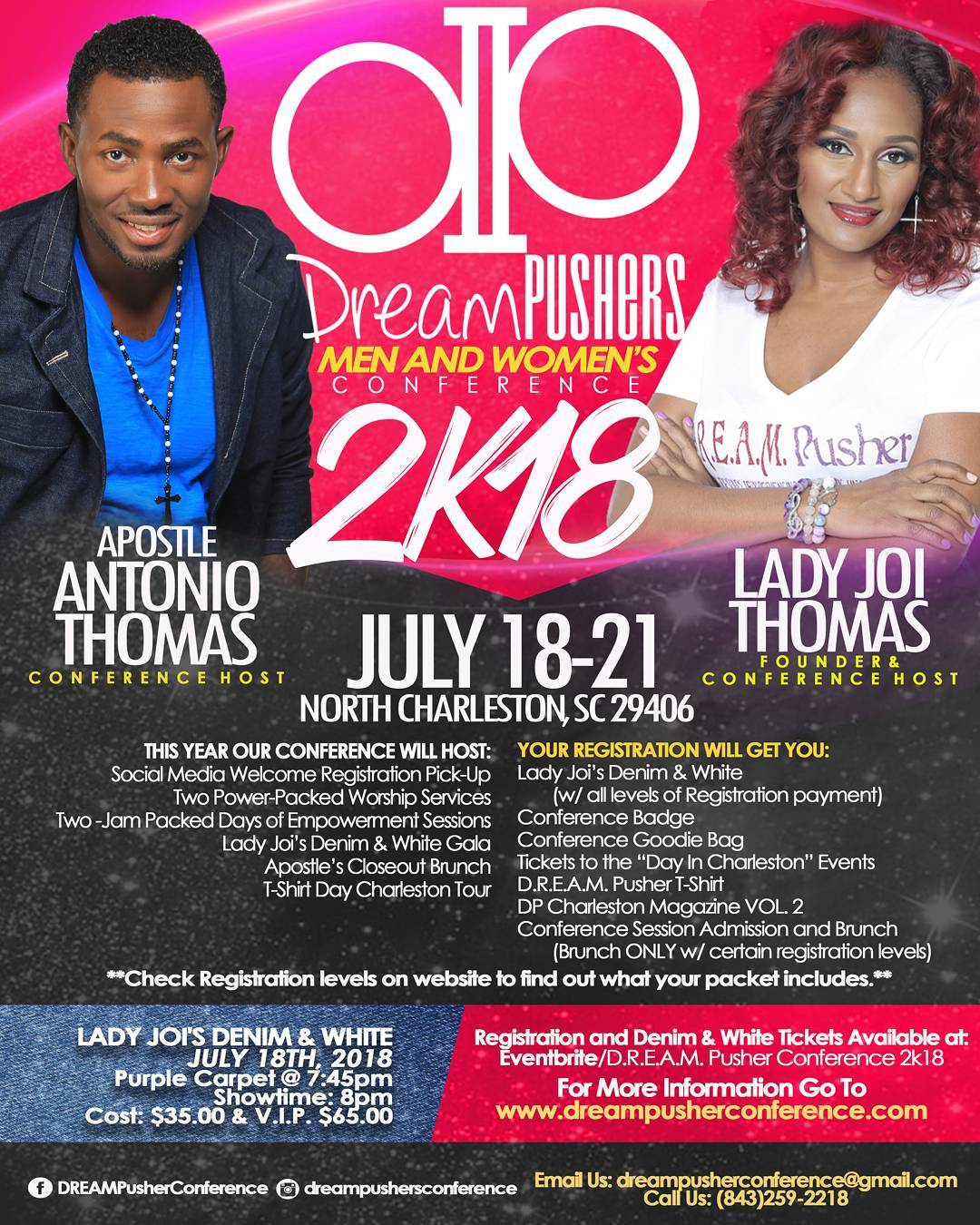 This year our Conference will host:
Social Media Welcome Registration Pick-Up
Two Power-Packed Worship Services
2 Jam Packed Days of Empowerment Sessions
Lady Joi's Denim & White Gala
Apostle Thomas Push Brunch
TShirt Tour Of Charleston Day
And More Surprises……
~ Lady Joi's Social Media Denim & White Affair
When: July 18
Time: 8 pm
You can purchase your ticket right here on EventBrite
~Apostle's Brunch
When: July 21
Time: 9 am
You can purchase your ticket right here on EventBrite
We also have:
*Vendor opportunities,
*Sponsorship opportunities,
*Magazine ads space
and our
*Donation corner.
If you would like more information on any of these things, please email us at dreampusherconference@gmail.com.
If you would like to become a sponsor or give a donation, please click on the Sponsorship/Donation tab on this page in the ticket purchase area!!
We look forward to seeing July 18th -21st at our Bi-Annual Men's & Women's Conference!!
Remember to Register....
For more information you can log onto:
www.dreampusherconference.com (available March 17)
Facbook.com/DREAMPusherConference
Instagram: @dreampushersconference
Email Us: dreampusherconference@gmail.com
Call Us: (843)259-2218