Description
Do you have challenges in achieving your dreams and goals?
You tried your best but still cannot achieve your goals & dreams. Do you want to know WHY?
Amazing news!!! Murshidah Said, Best Personal Brand Award Winner as a Life Transformer Singapore 2017 who has spent more than 10 years helping and supporting people to achieve their dreams and long term success. At her workshop she will share how she was in Malaysia with only Rm 2 and got RM 20 000 in less then two weeks using proven principles and values of the most successful people in the world. She has used these principles to achieve many successes and achievements in her life including becoming an Award Winning Personal Brand. Come to the workshop to meet her and learn valuable knowledge and tools that will change your life and accelerate your success.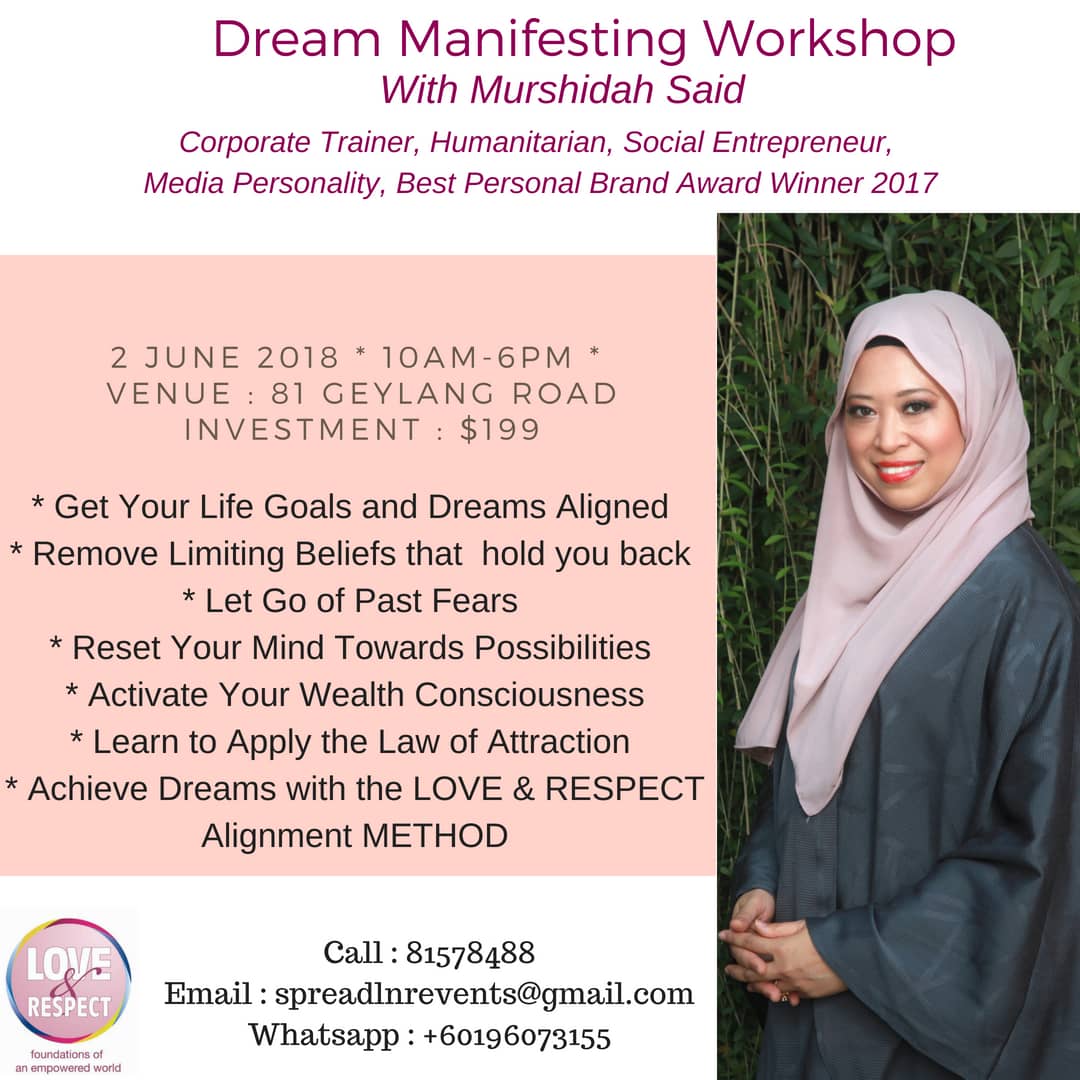 Success Story
In 2015 we met Hasan a teen Syrian refugee. At that time he was 15 years old. We organized a baking class in collaboration with an NGO that supports refugees. Hasan was a very charming and friendly person. We were amazed to learn that he could speak fluent Malay and English.
However after getting to know him and family we found out that he had a dark past living in a war zone for a year, and losing some of his relatives and friends in a bomb blast.
He was also jailed for 9 days in Malaysia due to working to support his family.
Hasan faced a lot of trauma which really affected his life. Seeing his challenges and at the same time his potential we decided to sponsor him into our How To Be A Great Communicator Train The Trainers Program. His dream is to become a teacher and speaker We focused a lot on positive mindset change and eliminating the negative experience through Neuro Linguistic Programming (NLP) and Accelerated Learning Techniques and principles.
After the program Hasan had an amazing breakthrough where he started his own language centre for refugees teaching English, Malay and French. He then created his own volunteer network called Al Hasan Volunteer Network to do social and charity work. He has been invited to speak at many events, featured in the newspapers and TV. Last year he became a TEDx Speaker and won The Best Story Of The Year Award. Praises to THE AL MIGHTY.
https://youtu.be/l8cEnMBUIxM
This inspires us to find, groom and mentor more Hasan's. However we cannot do it alone. We need your support to contribute anyway you can knowledge, wealth, time and etc.
Please support us by attending or event, sponsor a refugee, contribute any sincere amount or volunteer.
We pray you and family have a blessed and successful life.
Video Testimonial of Workshop
Parisa a Refugee from Afghanistan https://youtu.be/GTS3YdNoK5U
Zainab a Refugee from Afghanistan https://youtu.be/dErVGhboPSU
Love & Respect
Team Love & Respect Transformation Centre