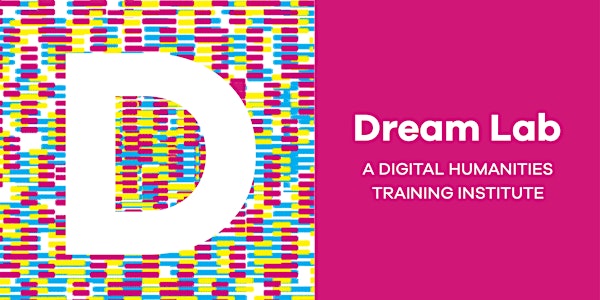 Dream Lab 2022: Digital Surrogates
Connect with other humanists while becoming a more confident and thoughtful user, creator, and critic of digital technology.
Refund Policy
Contact the organizer to request a refund.
Eventbrite's fee is nonrefundable.
About this event
About Dream Lab 2022:
Hosted at the University of Pennsylvania, Dream Lab is designed to help humanists become more confident and thoughtful users, creators, and critics of digital technology.
There will be 8 courses to choose from, each of which combines technical instruction with practical application. Please visit this link to view the detailed course list!
Dream Lab is open to everyone but has been designed with aspiring and teaching faculty, aspiring research librarians and aspiring archivists in mind. Register now, and we'll see you on June 13-16, 2022!
Course Description:
This course asks participants to learn about the process of creating digital surrogates with attention to issues of representation, engagement, and meaning. Beginning with the question "What does it mean to digitize an object?", participants will be asked to consider the responsibilities of a digitization project as it is related to paid and unpaid labor, the ethics of working with digital material, and how decisions about technical standards and platforms can facilitate or limit future use of digitized materials. Framed via critical readings on feminist labor and digital humanities work, participants will be asked to consider their learning within their own individual and institutional values and support systems. Students in the course will participate through readings, pre-recorded lectures, shared writings, and group discussion. Videos will include a tour the University of Pennsylvania's SCETI digitization lab, and discussions with experts from UPenn working on the digitization pipeline including photographers, cataloguers, infrastructure specialists, and front-end developers. Topics covered during the course will also include the International Image Interoperability Framework (IIIF), Linked Open Data (LOD), and how digitization frameworks must respond to material differences in the original artifacts.
Instructor:
Dot Porter holds Master's degrees in Medieval Studies and Library Science and started her career working on image-based digital editions of medieval manuscripts. She has worked on a variety of digital humanities projects over a decade-long career, focusing on materials as diverse as ancient texts and Russian religious folklore, providing both technical support and scholarly expertise. From 2010 until March 2013, she was the Associate Director for Digital Library Content and Services at the Indiana University Bloomington Libraries, where she led in planning and implementing new services to support librarians and faculty in the creation of digital projects. She has also worked for the Digital Humanities Observatory at the Royal Irish Academy, and the Collaboratory for Research in Computing for Humanities at the University of Kentucky. As Curator of Digital Research Services in the Schoenberg Institute for Manuscript Studies, Dot Porter participates in a wide-ranging digital humanities research and development team within the context of a special collections department. Dot's projects focus on the digitization and visualization of medieval manuscripts.
Housing
Participants in Dream Lab 2022 are responsible for finding their own accommodations. On-campus housing is available for $55 per night/per person + 15.5% occupancy tax + $10 application fee. If you do not have a Penn Card, you will need to purchase a temp card for $27. To sign up for on-campus housing, follow THIS LINK.
For more Dream related news, please visit our website.