Dream Kid Day - Japanese Film Festival

Thursday, April 18, 2013 from 10:00 AM to 8:00 PM (PDT)
Event Details
You are invited to Dream Kid Day, a one-day-only free film festival dedicated to Japanese Cinema. Whether you are into anime, documentaries, features or shorts, we have amazing award-winning films that are right up your alley. The screenings are free and an after party will be held for those in attendence.
Sign up above for any films that you wish to attend. Please only sign up if you actually plan on attending as space is limited and will fill up quickly.
Please note that because the event is absolutely free and we've had an overwhelming response, registered attendees must arrive at the theatre at least 5 minutes prior to the screening. Unclaimed tickets will be distributed to any waitlisted individuals 5 minutes before each show starts.
ABOUT THE AFTER PARTY - 
Dream Kid would like to invite attendees to the festival after party at the Arclight beginning at 6pm. An open bar and free food will be provided. As space is limited, entry will be granted on a first come, first serve basis to festival goers who present their screening ticket stubs at the door. 
More information on the films and schedule below -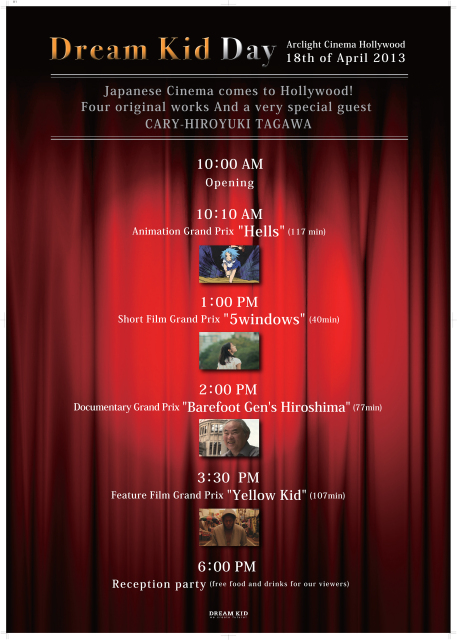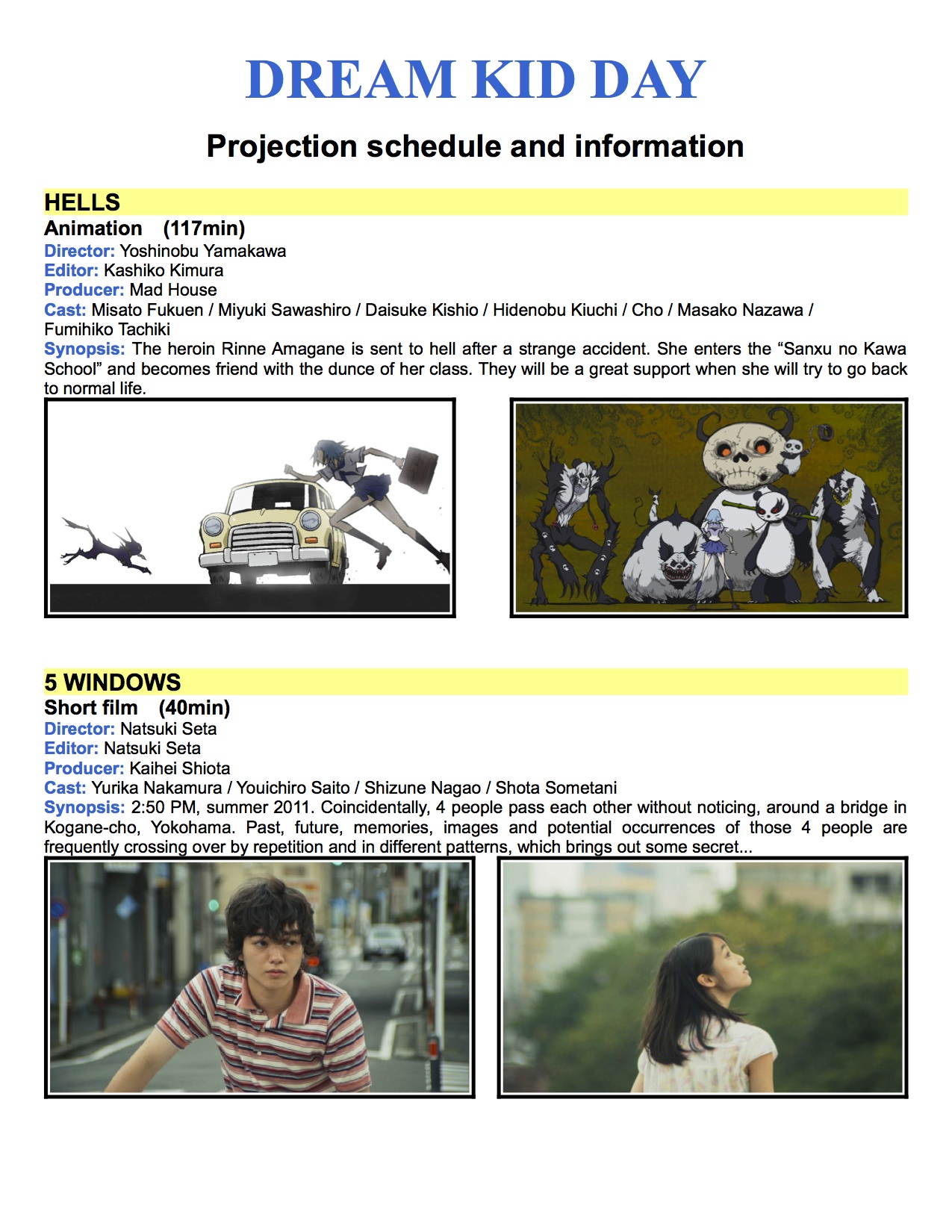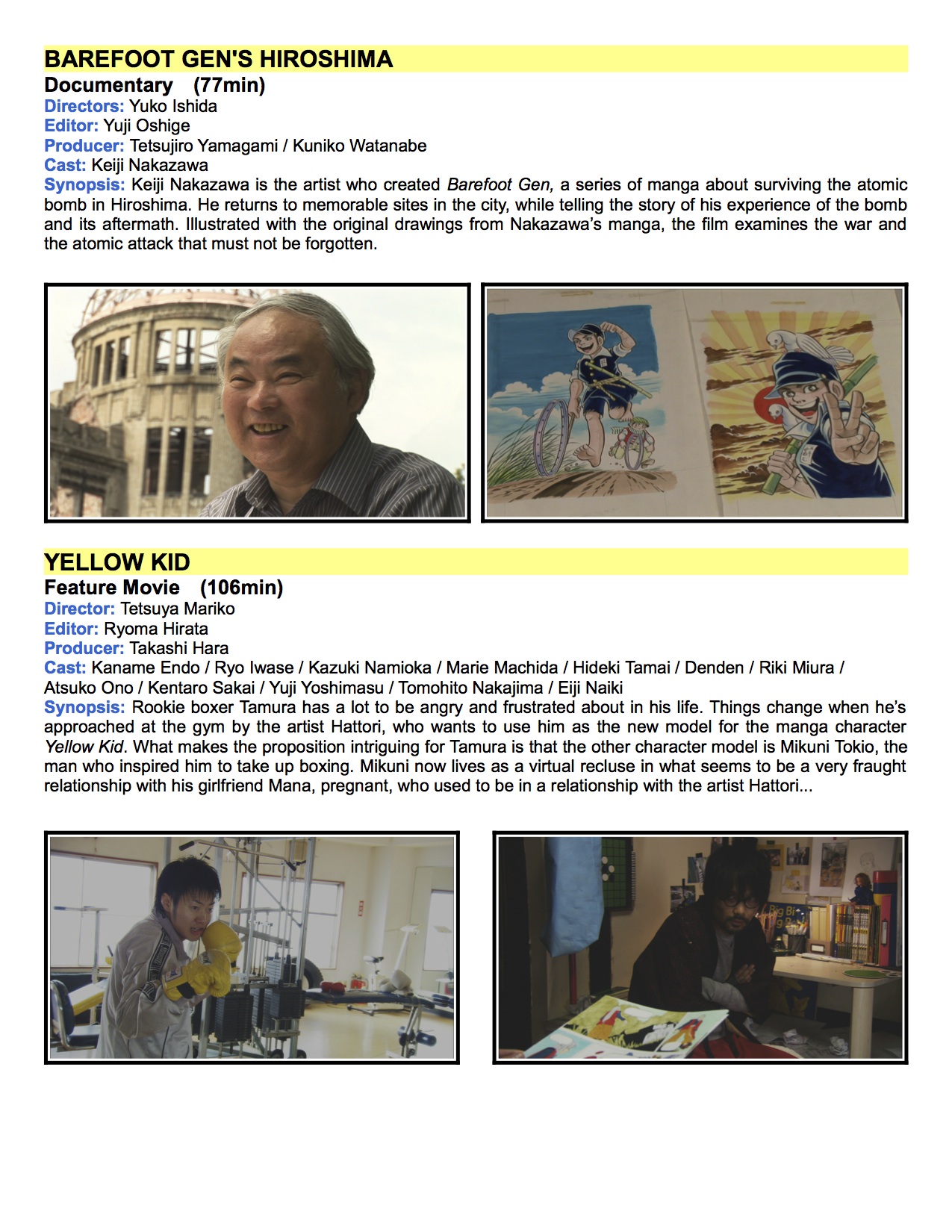 When & Where

Arclight Cinema Hollywood
6360 West Sunset Boulevard
Los Angeles, CA 90028


Thursday, April 18, 2013 from 10:00 AM to 8:00 PM (PDT)
Add to my calendar
Organizer
We at Dream Kid connect the world through movie and TV
drama distribution.

Message from the Producer Hiroki Ohwada

We live at a time in which the internet can be accessed in many
parts of the world and information on countries we have never
been to can be gained in an instant.

Despite being in such a broadband era, information is the only
thing that can be transmitted through the net, and culture and
national characters still are unable to get past national borders.
Through the production and distribution of movies and TV
dramas, Dream Kid aims to provide a mechanism that allows
various countries to exchange their own unique cultures and
philosophies with each other.

Hiroki Ohwada
Producer , CEO

The Goal of Dream Kid
To develop a contents exchange system in order to build a "culture super highway"
that promotes the distribution of overseas films. Dream Kid will be the center of contents exchange by crossing borders using broadband to create a network for distributing "culture" through movies and TV dramas.

Joint production of contents
Over 10,000 films are produced around the world a year.
Dream Kid provides support for numerous films by offering financial contribution at the production stage and
becoming involved in planning and production. These films can be either Japanese films offered oversea or
overseas films to be distributed in Japan.

Proposing and supporting overseas distribution
Many steps are involved in the process of overseas contents distribution, including translation, creating necessary materials for the targeted overseas market, and marketing.
Dream Kid will take on this complicated process in order to create more opportunities for Japanese films to
be spread around the world.

Website development and other internet related work
The video distribution business is very active in the United States. In Japan, however, many cumbersome issues still remain, such as delivery formats and media types. Dream Kid offers strategies for internet content distribution and will work as an agent as ways to create profit
for our clients.