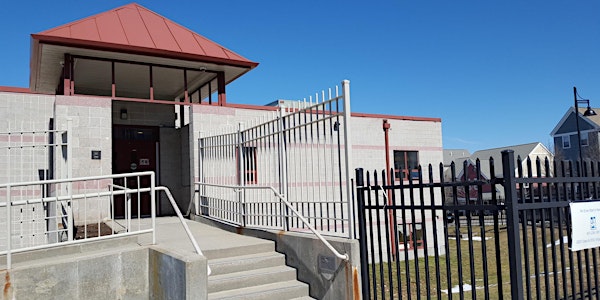 Dream, Design, Dine: Re-envisioning the Florence Gray Community Center
When and where
Location
Florence Gray Community Center 1 York Street Newport, RI 02840
Description
Join us for an evening dinner conversation and visioning session to plan for how the Florence Gray Community Center could better serve your needs.
Visiting architect, Edward Mitchell and his students from Yale University, will lead a workshop to gather ideas and dreams for the Florence Gray Community Center.
What would make you use that building more?
What kinds of space (for youth and adults) is needed?
What do you love most about the Center and wouldn't want to see changed?
What parts are most heavily used? What are the under-used spaces?
How could the Community Center be enhanced in the short-term?
How can we think big about the future of this building?
Your input is greatly valued and will help the Newport Housing Authority and other occupants plan for the future.
Includes activities for all ages, free babysitting, and free dinner catered by Scratch Kitchen & Catering on Broadway.
Questions? Contact SueEllen Kroll at sue@rihumanities.org
---
About Catalyzing Newport:
Catalyzing Newport connects cultural and community leaders to engage in conversations about Newport's development and prosperity. Through a collective impact approach, Catalyzing Newport introduces nationally recognized thought leaders and practitioners to Newport's local context to work on significant community issues during week-long residencies.
The three-year initiative (see CatalyzingNewport.org) has been facilitated by the RI Council for the Humanities and supported by the van Beuren Charitable Foundation.
The initiative has brought nine catalysts to Newport to seed conversations and planning for the future on topics ranging from digital innovation to cultural equity to urban planning. Catalyzing Newport has resulted in better relationships among cultural and historical organizations, stronger networks across sectors, and innovative experiments that have created collective impact for the cultural sector and opportunities for creative, meaningful civic engagement.

About Catalyst Residency with architect Edward Mitchell:
The June residency with architect Edward Mitchell will bring together Newport community members, planners, cultural organization leaders, and others to focus on Newport's North End and to engage in culturally and historically significant planning conversations. The North End is the location of major urban development efforts and is one of Rhode Island's most socioeconomically disadvantaged areas.