ONLINE EVENT! The Ultimate Intention Setting, Full-Day Virtual Retreat ⚡️ to empower your well being and growth in 2022
About this event
∞ "Tell me, what is it you plan to do with your ONE, wild and precious life?"—Mary Oliver
The Wild Ones is ecstatic to announce the highly-anticipated FULL-DAY virtual retreat specifically designed to help you release 2021 and embrace 2022.
The beginning of the year is always full of optimism and good intentions. Let's harness that energy and make this the best year yet. Unfortunately, by the time February rolls around, it's easy to lose steam and slip back into our old habits.
This can feel discouraging not only because our goals have gone unfulfilled - but it leaves us wondering,
"What now!?
How do I make myself better?
Where did this go wrong??"
Gain clarity around what this chaotic year really meant for you + the lessons you can carry forward, plus EVERYTHING you need to leave the past in the past.
The past couple of years have demanded something different from each of us, and 2022 will be about realigning with what you really want your life to be about.
Honestly, I used to be frustrated with New Year's resolutions. When I was younger I thought achieving goals was all about willpower.
Later, I found visioning and manifestation practices that made a difference… but I wasn't getting consistent results.
It wasn't until I did my own inner-healing and got in alignment with what I really wanted ... that it all clicked for me and everything fell into place!
This full-day upleveing retreat is designed into three parts, each one building upon the next…creating lasting results!
PART ONE
Energetic Reset™. Before we can Dream Bigger, we need to release no longer supports us… in our bodies, minds and hearts. This session will leave you feeling open to the new possibilities available for you.
Bye-bye 2021! We will begin with an embodiment practice to release stuck emotions, past hurts and limited thoughts from our bodies.
Then put the past in the past, where it belongs.
Next, be guided through powerful Healing Activation™ that will help you "energetically detach" from 2021 with a clean break to confidently step into 2022 with an open heart ♡
PART TWO
Alignment. Ready to tap in to your own unique design? To live in flow, we must align with our souls inner knowing. We will tap into what truly is important to you. This session will leave you feeling clear and aligned to your deepest expression.
Next, we will get into alignment in our hearts and body, through a guided Chaka meditation that you can do anytime you feel off-center.
With our energetic body in balance, you will notice everything else falls into place.
Then be guided though one of the BEST exercises to dig deep and know who you really are.
PART THREE
Vision. Now we get into my favorite part, DREAM BIGGER! We have done the work we needed to do to get here. This session will leave you get in the highest vibration and excited for your aligned vision for 2022 🎉
It's time! Finally, we'll get clear on what you really want in 2022, set your intentions, and help you create the first steps for you to make them a reality.
Your Biggest Dream is possible!
You'll be guided through our final deep hypnotic to bring in the strength and wisdom you need to navigate any obstacle that get's in your way.
This is the ONLY event you will need make 2022 your best year yet.
This is one event that won't disappoint!
Join in ↓
At the end of just one day you will:
◖ Set your inspired intentions - your Sankalpa - to refine your will, and to focus and harmonize the mind and body.
◗ Gain strategies for aligning yourself with lunar and seasonal cycles to increase the natural flow of your life.  
◖ Learn the secret real reason you've had trouble sticking to resolutions and creating new habits for yourself.  And you'll learn how to break the cycle for good!
◗ Effortlessly shed the layers of consciousness keeping us stuck in old patterns and habits
◖ Apply a visioning process to create the life you've envisioned for yourself.  
◗ Gain perspective on 2021 as an opening and opportunity to supercharge your life and shift our global paradigm. 
◖ Get laser-focused on what you want to create in 2022...and beyond!
◗ Know the exact steps to take when you get out of alignment with your goals.
◖ Feel motivated, reenergized, and clear about the next steps to make your dreams, your reality. 
And most of all . . .
Say goodbye to 2021 and let go of what was energetically and subconsciously holding us down, so we can create space for what's truly possible.
Dream Big! 2022 is your breakthrough year, and you can make it happen with The Wild Ones Virtual retreat.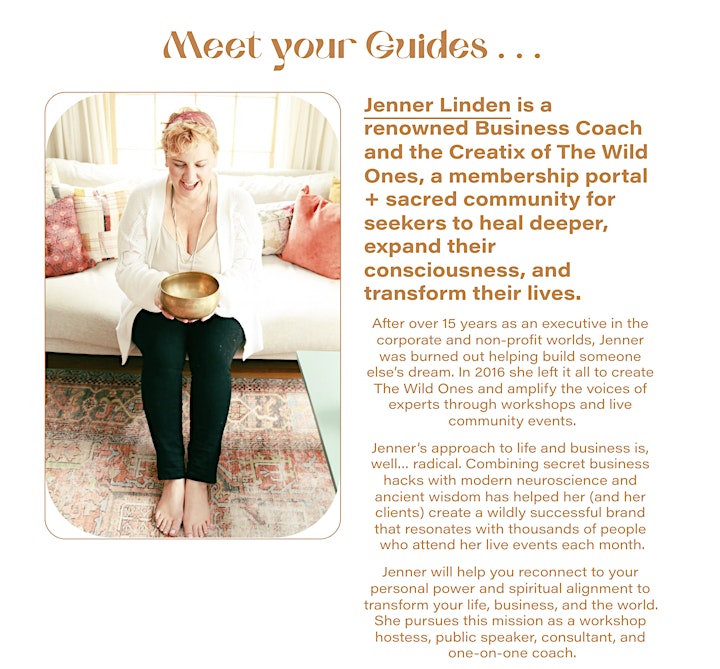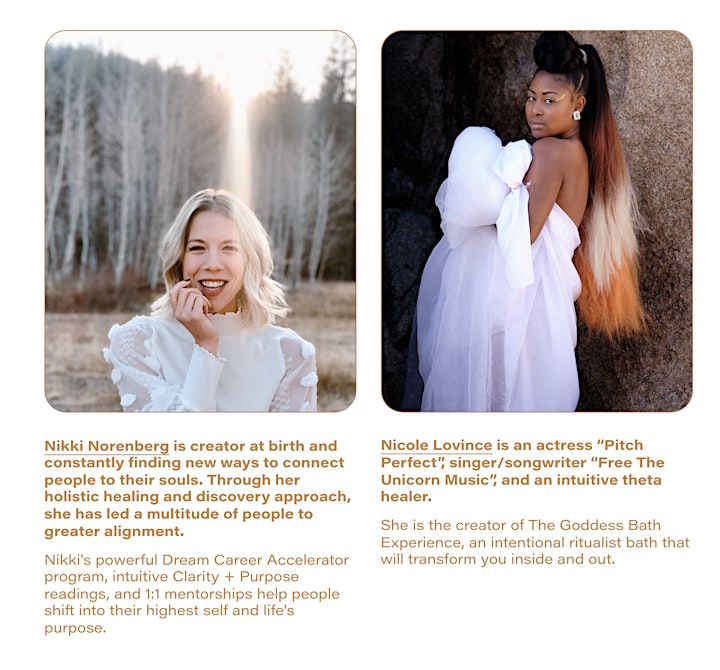 Organizer of Dream Bigger Virtual Retreat! The Ultimate Intention-Setting Event
Love The Wild Ones? Join us! A membership portal + sacred community for the spiritually curious to deepen, expand & transform ⋑ Secret workshops ⋑ energy readings ⋑ potent rituals. Featuring trusted experts to fall wildly in love with your life. Join the pack!  www.thewildones.community