DREAM BIG MAKE ART Collaboration w/AJ Lavilla & Savior Elmundo - 2Man Show - MUST REGISTER BEFORE TUESDAY 6/15 11:59PM - Please wear a mask.
About this event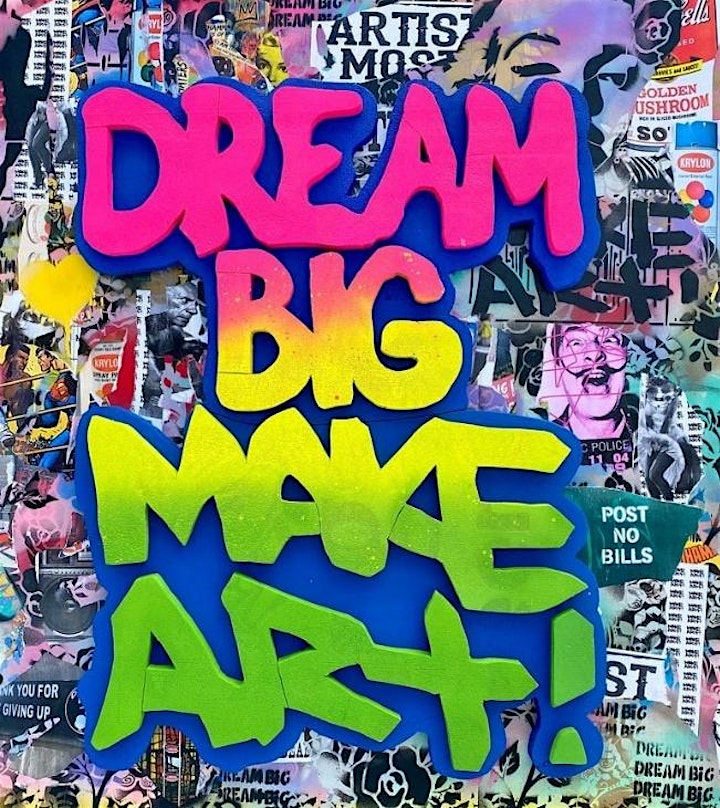 Description – Dream Big Make ArtThe show came to fruition with the goal to inspire everyone to Dream Big and Make Art. Vibrant colors lead you through an exploration of framed artwork, to stunning installations, visual experiences, and strong texturized expressions using 3D mixed media materials. The finale of this journey is the main collaboration piece that brings together the styles of both artists. It is energetic and bold with brilliant hues that should not be missed.
This exhibit is dedicated to bringing happiness to the people. It is time to step out and reconnect with art and the experiences that bring us joy. Dream Big Make Art is the opportunity to step into inspiration and motivation.
MUST REGISTER BY 6/15 11:59PM to attend the exhibition.
About the Artists
AJ Lavilla, Dream Big, is a visual artist born in llo-llo City, Philippines and is currently based in Queens, New York. Being passionate about inspiring the next generation to pursue their dreams, AJ donates artwork to various organizations and operates a non-profit in his childhood town that provides art workshops for children. Knowing well the struggles and hustle of life, AJ infuses messages of motivation and inspiration into his art, using vivid colors to bring his vision to a physical experience. His work demands your undivided attention, examining the meaningful quotes and then walking away with the understanding that perseverance is your truth. In essence, Dream Big is, "Having the mental freedom to think about what I truly want out of life, seeing the bigger picture and going after it".
Savior Elmundo, Make Art, is a New York native forever inspired by the culture that undoubtedly influences his art. The complex energy in his work is reflective of the vivacity we all feel and love in NYC. The brightness, splashes, texture and mixed media draw you into his world of details and words leaving you nostalgic for another time. Evolving from dancing and film making, Savior honors the artist in each of us. The ethos of Make Art is "to inspire and motivate all artists to express themselves through whatever medium or outlet they choose".
The JourneyThis duo came together to collaborate on work for the World Trade Center in 2018, then continued at the Brooklyn Beer Garden, contributed to numerous group shows, and held their own solo exhibitions. Now, their two-man endeavor at the New York City Arts Empire Gallery showcases their newest works.
Recognizing the isolation and impact on well-being that the pandemic has brought to our lives and our city, the two creative minds came together to share their individual experiences of making art over the past year in lock down. Savior felt the immediate impact in NYC and found himself searching for creative ways to express all that was happening in the world including the social injustices and inequities that were evident. He pushed himself to get messages out on the street using the panels that were there covering store windows, the message was and remains, Black Lives Matter and Make Art. Using found materials, rolls of paper and other easily accessible items, he created many works that have inspired the pieces presented in the two-man show. AJ was unable to leave the Philippines for several months when the pandemic hit New York and upon return, he was faced with the realities that we were all struggling to adapt to. He immersed himself in new art projects and found a sanctuary through creating more and more art.