Description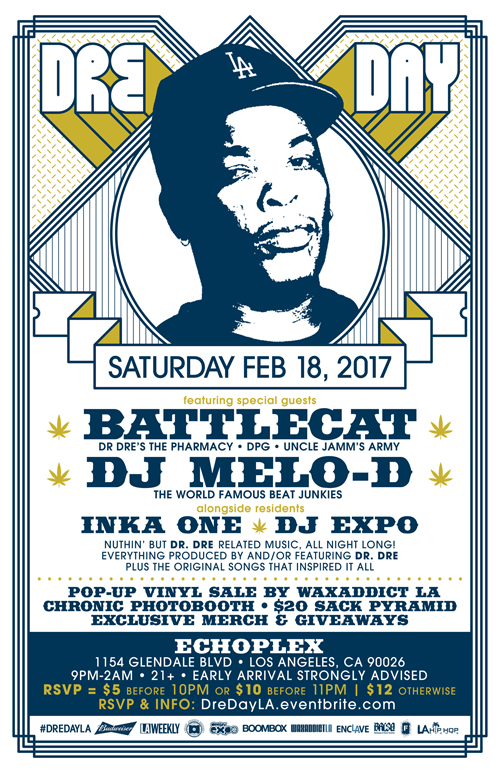 DJ Expo, Boombox, & Burlesque of North America present:

DRE DAY LA (2017)
SATURDAY FEBRUARY 18TH

Featuring special guests:
BATTLECAT (The Pharmacy / DPG / Uncle Jamm's Army)
DJ MELO-D (World Famous Beat Junkies)


Along with residents
INKA ONE (Boombox / Beathackerz)
DJ EXPO (Motown On Mondays / The Root Down)

Spinning everything Dr. Dre-related...classics, club bangers, album cuts, anything produced by and/or featuring Dr. Dre, plus all closely related G-Funk joints (Snoop Dogg, Warren G, Nate Dogg, Tha Dogg Pound, etc.) as well as the original samples/songs that inspired it all!
Special features:
POP-UP VINYL SALE by WAXADDICT LA
CHRONIC PHOTO BOOTH
$20 SACK PYRAMID GAME
EXCLUSIVE MERCH & GIVEAWAYS

All happening at:
ECHOPLEX
1154 Glendale Blvd
Echo Park, CA 90026

9pm-2am • 21 & Over
RSVP = $5 before 10PM or $10 before 11PM
$12 otherwise

PLEASE NOTE: You do not need to print your RSVP. Your name will be on a list at door, but keep your email confirmation handy in case there's an issue locating your name.

****EARLY ARRIVAL STRONGLY RECOMMENDED****

SEE THIS EVENT ON FACEBOOK:
https://www.facebook.com/events/1783022891948314

Join us Saturday February 18th for the 4th annual DRE DAY LA! The past 3 years we've welcomed esteemed guests ARABIAN PRINCE (N.W.A.), DJ REVOLUTION (The Wake Up Show), and legendary West Coast DJ/Producer BATTLECAT. He killed it so hard last year, we had to get BATTLECAT back for Round 2. Plus we're also bringing in none other than DJ MELO-D of The World Famous Beat Junkies! We've had such a great response the past few years that we've moved it down the street to The Echoplex so we can get everyone in!

DRE DAY is a celebration of the life, music, and legacy of one of music's most influential producers, Andre Young a.k.a. Dr. Dre, born February 18th, 1965. Dre Day parties have spread far and wide across North America to celebrate the occasion. What started in Minneapolis several years back through our friends at Burlesque of North America (shouts to Mike 2600), has quickly become a yearly staple in Minneapolis, Philadelphia, Orlando, New York, Chicago, St. Louis, Vancouver, Los Angeles, Oakland, and more. This party only goes down once a year, so don't miss out!
Brought to you with support from:
Budweiser, LA Weekly, The Beat Junkies, Boombox, The Root Down, LA Hip-Hop Events, EnclaveLA, & Fusicology

*****************************************************
Find out more about the DJs:

BATTLECAT
www.facebook.com/Kevin-DJ-BATTLECAT-Gilliam-60011281488
www.instagram.com/bcpowda1
www.twitter.com/bcpowda1

DJ MELO-D
www.twitter.com/djmelod
www.instagram.com/djmelod
www.facebook.com/thebeatjunkies
www.instagram.com/thebeatjunkies
www.beatjunkies.com

INKA ONE
www.facebook.com/inka.one
www.instagram.com/inka_one
www.twitter.com/inka_one

DJ EXPO
www.facebook.com/expothedj
www.instagram.com/djexpo
www.twitter.com/djexpo