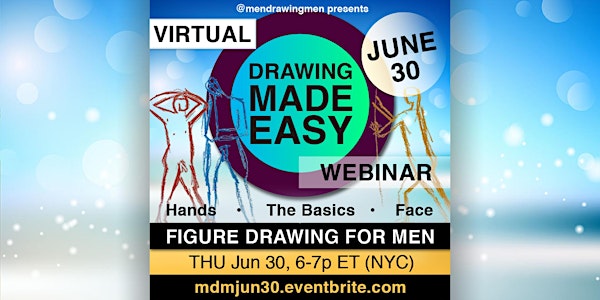 Drawing Made Easy 60-minute Webinar (VIRTUAL) THU June 30, 6-7p ET (NYC)
Drawing Made Easy 60-minute Webinar (VIRTUAL) THU June 30, 6-7p ET (NYC)
When and where
Date and time
Thursday, June 30, 2022 · 3 - 4pm PDT
Refund Policy
Refunds up to 1 day before event
About this event

HOW TO DRAW the male figure, without any knowledge of anatomy, even if you think it's too late to start.
Busy? ONLY 1 hour, by DONATION* - pay what you like ($1 - $10). It's up to you.
*100% of the live webinar fees (your donation ticket) will be donated to the LGBT Center in NYC.
We will cover:
The basics of drawing the male figure
How to draw the male hand
How to get a facial likeness
This webinar-style presentation is designed for men with who don't have a lot of time.
This is for absolute beginners, but artists of all skill levels are welcome. This is a shorter form of the Drawing Made Easy workshop and does not include time to do exercises, but if you stay to the very end, the replay will be sent to you so you can pause the video and do the exercises.
In the end you will have a clear way to approach your next drawing.
No previous drawing experience is required. In fact, Drawing Made Easy is about forgetting the rules about drawing we all learned as children.
Materials needed:
Something to take notes on
Problems buying a ticket? Click here for common problems.
LIVE ticket by donation only. Attend live (and stay to the very end) and get the replay. 100% of your donations will be donated to the LGBT Center in NYC.
(Processing by PayPal. PayPal account not required - if you want to pay by credit card, choose "buy as guest.") NOTE: if this doesn't work, you can email me to pay by Venmo or PayPal directly.
IMPORTANT NOTE FOR IPHONE USERS: Eventbrite has disabled in-app purchases from iPhones. You can still get to the ticket page on your iPhone on your Safari browser. Android users are not affected by this change.
You MUST answer all the required questions. Otherwise you won't be able to complete your purchase.
THE ZOOM LINK IS INSIDE THE EVENTBRITE CONFIRMATION EMAIL!
Scroll all the way down to Additional Information). It's also in the PDF TICKET. -- CHECK YOUR JUNK/SP_M FOLDERS!
-Use a tablet or computer for the screen to be large enough to see the pose for drawing. Use speaker view. Use full screen to maximize the pose view.
- We will kick out anyone who is disrepectful or violates any of our rules.
-Everyone will be muted when joining the call and during the webinar. Please use the chat to ask questions.
**IMPORTANT - PRIVACY**
DO NOT TAKE SCREENSHOTS OR RECORDINGS.
YOU CONTROL HOW YOU PARTICIPATE. You never need to turn on your camera. Turn your camera on/off by clicking on the camera icon on the bottom of your screen.
Wear WHATEVER is comfortable for you. Please be aware that most of our members prefer not to wear clothes.
For male camaraderie, our sessions are for male-identified persons only. The session will be recorded. All attendees will be edited out. MDM CORE MEMBERS ARE FREE*.
Questions?
shungaboy@mendrawingmen.com (please include your name in your email)
Follow us on Eventbrite to get notified first.
DONATION TICKETS VIA EVENTBRITE:
Check your time zone. (https://www.timeanddate.com/worldclock/).

About the organizer
MEN DRAWING MEN (new family-friendly name) Men's Naked Drawing below
We are a figure drawing/life drawing group for male-identified artists of all skill levels. We feature male models exclusively.
Live online drawing sessions (uninstructed)
Instructional classes with guest teachers
Members-only forum to chat and share drawings.
Lbrary of posing videos sessions.
All Men Drawing Men sessions welcome respectful male-identified artists of all ages (18+ to 90+), ethnicities, sexual orientations and body types. Wear whatever is comfortable for you.
MEN'S NAKED DRAWING GROUP
NOTE: Our in-person sessions will resume once it's safe again.
A figure drawing sketch group for male-identified artists take turns posing for each other. You don't have to be an "artist." We welcome beginner artists. We're friendly and non-judgmental (of both drawing skills and bodies)!
Look for Men's Naked Drawing only on Meetup.com in these cities:
LOCATIONS:
New York City
Austin, Texas
Phoenix, Arizona
Inland Empire, California
San Francisco, California