Join this five-day retreat and receive the powerful blessings of Vajrayogini. One guided session and two unguided sessions per day.
About this Event
The practice of Vajrayogini brings swift blessings, especially during degenerate times. It is said that as spirituality decreases, it becomes increasingly difficult to receive blessings from enlightened Deities, but the opposite is true with with Vajrayogini: during these times her blessings are becoming even more powerful. Faithful practitioners can make an instantaneous connection with Vajrayogini and easily receive her profound blessings.
This retreat, led by Noreen Flack, is a rare and wonderful oppotunity to strengthen your Vajrayogini practice through being guided in five of the core meditations of Highest Yoga Tantra. The first session of the day will be guided, the second and third sessions unguided with ample time for personal contemplation.
Highest Yoga Tantra practitioners, as well as those who have a sincere wish to receive their Highest Yoga Tantra empowerments soon, are welcome to participate.
About the Teacher
Noreen Flack has been studying and practicing Kadam Dharma for more than two decades, and has many years of experience teaching beginner and intermediate students. She currently teaches the evening Foundation Program class, and previously spent eight years serving as Education Program Coordinator then Administrative Director of Kadampa Meditation Center Washington, helping Kadampa Buddhism to flourish in the Pacific Northwest. Noreen is deeply respected for her clear teachings and humble example of a modern Buddhist practitioner.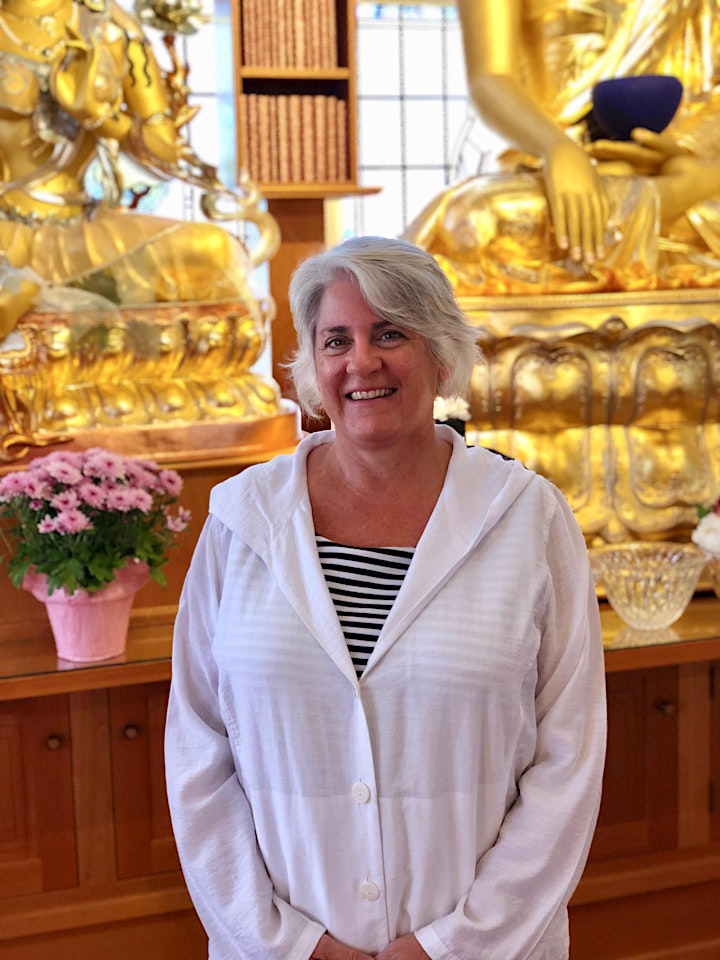 Session Schedule
Tuesday, January 19 through Saturday, January 23
7:30-9:00am - Guided sessions with Dakini Yoga*
Tuesday, January 19 - Guru Yoga
Wednesday, January 20 - The First Bringing
Thursday, January 21 - Meditating on Divine Pride
Friday, January 22 - Clear Appearance/Non-dual Profundity and Clarity
Saturday, January 23 - Meditation on the Body Mandala
10:00-11:30am - Unguided session with the first part of Quick Path to Great Bliss
7:00-8:30pm - Unguided session with the conclusion of Quick Path to Great Bliss
*The first session of each day will also be available on-demand; recordings will be posted within two hours of the end of each live session.
Registration
This event is being offered by live-stream for those in the Pacific Northwest region of the US (including WA, ID, MT & AK; outside this area? Find a Kadampa Center near you). Registrants will receive a link enabling them to watch and listen by phone, tablet or computer.
Cost: $50 ($25 for seniors, students & supporters of Kadampa Meditation Center WA)