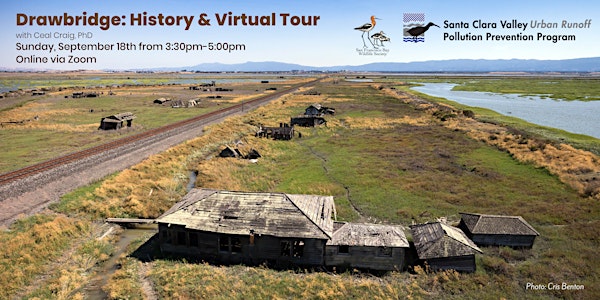 Drawbridge: History & Virtual Tour
Learn about the history of the Bay Area's very own ghost town, Drawbridge!
About this event
Join Ceal Craig, Ph.D., 20-year volunteer for the U.S. Fish and Wildlife Service, for a unique opportunity to dive into the history of Drawbridge, a 'ghost town' that once housed a thriving community on an island along the South San Francisco Bay.
The presentation will take place via Zoom and will be just over one hour, with time for questions and discussion from participants. A direct link to the program will be provided via email after registration.
Photo Credit: Cris Benton
Questions?: Email watershedwatchers@sfbayws.org
This program is brought to you by the San Francisco Bay Wildlife Society (SFBWS) and the Santa Clara Valley Urban Runoff Pollution Prevention Program (SCVURPPP).