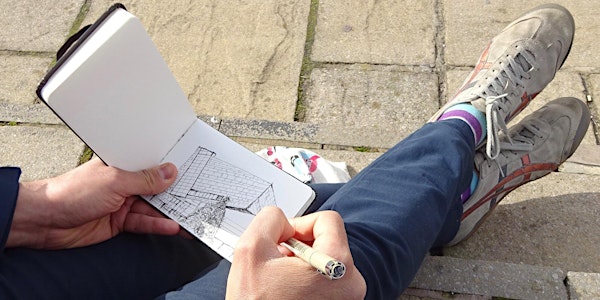 Draw Derby - October
Draw Derby! Let's gather and inhabit the city centre and practice the magic of drawing together - all welcome.
When and where
Location
Derby The Waterfall sculpture Market Place Derby DE1 3ZF United Kingdom
About this event
Please note - as October is Big Draw month I'll be running a drop-in, communal, all welcome drawing workshop at Derby Quad on Saturday 29th 10.30am-4pm.
Draw Derby will run as normal, so please meet by The Waterfall sculpture in the Market Place. When assembled, pop to QUAD's Participation space (opposite the Box Office) and you can choose to draw outside and/or participate with the communal drawing at QUAD. Stay all day if you wish! Children welcome!
Looking forward to seeing you there. Any questions my email address is at the bottom of the page 🙂
Draw Derby is a free, monthly, outdoor, all welcome gathering in the city centre. Come and meet likeminded others and DRAW together!
Bring a curious and playful attitude, jump in and have a go! Draw Derby welcomes complete beginners and those experienced in drawing.
Drawing requires in-depth looking, looking is an act of attention and taking time to draw the city is an act of love.
✏️ Derby is a city full of amazing architecture and sweeping street vistas. The bustle of people enlivens the city with movement and motion.
✏️ Drawing is a wonderful tool to settle yourself in these challenging times. All it asks is that you look and make a mark. Lets get lost together in capturing the city on paper.
✏️ Parts of the city centre need our love and attention, what better way to show that by gathering to draw it?
How does it work?
We meet by The Waterfall sculpture in the Market Place at 10.30am on the last Saturday of the month throughout 2022. This will be our starting point to explore the city from.
Please bring something to draw with and something to draw on. There are no rules about materials. No materials provided.
We all draw. This is not a tutored event. You draw what you see, in your own way.
We move to another location after an hour for a different viewpoint in the city.
After two hours we share drawings and exchange supportive feedback outdoors or in a local arts venue or cafe (if this is something you'd like to do - no one will be forced to share).
What will we draw?
The city space will provide our inspiration, you will draw what surrounds you and are free to focus on whatever catches your eye.
What happens in bad weather?
Sites will be chosen with the weather forecast in mind, so on rainy days we will draw in locations with overhead shelter.
What do I need to do?
Book tickets so Karen can monitor numbers
Chose what to bring and prepare sketching materials
Check the forecast and dress appropriately
Meet by The Waterfall sculpture on the date/time shown and be ready to draw
Any questions?
For more information contact Karen - hello@karenlogan.com