SPECIAL EVENT w/ PARIS SASHAY - Draughts & Laughs 9 at Checkerspot Brewing Company
About this event
Due to the July 31st Ravens Stadium Practice at M&T Bank Stadium (6PM) we have moved the show inside to the upstairs at Checkerspot Brewing Co. This is actually great as we will have AC and more efficient access to the beer and food! Please note that we expect the event at the stadium will make parking a bit more challenging.... this Raven's practice was scheduled 3 months after our date was set.
SPECIAL EVENT *** SPECIAL EVENT *** SPECIAL EVENT *** SPECIAL EVENT
Our headliner from Comedy Central and BET is Paris Sashay
Draughts & Laughs is inside at Checkerspot Brewing Company for a night of Stand-up comedy! All sales are final.
Tickets are $15 in advance (until 1pm on day of the show) or can be purchased at the door for $20.*
Show Time is 8:00PM. Show seating will begin at 7PM. The brewery opens at noon on Saturdays.
Food service and full drinks service is available. No Outside Food or Drink!
https://checkerspotbrewing.com/menu-2/
Your headliner is Paris Sashay is a comedienne, actor, writer and producer from Washington, DC, but Currently living in New York. Her command as a seasoned storyteller makes even the mundane experience feel like an adventure. Audiences across the country fall in love with her infectious laugh, wit, and style.
Nothing can stop Paris' ascension to stardom, unequivocally one of the funniest rising comediennes with highlight performances at Just For Laughs Festival in Montreal as a 'New Face', Brooklyn Comedy Festival, BET 50 Central, and 'Unprotected Sets' on EPIX. Also, with performances at The Howard Theatre ,The Kennedy Center, Caroline's on Broadway, Hollywood Improv, Comedy Store and The Comedy Cellar. She triumphantly debuted at the DC Improv only days after losing several teeth in a brutal attack by a toxic man sexually harassing her on the street. In 2016, Paris launched the #TeethAndTittiesCampaign raising awareness about violence against women.
Paris has worked with Micheal Che, Dick Gregory, Wanda Sykes, Lil Rel, Domonique, Jen Kirkman, Jay Chandrasekhar , Tony Roberts and Roy Wood Jr. offering her piercing insight on issues of the day.
She has been a panel member on "Wild'n Out Wednesday's with Roland Martin" on TV One, BET, Comedy Central, EPIX and interviewed on Fox 5 DC, NBC 4 Washington, and WUSA 9 regarding her assault. Additionally, Paris frequently serves as a motivational speaker, having the honor of being the 2013 and 2017 Commencement Speaker at The Foundation School in Gaithersburg, MD.
FEATURES:
Hailing from North Carolina, Anthony D. Oakes is a District of Columbia resident who is taking the comedy scene by storm. A natural comedian, featured in Washington Blade, Anthony has hit the ground running. His clean, yet edgy, southern, intellectual, witty humor will have you reeling with laughter.
Chris Lawrence is a Baltimore-based comedian that has performed in all the major comedy clubs in the area including Magooby's Jokehouse, the DC Improv and Liberty Laughs as well as corporate events. During his act, Chris talks about his foibles as being a husband and a father of two as well as other observations, usually geared toward pop culture.
Martin Phillips is a stand up comedian primarily based in Washington DC, but still travels all over the country and has even performed in Alaska! While in college Martin was named the funniest college student in DC and hasn't stopped since; from performing at festivals, like The LA Diversity in Comedy Festival to the Cleveland Comedy Festival, and performing at colleges, appearing on the Kill Tony podcast multiple times
Mike Quindlen (producer of this very show) lives in Baltimore, but is from Philadelphia. That said, he hates morons who fight over the Eagles and Flyers! (You can leave Philly but it NEVER leaves you!) He is sardonic and rye but pudgy and a bit optimistically delusional. He has DNR tattooed over his heart and despises Pepsi products & a good bit of his immediate family! He has opened for Rich Vos, J.B. Smoove, Alonzo Bodden, the late John Weatherspoon, Doug Stanhope and a few other legends. Mike is also the founder and creative director of the Ellicott Silly Comedy Festival.
Special Guest:
Andrés Mallipudi is a comedian from Alaska currently living in New York City. He is the founder and host of the medical comedy show 'Doctors Without Boundaries'. He is also a doctor who very much respects boundaries. You may have seen him on PBS or falling asleep at parties.
HOST: Beth Haydon is a Baltimore based comic and cat enthusiast. A repeat Magooby's New Comedian of the Year finalist, she has opened for Mike Recine, Craig Gass, and Michael Ian Black. Her high-energy style and provocative content highlights the charming small town qualities of Baltimore life. Her stand-up was featured on the series Laff-a-matic by Harborcraft Studios, and you can see her live at Ugly Baby, Half of This is Planned, and shows all over the east coast!
All sales are final and refunds will only be given if the event is cancelled. *This show will feature "adult humor" and content meant for mature audiences* LineUp subject to change without notice.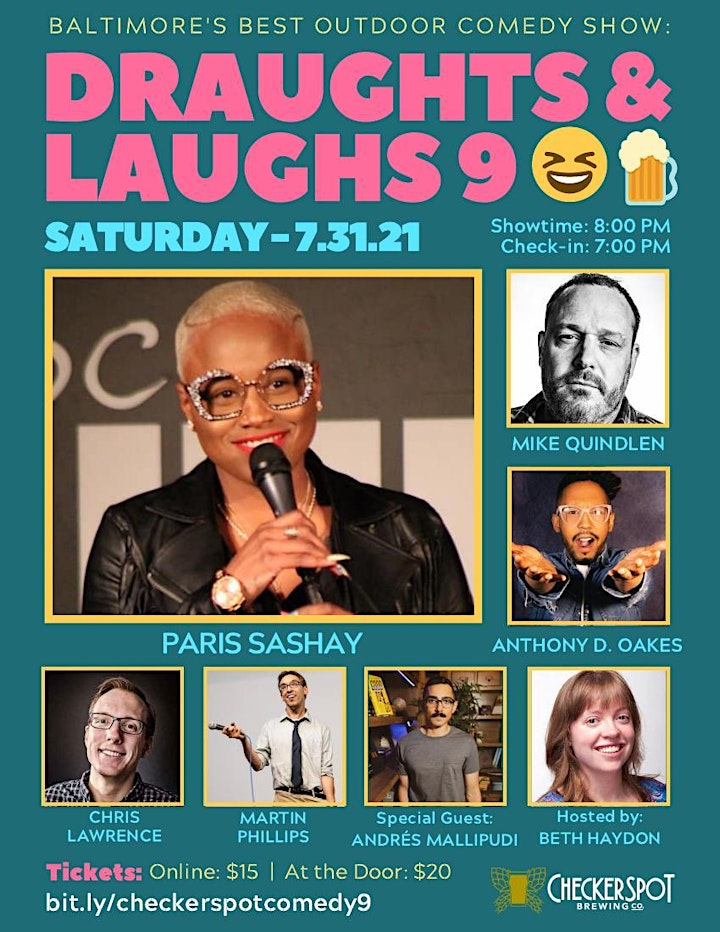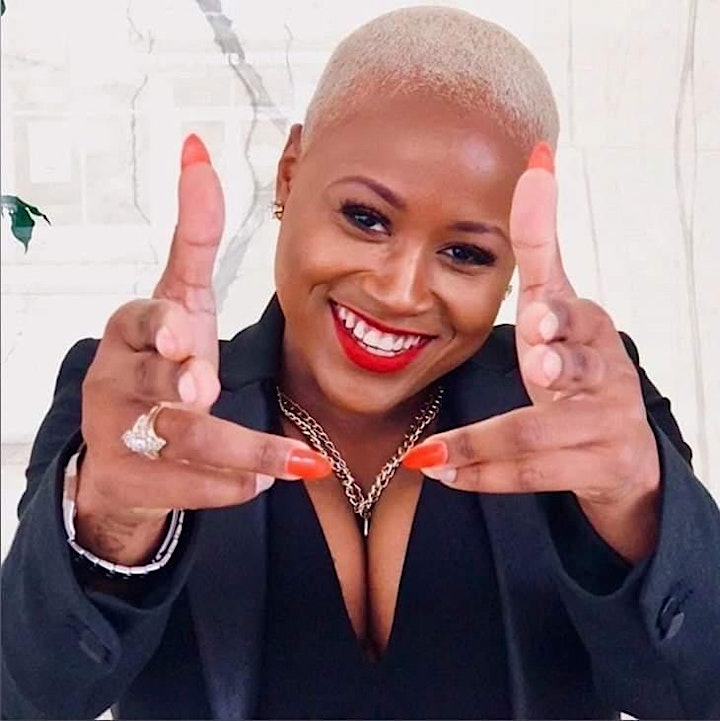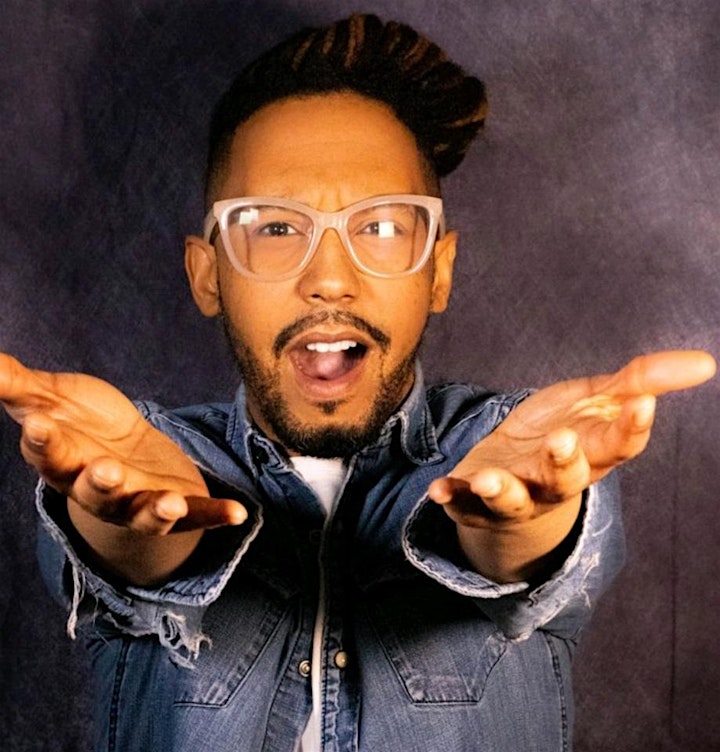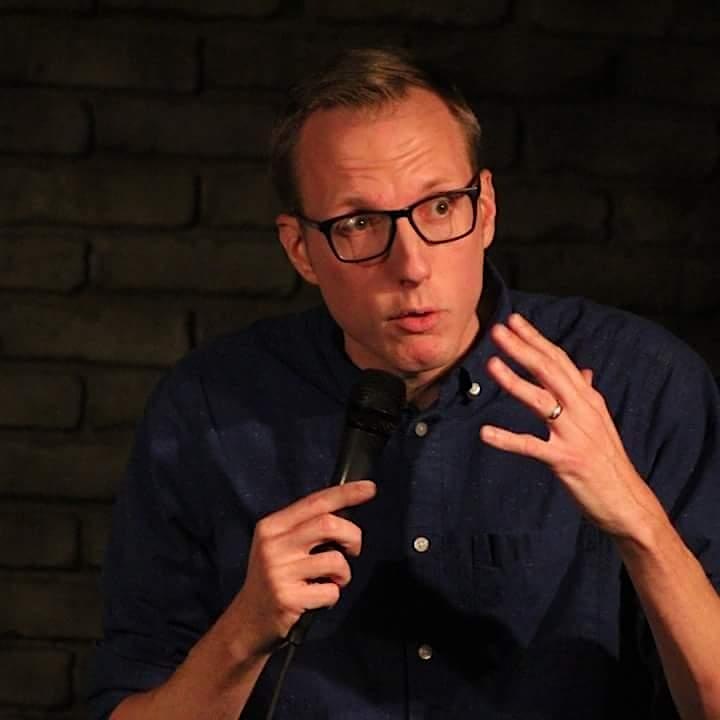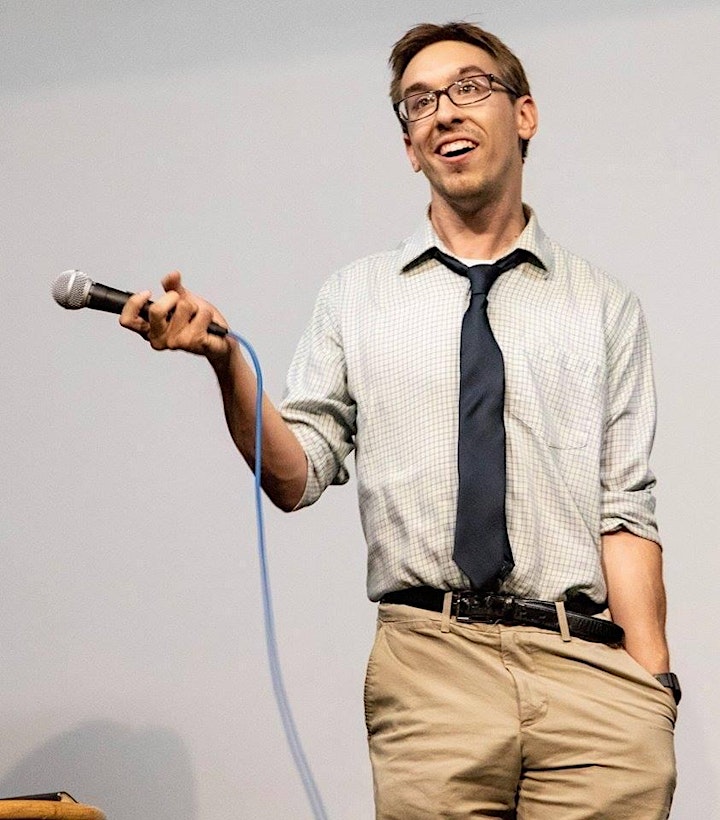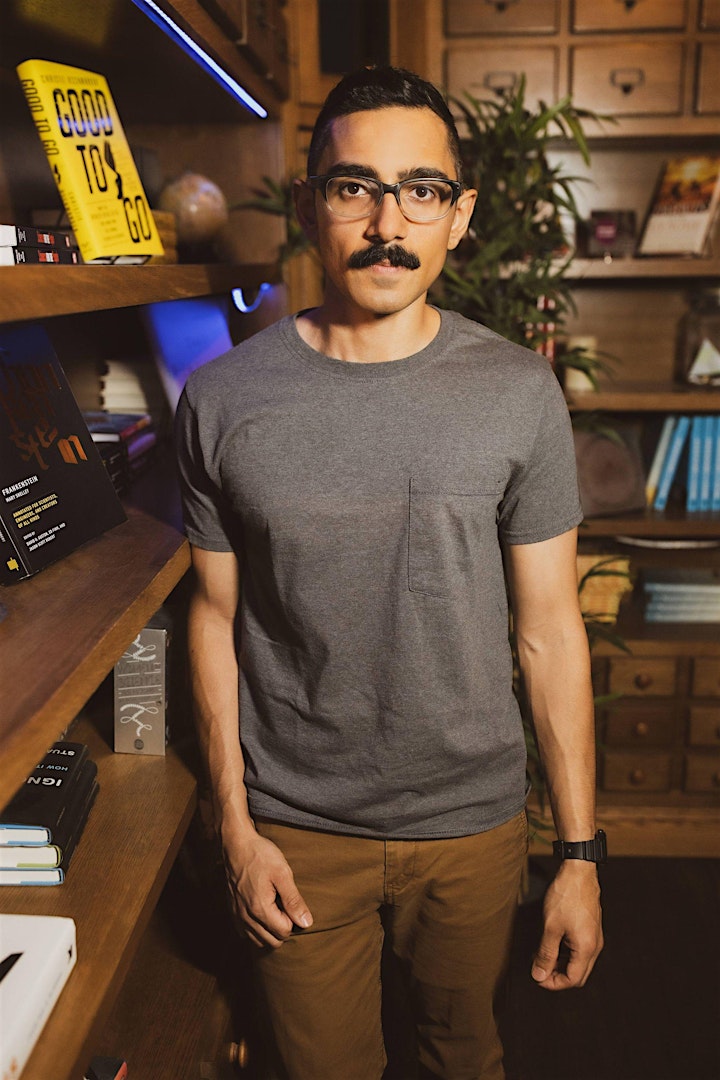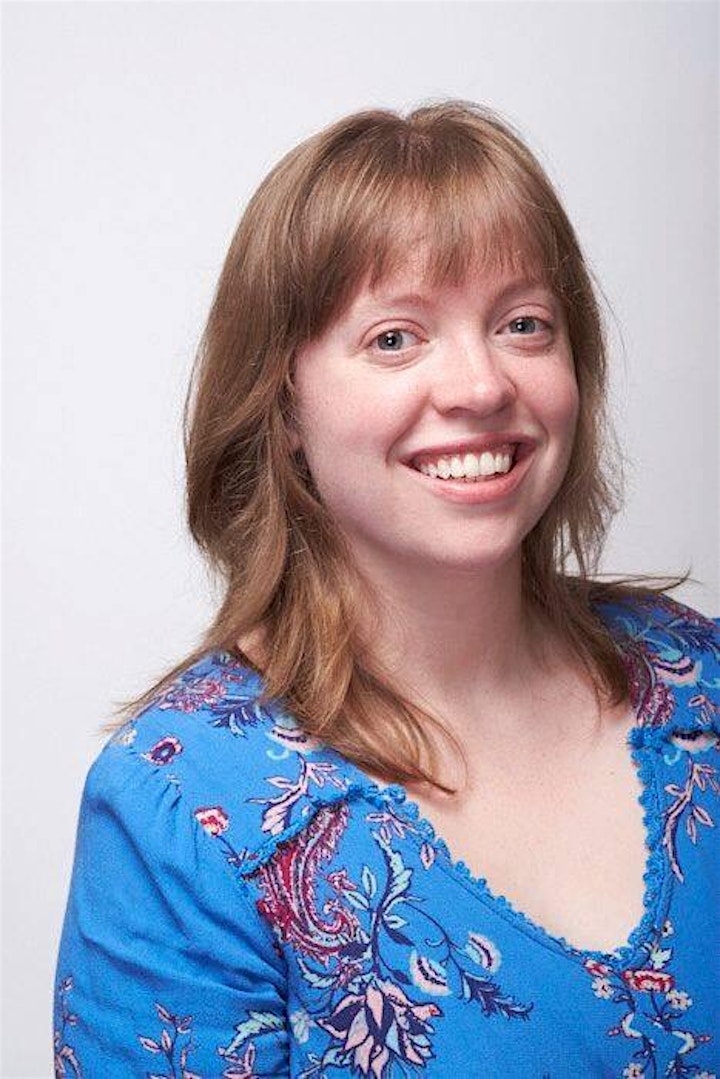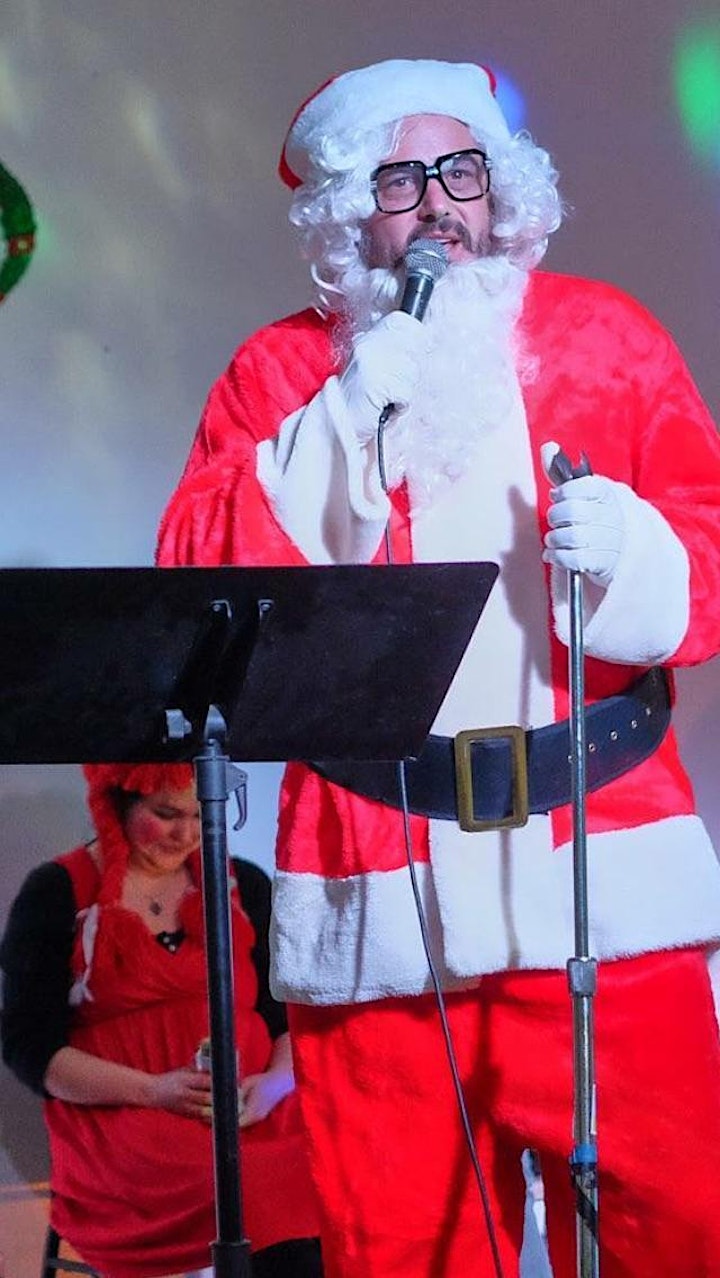 Organizer of Draughts & Laughs9 -SPECIAL EVENT at Checkerspot Brewing Co. - PARIS SASHAY