Description
Registration to attend the in-person event is now full.
The event will be WEBCAST LIVE here.
Registration is not required to view the webcast.
---
Please join the US Partnership on Mobility from Poverty as we share findings and recommendations, lift up community voices, and discuss how we move ideas to action to dramatically increase mobility from poverty.
Funded by the Bill & Melinda Gates Foundation and staffed and supported by the Urban Institute, the Partnership was tasked with answering one big, bold question: What Would It Take to Dramatically Increase Mobility from Poverty? Now, at the end of two years of learning with diverse communities around the country, the Partnership is putting forward powerful, actionable ideas.
---
The agenda will include:
Community Voices
A Call for Unity: The Partnership's Definition of Mobility
Arthur C. Brooks*, President, American Enterprise Institute
john a. powell*, Director, Haas Institute for a Fair and Inclusive Society
Measuring Mobility
Hilary Pennington,

Executive Vice President, Ford Foundation; Core Funder, Fund for Shared Insight

Melinda Tuan,

Managing Director, Fund for Shared Insight
Interlocking Strategies: Narrative, Jobs, Place, People, and Data
Elisabeth Babcock*, President and CEO, Economic Mobility Pathways
David T. Ellwood*, Chair, US Partnership on Mobility from Poverty; Isabelle and Scott Black Professor of Political Economy, Harvard Kennedy School
Anthony B. Iton*, Senior Vice President for Healthy Communities, The California Endowment
Lawrence Katz*, Elisabeth Allison Professor of Economics, Harvard University
Ai-jen Poo*, Director, National Domestic Workers Alliance; Codirector, Caring Across Generations
Leveraging Big Data to Support Community Efforts
William J. Bynum*,

Chief Executive Officer, Hope Enterprise Corporation

Raj Chetty*, Professor of Economics, Stanford University
Kathryn Edin*,

Professor of Sociology and Public Affairs, Princeton University

Sarah Oppenheimer,

Director of Research and Evaluation, King County Housing Authority
Moving Ideas into Action–A Conversation with:
Joshua Bolten*, President and CEO, Business Roundtable
Clotilde Perez-Bode Dedecker,

President and CEO, Community Foundation for Greater Buffalo

Sue Desmond-Hellmann, CEO, Bill & Melinda Gates Foundation
Wes Moore, CEO, Robin Hood
Nisha G. Patel, Executive Director, US Partnership on Mobility from Poverty
Peter Scher, Chairman of the Mid-Atlantic Region and Global Head of Corporate Responsibility, JPMorgan Chase & Co.
*Member of the US Partnership on Mobility from Poverty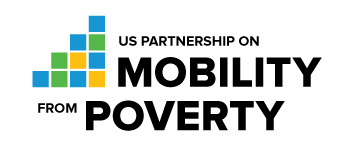 ---
Breakfast and registration will begin at 8:00 a.m. and the program will begin promptly at 8:45 a.m. A networking lunch will follow from 1:00 p.m. to 2:00 p.m. For questions regarding this event, please contact events@urban.org.