#DRAKEHOTELNOIR Presents DRAKE at HOWARD THEATRE Official Grey Goose Concer...
Description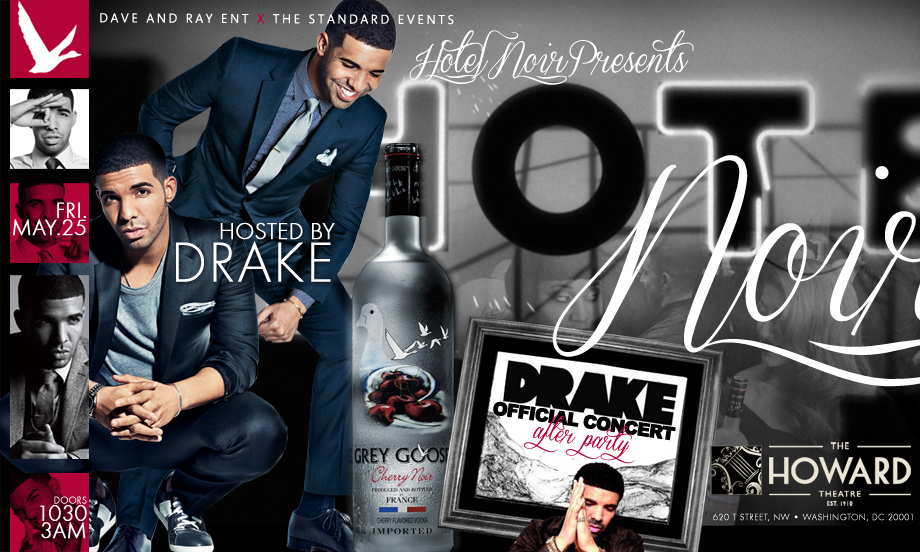 GREY GOOSE™
#DRAKEHOTELNOIR Presents DRAKE at HOWARD THEATRE

Fri. May 25th, 2012 // Doors 10:30p - 3am. 21+ w/valid ID
620 T Street Northwest, Washington, District of Columbia 20001
Cultivated from rare black cherries found in the French Basque Country, GREY GOOSE Cherry Noir combines the aroma of fresh cherries and sweet red fruits with dark fruit flavors and layers of spice. The result: a sophisticated, sensuous flavored vodka and exceptional complement to any night. This night will be unlike any other. Brilliant in it's image, fine tuned in every detail, and diverse in it's execution. Style is everything as we turn The Howard Theatre into #DRAKEHOTELNOIR.
FAQ----------------
(Q) Where is the Howard Theatre?
(A) It is located near 7th and Tst NW DC 620 T St NW DC.
(Q) Will Drake be there?
(A) Absolutely! Along with other Super VIP guests from the YMCMB Tour.
(Q) What is the difference between the general & VIP ticket?
(A) The VIP Ticket includes access to VIP expedited entry & VIP areas.
(Q) Is the ticket price going to change?
(A) YES, the current pricing is an early ticket promotion.
(Q) Can you pay admission at the door?
(A) YES, however to avoid long lines, increased prices and guarantee admission, advance purchase is STRONGLY recommended.
(Q) Is there a dress code?
(A) We STRONGLY encourage stylish attire! Management reserves the right to deny entry for attire or attitude. No hats, t-shirts or boots. If in doubt, dress semi formal.
(Q) Is Bottle Service available?
Once a table reservation fee is paid your table is guaranteed!
(Q) How is the parking?
(A) There is valet parking and plenty of street parking.
(Q) Is there Public Transportation/Metro?
(A) The Theater is located in the same square block as the Shaw-Howard U Metro station (on 7th Street between T & S Streets).
Organizer of #DRAKEHOTELNOIR Presents DRAKE at HOWARD THEATRE Official Grey Goose Concert Afterparty