Dragon Alley - A Wizard's Fest - Wizarding Workshops
About this Event
Come join us in a fun, family friendly magical experience! We will have a scavenger hunt, a costume contest, some free activities, some (pay for) wizarding workshops, pop up shops, yummy food court on site, photo booth opportunities & much more!
-----------------------------------------------------------------------------
Take part in some fun, wizardry workshop experiences - at additional fees such as:
- Wand Crafting/Painting
- Advanced Potions - Necklace Making
- Feather Pens & Quills
- Dragon Eggs
- Slime Bar Kit Making
Please note that our pay for crafting activities DO cost an additional fee and need separate tickets for entrance into the workshop areas. Those tickets can be pre-purchased online (plus an online convenience fee) to make sure to hold your space. Or you can try and purchase tickets at the event itself - if there are any spaces left available (NO GUARANTEES!). Please be aware of the time of the crafting session you are purchasing. We do require you to show up on time and do not offer refunds if you miss your class. Please show your ticket to the front or side entrance liaison if the numbers of the room are at capacity. They will make sure you get to your line on time.
PLEASE NOTE!! Tickets are non-refundable due to the nature of us holding the space for you. We cannot guarantee we can re-sell your space after holding it - so please make sure of your ticket purchases BEFORE your purchase.
---------------------------------------------------------------------------
Take part in our scavenger hunt - first few guests in the morning and first few guests in the afternoon (after 1pm) to complete will receive a small prize. Every guest that completes has their name entered into our fun basket giveaway.
Bring a NEW pair of socks (for us to donate to a local charity) - free an elf - and have an extra entry added in the basket giveaway.
Shop in our magical dragon alley for some amazing magical wares.
Join in our costume contest! There will be a prize for children and a prize for adults. You do not have to dress in wizard or witch gear to attend or participate - although you can. Even us Magical born love to dress up every once in awhile! Please keep all costumes G-rated as this is a family friendly event. No gore/horror and no sexually inappropriate costumes allowed. Firm.
We will have a few photo prop areas where you can take your own photos.
We will have some large, not quite life sized, chess playing. And a table of quid cups set up for playing.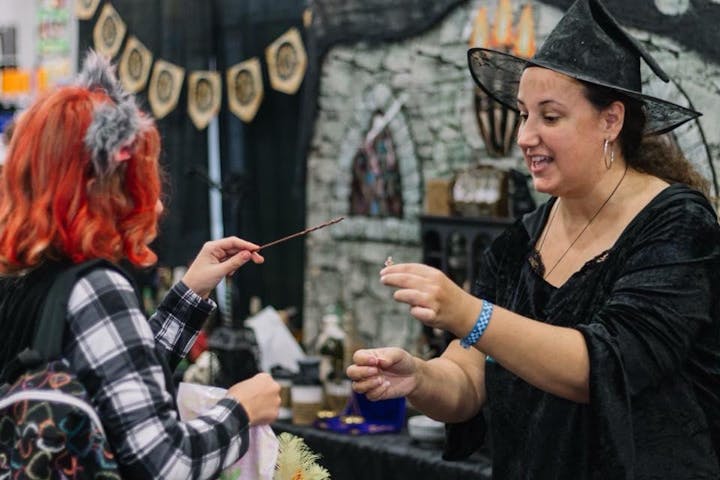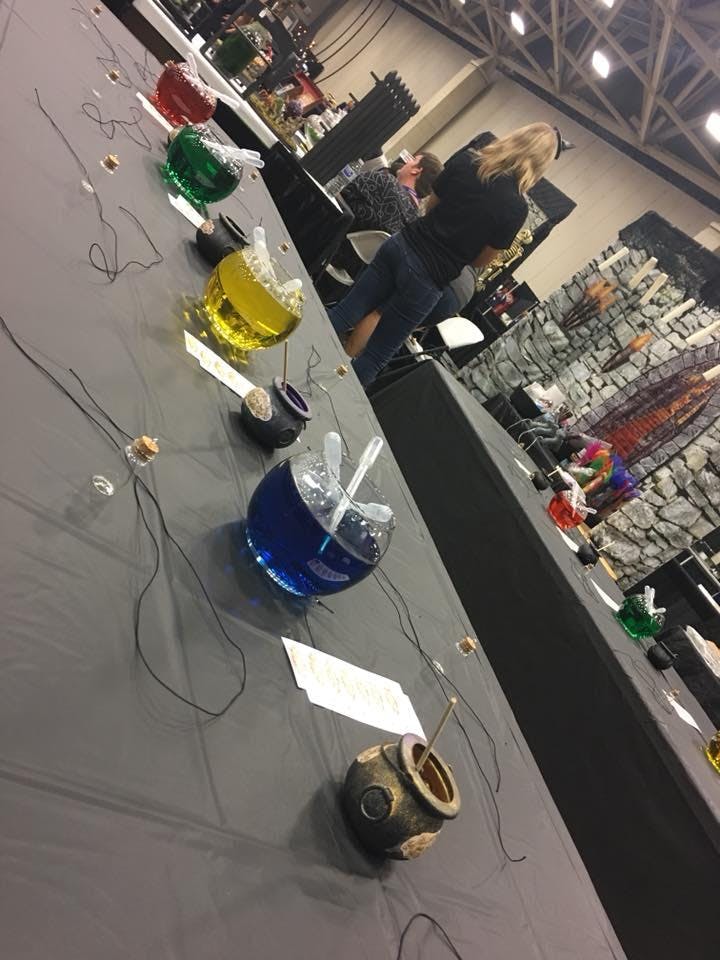 Wizard Workshop - Advanced Potions - $10
This workshop allows participants to take a mini faux, play acting "potions" class fashioned after something in the wizarding world - where they will make their very own potion necklace with magical waters, powders, & labels. Class time runs about 15 minutes. Cost $10. Young children must be accompanied by an (one) adult to help manage the craft. Please be aware of the time slot that you choose. We don't issue refunds due to inability to possibly resell. Please be on time to your class. Show up early to the festival to pick up your craft entrance card at our front table (W.W.'s witch CRAFTS & wizardry's front booth).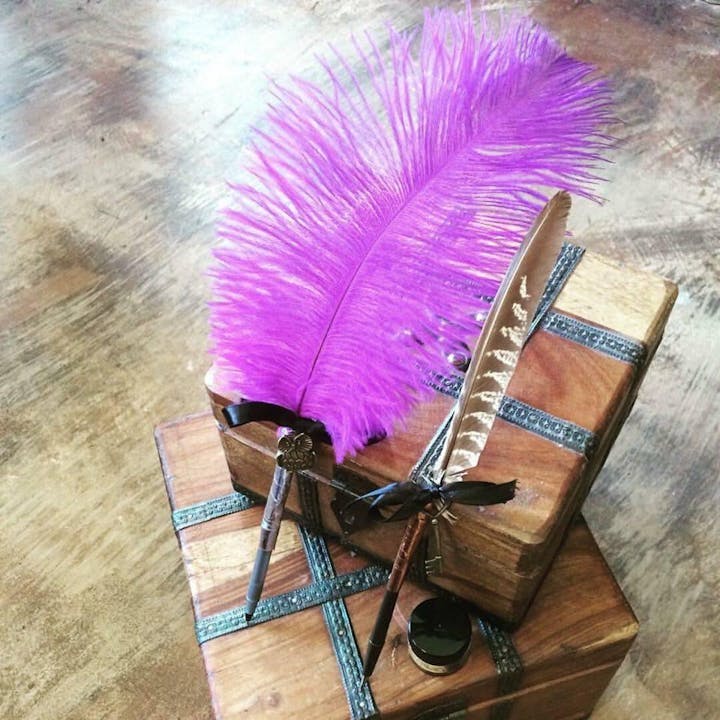 Wizard Workshop - Feathered Pen or Quill - $8-14
UPGRADE ITEM!!!
This workshop allows participants to create their very own feather pen or quill. Feathered pen crafts cost $8. Or you can upgrade your craft to a feathered quill craft (which comes with a nib instead of a pen and a small ink pot). If you wish to upgrade to the feathered quill craft for $6 more (total $14)) - please choose feathered pen as your option, then go to add-ons and add on Feathered Quill Upgrade option. Please do not just purchase the Feathered Quill upgrade option without purchasing the pen option as well. The add on upgrades your purchase. If you only purchase the add on/upgrade, you will be required to go pay for your original crafting session (the pen session) before you can enter the class.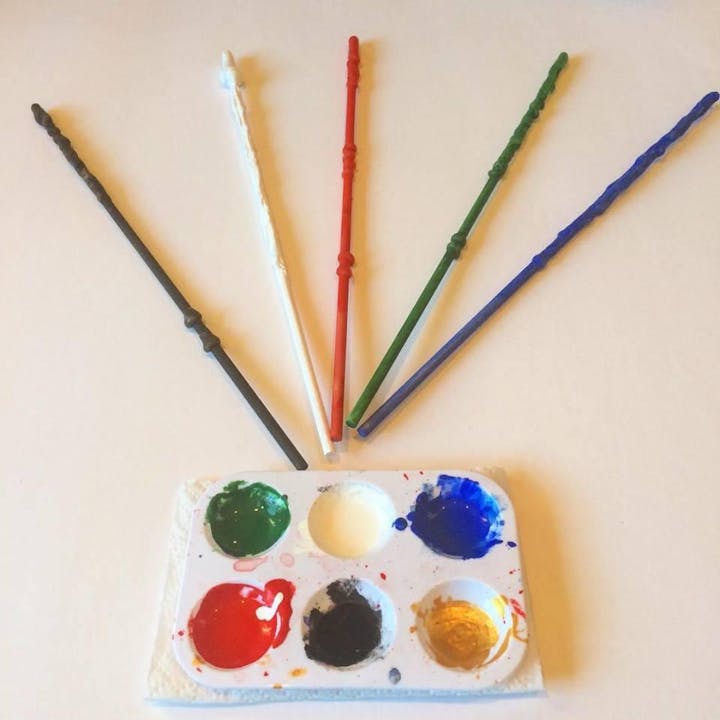 Wizard Workshop - Wand Painting - $5
This workshop allows a younger crowd of participants to have a wand choose them and for them craft on their wand.
Basic Craft Wand - $5 - This craft is for the younger crowds. Crafters have wands of varying colors which will choose them. Crafters do not pick their basic color of wand - the wand picks them. They then will go to their place where they are directed and paint the colored wand that chose them with some colored glitter paint. Craft takes about 10-15 minutes. Young crafters should be overseen by (one) parent. Crafters then take home their painted wand and their souvenir wand core card.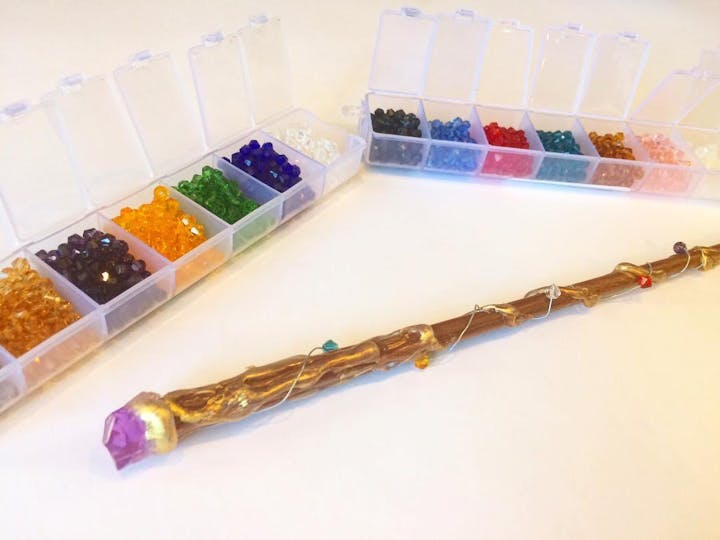 Wizard Workshop - Wand Crafting - $10
Deluxe Wand Crafting - $10 - This craft is for older crafters (8 & up). Crafters have wands of varying shapes and varying colored faux crystal topper. Crafters do not pick their colored wands. The wand chooses them. Crafters are then directed to their wand's place setting where the crafter will then paint their wands "gnarls" (glue drips) of the color of their choosing. This must be a light coating of paint so it dries with enough time to wrap their wands wires with jewels and beads and then have it hot glued for them. Crafters then take their wands home with their souvenir wand core cards.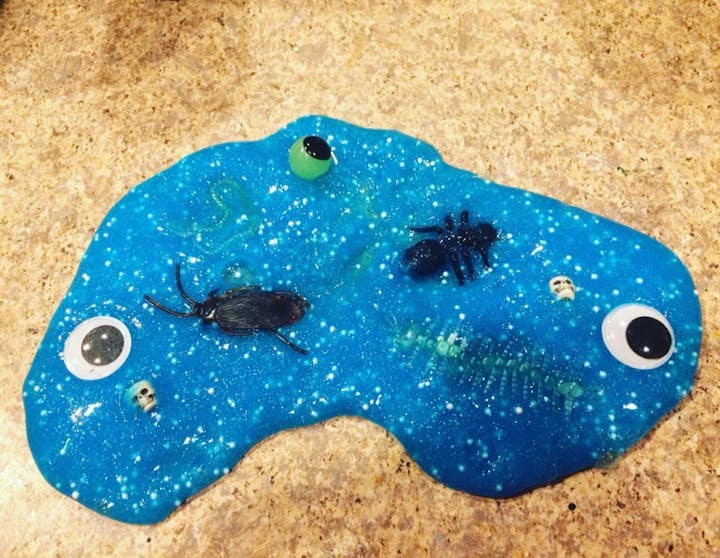 Wizard Workshop - Potion Slime Kit Making - $10
This workshop allows wizards to build their own potion slime mixing kit to take home. No slime is made during this workshop. The slime is pre-made. You can build a 4 oz kit for $10. You will choose from different potion "ingredients" to place into your slime. (Colors, glitter, scent, bugs, balls, eyeballs, skulls, etc).
Young crafters must be accompanied by (one) adult to help oversee. Crafters must not mix or play with their slime at the festival. MR has strict rules as to what is allowed in the area.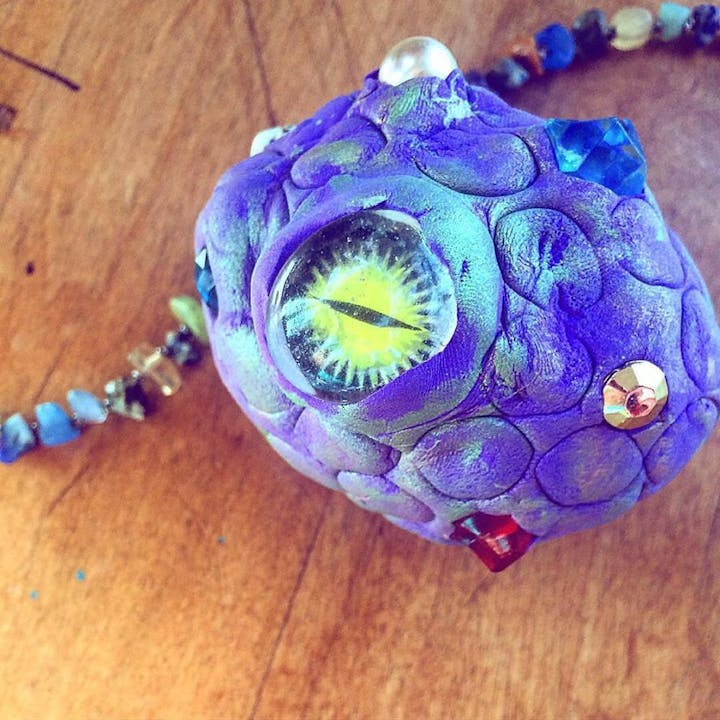 Wizard Workshop - Mini Dragon Egg Crafting - $8
This crafting session is for the younger crowd (8 & below).
This craft consists of creating a mini dragon egg by forming clay around an egg shape, then placing bits of "treasure" and a dragon eye into a the clay.
Mini dragon egg crafting takes about 10-15 minutes. Crafters will need (one) adult helping to oversee their craft projects with them.
(picture shows with paint - we have omitted this step to save time and a bit of cost for the participant in this project)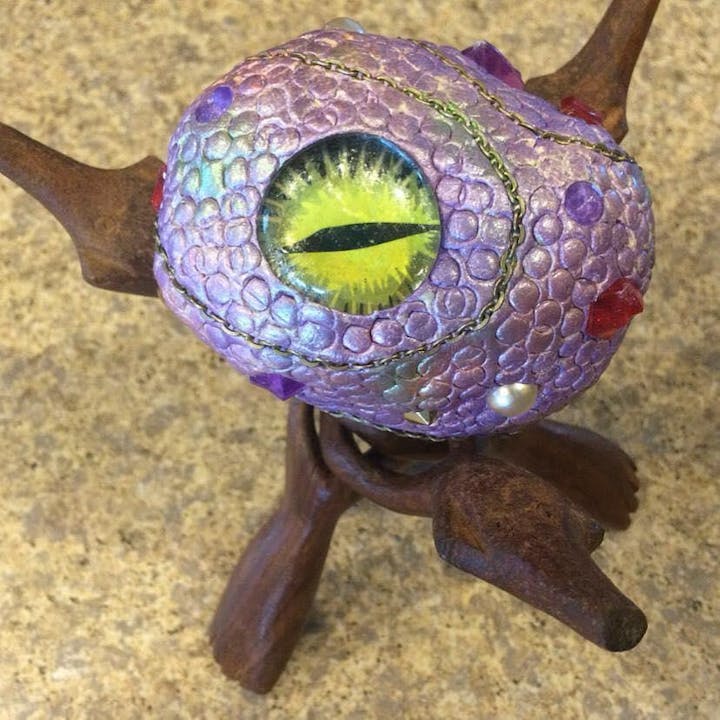 Wizard Workshop - Deluxe Dragon Egg Crafting - $25
This crafting session is for crafters aged 8 & up. Ages 8-10 will need help still and ages 12 and under may still need a parent's help with their craft project - please stay close.
Crafters will create their own larger (not huge) dragon egg creation by molding clay around a form, painting their egg, placing treasure on their egg, wrapping chain on their eggs, and a dragon eye if they wish. They will also have some take home instructions for finishing up the final steps of their eggs once they dry over a couple days. This is an intense, FAST PACED class. This class moves fast so that we can still fit it into the festival schedule. The class can take up to 45 minutes so we will move fast to stay on schedule. Crafters need to be able to work in fast paced conditions and be able to strongly follow directions for this class.
This piece is a little bit more of a display piece than the mini version we are offering as a craft.