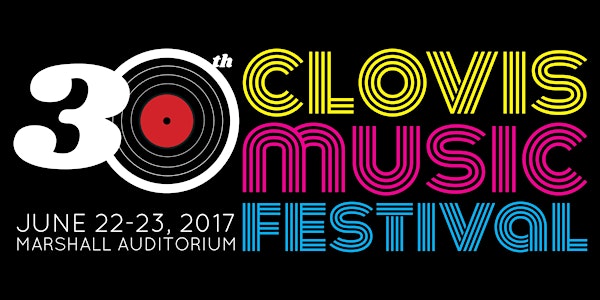 Draggin Main/Clovis Music Festival 2017 - 30th Anniversary - Winger, Fireho...
Event Information
Location
Marshall Middle School
100 Commerce Way
(SEE "TYPE" BELOW FOR TICKET TYPE AND DATE)
Clovis, NM 88101
Description
Rock n Roll Legends, Winger and Firehouse to Headline 30th Clovis Music Festival
Thursday Night - Buddy, Roy and Ritchie - 50's Rock n Roll Tribute
Friday Night - Winger and Firehouse - 80's Rock n Roll
Since 1987, Clovis has been rocking its musical heritage, so it only makes sense that for its 30th birthday, the Clovis Music Festival will rock out more than ever.
If it wasn't for Norman and Vi Petty, the Clovis Music Festival wouldn't even have a reason to exist. To pay homage to our rock and roll heritage, we've snagged Buddy Holly (performed by fan-favorite Johnny Rogers), Ritchie Valens (performed by Ray Anthony) and Roy Orbison (performed by Brian McCullough) to perform on Thursday, June 22 to give a nod to the historical Norman Petty Studios on Seventh Street.
And that's not all. On Friday, June 23, Clovis really gets in gear as 1980s rockers Firehouse open for Winger. Come out to hear rock ballads including "Love of a Lifetime," "When I Look Into Your Eyes," "Can't Get Enuff," "Seventeen" and "Miles Away."
But to really rock as hard as it can, the Clovis Music Festival committee decided that combining forces with a rollin' event like Draggin' Main was the way to go this year. The Clovis Music Festival will be held on June 22 and June 23 at Marshall Auditorium as part of Draggin' Main's week-long festival. Now Clovis can legitimately rock and roll in the same week.
Click on the TICKET Button above to purchase tickets. Tickets for Buddy, Ritchie and Roy 50's Music Night on Thursday, June 22 are $20, and tickets for Winger and Firehouse on Friday, June 23 are $30.
For more information about the Clovis Music Festival or Draggin Main, please call the Clovis/Curry County Chamber of Commerce at 575-763-3435 or e-mail the chamber at infor@clovisnm.org.

Date and time
Location
Marshall Middle School
100 Commerce Way
(SEE "TYPE" BELOW FOR TICKET TYPE AND DATE)
Clovis, NM 88101