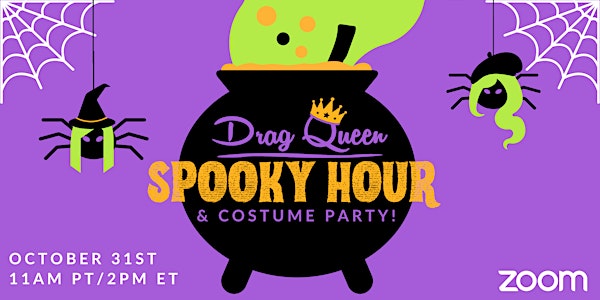 Drag Queen Spooky Hour!
Join us on Halloween for a super special spooky story hour!
About this event
This Halloween, Drag Queen Story Hour will turn into Drag Queen Spooky Hour! Pickle, Cholula Lemon, and Felicia Minor will read books fit for the season as well as lip-sync performances and sing-a-longs to children's songs!
Kids and families are encouraged to dress up in their own fabulous costumes for our costume party!
TICKET PRICING: We know these are trying times for everyone and your generous support is deeply appreciated. Please choose the ticket level you're most comfortable with. ALL ticket levels gain entry to the event. If you're feeling especially generous, feel free to include an add-on in your cart. Thank you!
As an organization that promotes social justice through cultural literacy, DQSH is committed to anti-racism and uplifting Black queer and trans voices. DQSH board member Black Benatar notes, "Pride commemorates legacies of diverse LGBTQ activism, marked by events like the 1969 Stonewall uprising, led by queer and transgender people of color. We stand in solidarity with the urgent work of the Movement for Black Lives, and are deeply committed to using the tools of storytelling and drag performance to support children in becoming anti-racist leaders and build a more just world."