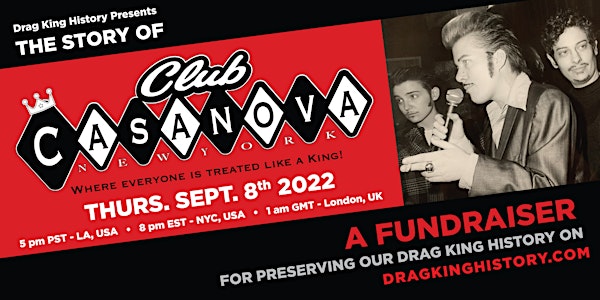 Drag King History Fundraiser: The Story of Club Casanova
Welcome to the Drag King History Fundraiser, an online event to raise funds for dragkinghistory.com
Refund Policy
Contact the organizer to request a refund.
Eventbrite's fee is nonrefundable.
About this event
SHOWTIMES:
5 pm PST - Los Angeles, USA
8 pm EST - New York, USA
1 am GMT - London, UK
ABOUT THE SHOW
Welcome to the Drag King History Fundraiser, an online event to raise funds for https://dragkinghistory.com/, a free, global, resource library for Drag Kings, researchers, historians, enthusiasts and fans.
Mo B. Dick and Ken Vegas began Drag King History in January 2018 with funds from a Kickstarter campaign. And now 4 years later as funds have dwindled, they are requesting your help. Proceeds from this fundraiser will go towards maintaining the website, acquiring research materials before they become obsolete, advertising on social media, and the overall continuance of Drag King History.
Drag King History provides visibility, empowerment and inspiration. Please know that every dollar counts.
During this event we will be sharing the story of Club Casanova, the world's first weekly Drag King party produced and hosted by Mo B. Dick. We will explore how Drag Kings emerged from a historical perspective, and showcase the immense influence Club Casanova had on the arrival of Drag King troupes, groups and collectives around the world.
Many notable Drag Kings got their start at Club Casanova including: Mo B. Dick, Dred, Murray Hill, The Kase Family, Labio, Sir Real, Evil Cave Boy and more. You will witness never before seen footage from Club Casanova shows filmed in 1997. Plus, you will be hearing from many of the former Club Casanova Drag Kings and those who were a part of the magic that paved the way for the advent of today's Drag King culture.
We are also selling limited edition Club Casanova tee shirts with the original logo from 1996 that was created by Scott Ewalt and reads: Club Casanova ~ Where Everyone Is Treated Like a King
Please join us for this landmark event that will inform, excite, and entertain you.
How do I watch the show?
Attendees will receive an email prior to the start of the show featuring a live streaming link on ZOOM which will be sent to you after you purchase your ticket.
If you cannot attend the event the day of, know that your ticket purchase will allow you to view the show until September 19th. You must purchase a ticket to view the show.
Purchase Information
Tickets are $25.
Ticket & *Tee Shirt = $60 domestic, $80 intl (includes shipping)
Extra Tee Shirt = $30 (includes USA shipping * You must order a Ticket & Tee combo for this to be valid.)
Extra Tee Shirt = $50 (includes International shipping. *You must order a Ticket & Tee combo for this to be valid.)
Pay What you Can = $5 minimum (for those financially strapped)
Donation in case you want to kick in more $
T-Shirt Orders
Once you choose your Ticket & Tee Combo, you will receive the order confirmation letter after you make your purchase. Click on the t-shirt order link, fill it out so we know your size and whom to send it to. Thank you!
---------------------
NOTES:
Tickets, tee shirts & donations will be on sale & available until Sun, Sep 19th
*You may purchase more than 1 tee shirt or purchase a tee shirt on its own. Tee shirt/s : will be shipped to you within 30 days
For those affected financially by the COVID-19 pandemic, we invite you to join us using our Pay-What-You-Can ticket option. Ticket value must be equal to or greater than $5