Drack Muse x SU Homecoming 2013

Friday, October 25, 2013 at 10:00 PM

-

Saturday, October 26, 2013 at 3:00 AM (CDT)

Baton Rouge, LA
Who's Going
Loading your connections...
Event Details
****TICKETS ARE AVAILABLE AT THE DOOR****
UPDATE #2
NEW START TIME: 10pm (and still going 'til 3 a.m.)
We will be filming for an upcoming project
Private tables available
Still "RATCHET-FREE" (you knew that already but I just like repeating it because it makes me smile)
TRAVEL TIPS:
If you haven't completed your travel arrangements yet and you're looking for a great deal, try the "Name Your Own Price" feature on Priceline's webpage. I did it and cut my travel expenses in half. It works!
SPECIAL NOTE: DO NOT DELAY THIS YEAR!
If you've attended any of my events in the past then you already know what to expect. And you also know not to delay on making your arrangements. HOWEVER, for the first time in recent memory, Southern University will share the streets of Baton Rouge with LSU as we both celebrate our Homecoming Week this year. That being said, not only should you purchase your ticket to this event NOW, you should also make arrangements for your hotel. For your convenience, we have reserved a block of rooms at the Belle of Baton Rouge that are available at a discounted rate. You'll see the link to the hotel discount on the confirmation page of your tickets.
Now, back to the show...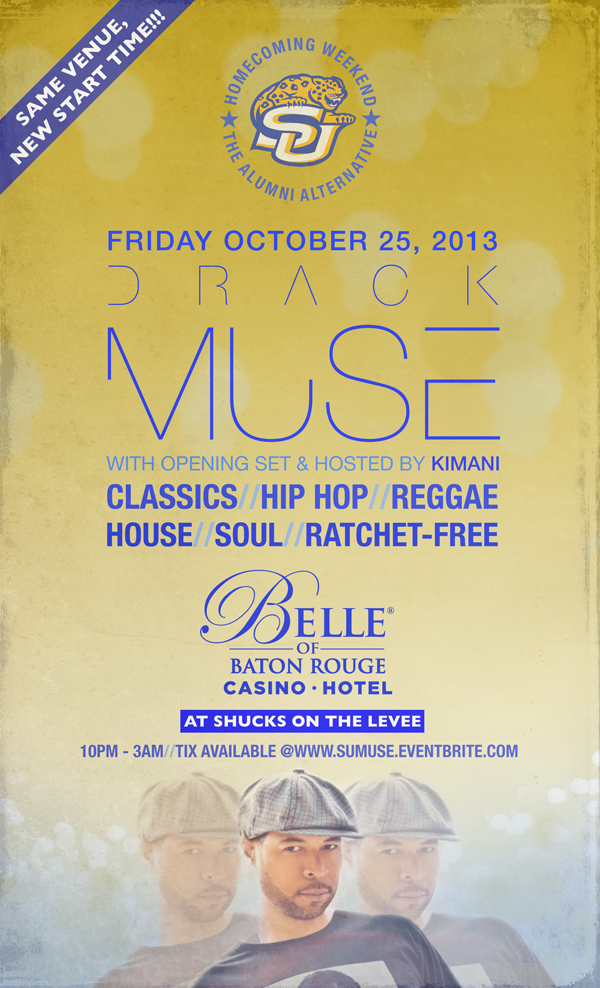 THE EVENT 
It all goes down at the Belle of Baton Rouge Hotel & Casino. Specifically, at Shucks on the Levee. There will be two separate bars and several areas to dip off and have conversations when you want to take a break from dancing (which will be hard to do). And joining me on the turntables and microphone is THEE voice many of you remember from those epic nights at Club Dreams back in the day... DJ Kimani, who has been rocking several clubs in Denver since we graduated. I also have some private tables available if your rolling with a larger party. Send me a private message on here and I will forward you a bottle price list.
THE MUSIC
I shouldn't have to say this but I'm going to make this very simple for you:
If you love artists like Kendrick Lamar, Andre 3000, Bun B, Lauryn Hill, Mary J. Blige, The Roots and various Hip Hop/R&B classics... then you're coming to the right place.
If you love artists like Gucci Mane, Chief Keef, Trinidad James or Waka Flocka... then this may not be your cup of tea. 
No disrespect to the latter artists mentioned because they definitely do their thing. It's just not my thing. Besides, there will be at least 5 other events in town that night where you can hear that. And even though Hip Hop and Classics will dominate most of the evening, I look forward to sprinkling in some House, Reggae, Soul and NEW joints. So, prepare for a journey from old to new and strictly "open format"!
THE PARKING
The Belle has a significant amount of parking. However, as I mentioned above, LSU is also celebrating their Homecoming that weekend. I suggest that you park and have dinner nearby to simplify your night. Hopefully, you will choose a hotel in the area so you can walk to the venue and avoid driving altogether (especially if you plan on drinking).
IN SUMMARY
That's all. Pretty simple, eh? There are some additonal FAQ's to the right of this page for more information. Oh... and I hope you don't mind taking pictures, so get that outfit together. You may look like a roll of quarters today but I'm sure you'll look like a bag of money come Homecoming. Haha! Either way, I look forward to seeing you all because it's been way too long. And, as always, thank you for your continued support. I owe my name to Southern University, the city of Baton Rouge and YOU!
In the groove, 
Drack Muse
Chicago | Los Angeles | Baton Rouge
When & Where


Shucks on the Levee (@Belle of Baton Rouge Hotel & Casino)
103 France Street


Baton Rouge

,

LA

70802

Friday, October 25, 2013 at 10:00 PM

-

Saturday, October 26, 2013 at 3:00 AM (CDT)
Add to my calendar
Organizer
Drack Muse
Kendrick "Drack" Muse celebrates 20 years in entertainment. After receiving his first set of turntables at age 14, Muse was soon invited to be a guest mixshow DJ at WKKC in Chicago while still in high school. From that moment he knew he would be a DJ for life.  While continuing his education at Southern University in Baton Rouge where he excelled as a Mass Communications major, he quickly became the go-to DJ on campus. His "invitation only" hip hop nights at Club Dreams became legend, and grew so popular that students were bootlegging his invitations. Not only did this legendary night help him afford to put himself through college, it afforded him another opportunity in radio. Upon graduation, he returned to radio at WEMX "Max 94.1", where he served as an on-air personality and launched the critically acclaimed hip hop show "The Sunday Headbob". Feeling the need to expand to a bigger market, he moved to Los Angeles to further his career in music. The move opened a whole new audience for him – one that was even more receptive to his unique, soulful style of performance. 
After moving to Los Angeles, it wasn't long before he landed his dream job with Universal Music Group, where he served for 7 years as the Licensing Specialist under the Universal Motown Record Group working directly with a wide range of artists from David Banner and Lil Wayne, to Erykah Badu and Melanie Fiona. He is a master of communicating with mainstream artists as well as those in the underground. However, his passion is communicating through music by moving the crowd on the dance floor. He has performed at countless high-profile events for artists like Prince, Patti LaBelle, Bernie Mack, Fader, Essence, All-Star and Super Bowl XLV to name a few. He is co-founder of Extra Mild Sauce, an event marketing team and creators of L.A.'s largest Soulful House Music Festival, SOULNIC. However, his favorite gig of all-time is being a husband and father of two.
Tuesday, August 20, 2013 - 9:58 PM
FAQ: 
Where is Shucks on the Levee?
Shucks on the Levee is a fantastic restaurant and lounge located at 103 France Street and is part of the Belle of Baton Rouge Hotel & Casino - the staple of downtown Baton Rouge's electric nightlife.  
Is there a dress code?
In the past we have always disliked, and rarely enforced dress codes at our events, but we enjoy making a positive impression as well.  I mean let's be honest, we're Alumni. We're on another level. I'll leave it at that.
Is this event exclusive to Alumni?
Yes... and No.  It would defeat the purpose to set up an event catered to Alumni if we opened this promotion to the general public. However, we realize that many of you may want to invite your spouse, family or friends so we'll leave the word-of-mouth promotion to you and keep this event "in the family". 
Can I pay at the door?
Of course you can.  However, we've also made tickets available to guarantee prompt entry and a minimal wait in line. With the buzz surrounding the amount of Alumni returning to take part in both Southern's and LSU's Homecoming festivities this year, we wanted to make your experience as convenient as possible and minimize the risk of you not being able to gain entry. Besides, space is limited and downtown Baton Rouge is expected to be bananas. We highly suggest you purchase a ticket NOW!
We also suggest that you...
This is YOUR moment so don't let this networking opportunity pass you by.  We'd love to know what you've been up to and how you've progressed since our days on the yard.  
 This is important! There are also hotels within walking distance but we'll have cabs ready for you if necessary. Either way, enjoy yourself and drink responsibly.
Thank you and GO SU!!!
Drack Muse
Extra Mild Sauce