Drack Muse Presents: Unity | SU Homecoming 2015

Saturday, October 17, 2015 at 9:00 PM

-

Sunday, October 18, 2015 at 2:00 AM (CDT)
Event Details
THIS EVENT HAS BEEN UPGRADED TO XO NIGHTCLUB IN DOWNTOWN BATON ROUGE! 
ALL TICKETS PREVIOUSLY SOLD WILL BE HONORED.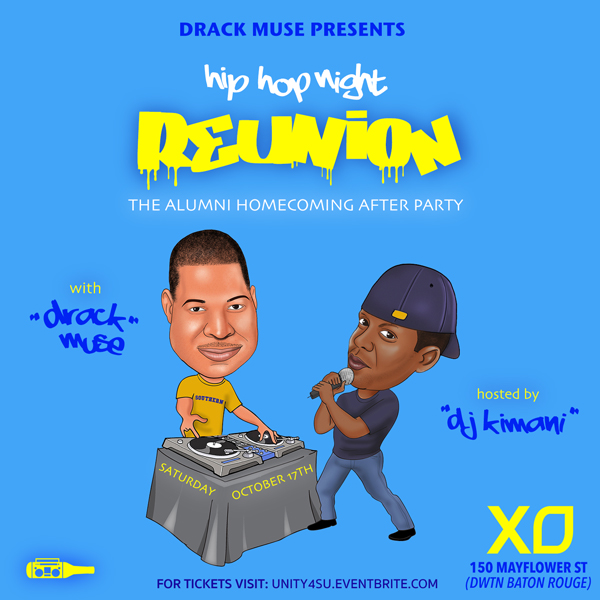 AWWW YEAH!
That time of year is almost upon us to reunite with our college friends who have now become family. And I'm excited to reunite with my longtime friend, DJ Kimani, for the first time since my "Invitation Only" Hip Hop Nights at Club Dreams. Kimani, along with DJ Nick T, were very instrumental in making that night iconic and I'm excited to share this flavor with the next generation of Alumni. And it's with a purpose as the theme this year is "UNITY".
My goal has always been to produce an electric atmosphere that will encourage us to connect, socialize and strengthen our bond. From there, my hope is that we will continue communicating with each other in an effort to positively impact both our beloved Southern University and our individual communities. As always, I am open for suggestions for involvement beyond Homecoming. That said, on with the event details...
THE EVENT
Last year, this event SOLD OUT. And so did the year prior to that. So you should already know not to delay with your plans. 
We appreciate the love and have listened to as many of your sugestions as we could in order to improve our reunion. So, there will be a couple of enhancements this year:
Door Sales -

Of course, we never enjoy turning people away (especially our friends who like to move late) so there will be a VERY limited amount of tickets available at the door. HOWEVER, if everyone purchases the full amount of tickets online (like last year), we can't help you. All we're saying is that we've opened space to accomodate more attendees but your best option is to purchase tickets here online.
Table Reservations -

This year, we are offering table reservations for groups of 6-10 people. When these tickets are made available, there will be details in the description on what's included. Again, online purchases are the way to go.
Wristbands - As with last year's event, you'll be able to pick up your wristbands in advance in order to streamline the entry process at the event. This will now take place at a few locations and these locations will be released closer to event day. 
THE MUSIC: More than a "Hip Hop Night Reunion"
This will be a special homage to the "Hip Hop night" that put me on the map. You should expect all your favortie classic jams from the 90s and 00s but don't expect to be in a time warp all night. DJ Kimani, who used to rock the mic for me at Club Dreams, will also be joining me for the first time since those days and we plan to take you on a journey with NEW classics and remixes spinkled into this musical pot of gumbo. 
THE PARKING
GET THERE EARLY! LSU also plays Florida this weekend. Park, eat, then come play with us!
MORE DETAILS SOON
In the groove, 
Drack Muse
Chicago | Los Angeles | Baton Rouge
When & Where

XO Nightclub
150 Mayflower St.
Baton Rouge, LA 70802


Saturday, October 17, 2015 at 9:00 PM

-

Sunday, October 18, 2015 at 2:00 AM (CDT)
Add to my calendar
Organizer
Drack Muse
Kendrick "Drack" Muse celebrates 20 years in entertainment. After receiving his first set of turntables at age 14, Muse was soon invited to be a guest mixshow DJ at WKKC in Chicago while still in high school. From that moment he knew he would be a DJ for life.  While continuing his education at Southern University in Baton Rouge where he excelled as a Mass Communications major, he quickly became the go-to DJ on campus. His "invitation only" hip hop nights at Club Dreams became legend, and grew so popular that students were bootlegging his invitations. Not only did this legendary night help him afford to put himself through college, it afforded him another opportunity in radio. Upon graduation, he returned to radio at WEMX "Max 94.1", where he served as an on-air personality and launched the critically acclaimed hip hop show "The Sunday Headbob". Feeling the need to expand to a bigger market, he moved to Los Angeles to further his career in music. The move opened a whole new audience for him – one that was even more receptive to his unique, soulful style of performance. 
After moving to Los Angeles, it wasn't long before he landed his dream job with Universal Music Group, where he served for 7 years as the Licensing Specialist under the Universal Motown Record Group working directly with a wide range of artists from David Banner and Lil Wayne, to Erykah Badu and Melanie Fiona. He is a master of communicating with mainstream artists as well as those in the underground. However, his passion is communicating through music by moving the crowd on the dance floor. He has performed at countless high-profile events for artists like Prince, Patti LaBelle, Bernie Mack, Fader, Essence, All-Star and Super Bowl XLV to name a few. He is co-founder of Extra Mild Sauce, an event marketing team and creators of L.A.'s largest Soulful House Music Festival, SOULNIC. However, his favorite gig of all-time is being a husband and father of two.
Drack Muse Presents: Unity | SU Homecoming 2015