Description
Hello Ladies,


All women from ALL across the country are INVITED and WELCOMED. Grab your Friends and Sisters to Set Sail and CELEBRATE #FAB50 with Dr. Tuesday.
What more to say...Except
...JOIN US for this EPIC learning fun Girl Time and Girl Talk for single and married women. Our goal is to sail with 50 FABULOUS Women! Be that girl and RESERVE your cabin NOW!!!
WHAT: Dr. Tuesday Presents the 2017 WOW Cruise

WHEN: Sunday, September 3 - Depart at 4pm thru Thursday, September 7, 2017 - Arrive at 8am - Flight back home should be book after 12noon
WHERE: Carnival Cruise ship embarking from Orlando, FL to the Bahamas
WHY: Celebrating & Equipping women because of all that we do


Dr.

Tuesday
Tate,
Host
Single Sisters Share
The Wealth of Waiting


***Guest Speaker TBA***
Women Wisdom for the Married Women
Helpmate Makeover
---


What's Included:
The fun is always good and a cruise just makes a vacation so much better.
Inside Cabin

$465pp (no windows) - After $100 deposit 4 installments (April-July, $91.25)

Ocean View $505pp

- After $100 deposit 4 installments (April-July, $101.25)

Balcony $585pp - After $150 deposit 4 installments (April-July, $108.75)

Education & Relationship Coaching

A portion of Trip may be Taxable because of #4 - Keep receipts and discuss with your tax person

Meals - Entertainment - Spa Access and much much more


DEPOSIT:
1st Deposit due by March 25, 2017
Monthly payments due by 15th
Final Due by July 1, 2017

***If you pay in full by June 3, you will receive a complimentary 3 Night Resort Stay***


What's Not Included:

Airline Ticket - Because Holiday, we encourage you to purchase this as soon as possible - Book return after 12noon

Transportation to the Airport and Orlando Cruise Port

Transportation from Orlando Airport to Port and back - Can be added by request

Gratuities of $52pp. REQUIRED. You can pay this in advance or register your credit card onboard. The gratuity is split between cabin steward and maitre'd.

Travel Insurance $49pp. HIGHLY RECOMMEND. This covers you in the event the Carnival Cancels the Cruise, during trip cancellations for e.g., weather, health.

Payment plans have been provided by Van Horn Vacations to help you attend this event
---
Day 1
Departs 4:00 PM
Welcome: Orlando (Port Canaveral), Florida | Sisters Set Sail
Day 2
Arrives Nassau 10:00 AM Departs 4:00 PM (Tendered)
Port of Call:

Nassau, Bahamas
Day 3
Arrives 8:00 AM Departs 5:00 PM (Docked)
Port of Call: Princess Cays, Bahamas
Day 4
Cruising . Cruising . Fun Day at Sea | Women on the Water
Sister Breakfast
Relationship Seminars: Singles Sisters & Married Women
All White Dinner Party
Cruising
Day 5
Arrives 8:00 AM
Port of Arrival: Orlando (Port Canaveral), Florida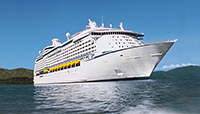 ---
FAQs
What is the refund policy?
Because this is a special group charter refunds are as follow:
Deposit is non-refundable - non-transferrable
What if I have an emergency before the trip
Trip Insurance is HIGHLY RECOMMENDED - Cost $49 +
What are my transportation/parking options for getting to and from the event?
You can make arrangements on your own for drop-off/pickup from airport or ask your travel agent for arrangements
Do I need a Passport?
United States Permanent Residents: are not required to have a passport.
You MUST have the following:
United States Permanent Resident Drivers license and original birth certificate or social security card). Must carry with you at all times. Please make a copy if you are doing this method.

A passport from your home country is suggested but not required. Cost only $110 and take 30 days to receive. Good for 10 years.
Can I contact people back home from the ship?
Your friends and family can contact the ship by calling (888) 724-7447. Or from outside the U.S. they can call (321) 953-9003. The cost is $7.95 USD a minute and can be charged to their MasterCard® or Visa®. From outside the U.S. additional long distance charges will also apply.
How can I contact the organizer with any questions?
Email: Soraya@vanhornvacationsllc.com, Van Horn Vacations, PO BOX 68505, INDY 46268,
Phone: 317-721-TRIP(8747)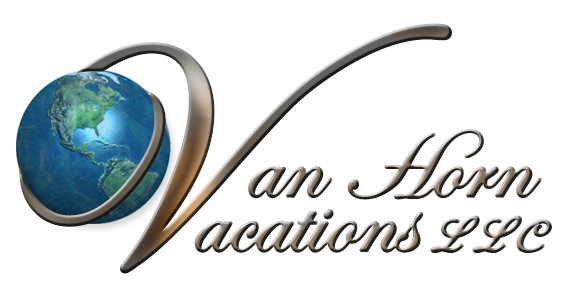 What does the price of my cruise include?
Ship accommodations
Ocean transportation
Most meals onboard
Some beverages onboard
Most entertainment onboard

How do I pay for onboard purchases?
All of Royal Caribbean International ships operate on a "cashless" system, meaning your boarding card, (also known as your SeaPass card), will be used as a charge card to make all onboard purchases. Normally to activate this SeaPass® account, most guests provide a credit card, (American Express, Optima, MasterCard, Visa, Discover and Diner's Club), to have these purchases charged to at the end of their cruise. Additionally, the SeaPass system may be activated with traveler's checks, debit cards with a Visa or MasterCard logo, or cash.
Are gratuities automatically added?
A: The gratuity is automatically added to each guest's SeaPass® account on a daily basis. In the unlikely event that a guest onboard being charged the daily automatic gratuity does not receive satisfactory service, the guest may request to modify the daily amount at their discretion by visiting the Guest Services desk during their cruise. Guests have the opportunity to adjust this gratuity at their discretion until the morning of their departure. Guests who have prepaid their gratuity will not see a daily charge during their cruise.
Can I bring liquor or non-alcoholic beverages (from home or from a port) onboard?
Guests are not allowed to bring beer, hard liquor, fortified wines or non-alcoholic beverages onboard for consumption or any other use on boarding day or while in port. Alcoholic beverages seized on boarding day will not be returned.

Guests wishing to bring personal wine and champagne onboard may do so only on boarding day, limited to two (2) 750 ml bottles per stateroom. Additional bottles of wine beyond two (2) bottles that are brought onboard or any alcoholic beverages purchased in ports of call or from Shops On Board will be stored by the ship and delivered to your stateroom on the last day of the sailing
Are there ID or minimum age requirements to enter the event?
22 years old