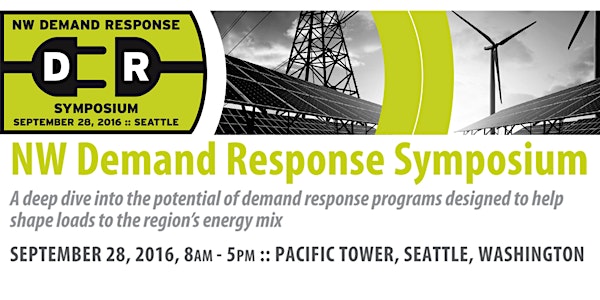 DR Symposium - SOLD OUT! OpenADR Workshop - Tickets Still Available
When and where
Location
PACIFIC TOWER 1200 12th Ave. South Seattle, WA 98144
Refund Policy
Contact the organizer to request a refund.
Description
The Northwest Power and Conservation Council's Seventh Power Plan found that demand response, which reduces peak demand, shifts loads, and can complement supply side resources, is the least-cost solution for providing new peaking capacity. The Council recommends that at least 600 megawatts should be developed to meet the region's peaking and system adequacy needs. To help make this a reality Smart Grid Northwest is hosting the Demand Response Symposium, in collaboration with the Council, the Bonneville Power Administration, regional utilities, demand response providers, and other stakeholders.
This symposium will also include the participation of the Pacifi­c Northwest Demand Response Project, which since 2005 has been the primary forum for researchers, regulators, and utilities to share information, build best practices, and overcome barriers to demand response in the Northwest. The conference is targeted for leaders at regional utilities who want to learn more about developing and implementing demand response. We expect around 150 professionals to attend this event.
Featured Sessions:
■ Demand Response in the 7th Power Plan
■ Drivers for Demand Response in the Region
■ The Future of Demand Response: Integrated Demand-Side Management, Automated Demand Response, Internet of Things, Transactive Energy
Programs & Implementation
■ Getting Started with DR – DR Defined
■ Residential Demand Response :: Behind the Meter DR
■ Commercial & Industrial Demand Response
■ Best Practices in Measurement + Veri­fication :: Why you Need M&V and how to Implement it Successfully
Planning & Policy
■ Overcoming Barriers to Demand Response in the Northwest
■ Open Standards and Interoperability :: How to use Smart Grid Standards Successfully
■ Energy Efficiency and Demand Response Nexus
■ Beyond Capacity: Demand Response for Transmission & Non-Wires Solutions
SOCIAL RECEPTION | SGNW ANNUAL MEETING
Following Smart Grid Northwest's annual meeting on September 27th, we will be hosting a social for attendees of the symposium to meet our members and network (5-8 PM). Join us to discuss smart grid advances in the region, potential new projects and collaborations, and how best to help demand response solutions evolve. The social is an opportunity to meet others attending the demand response symposium taking place the next day and strategize on how to make the most of that event.
OpenADR WORKSHOP, 8AM-1PM
The OpenADR Alliance and Smart Grid Northwest are hosting an Automated DR workshop on the morning of September 27 at the Smart Buildings Center. Join us for a condensed class focusing on the OpenADR standard, lead by Jim Zuber, chief test architect at QualityLogic. Learn more about the Alliance at: www.openadr.org.
LATE REGISTRATION TICKETS
TICKET PRICES WILL INCREASE ON SEPTEMBER 14TH, AND AVAILABILITY WILL LIKELY BE LIMITED
THIS SYMPOSIUM MADE POSSIBLE THANKS TO OUR SPONSORS + ENDORSING ORGANIZATIONS ::
LEAD SPONSORS


SUPPORTING SPONSORS
Edit
ENDORSING ORGANIZATIONS