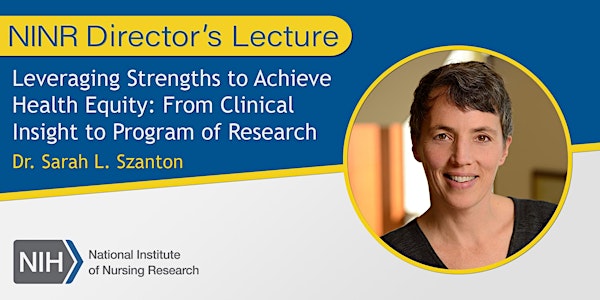 Dr. Sarah Szanton - Leveraging Strengths to Achieve Health Equity
NINR Director's Lecture
About this event
On March 4, 2021, Dr. Sarah Szanton will virtually present "Leveraging Strengths to Achieve Health Equity: From Clinical Insight to Program of Research" from 1:00 p.m. to 2:00 p.m. (ET).
In this NINR Director's Lecture, Dr. Szanton will discuss the role of the environment and stressors on health disparities in older adults, particularly those trying to "age in place." This event will be broadcast live and archived at: https://videocast.nih.gov/.
About the Speaker
Sarah L. Szanton, PhD, ANP, FAAN is Health Equity and Social Justice Endowed Professor at the Johns Hopkins School of Nursing. Szanton's work particularly focuses on decreasing barriers to "aging in place" including addressing social determinants of health such as financial strain and racial discrimination. She co-developed the Community Aging in Place—Advancing Better Living for Elders (CAPABLE) program, tested in trials and scaled to 32 sites in 17 States. She was the 2019 Heinz Award winner for the Human Condition and is a PBS "Next Avenue Influencer in Aging."
Szanton has a B.A. in African-American Studies from Harvard University, a BSN from Johns Hopkins School of Nursing, an MSN from the University of Maryland, and a PhD from Johns Hopkins University. She leads the NINR funded PROMOTE P30 Center. In addition to NIH, she has been funded by the CMS Innovation Center, the Rita and Alex Hillman, Robert Wood Johnson, John A. Hartford, and AARP Foundations.
About the Event
The NINR Director's Lecture Series brings top scientists from across the nation who are advancing nursing science in significant ways to share their work and interests with a trans-disciplinary audience at the National Institutes of Health (NIH) and the broader biomedical research community. For more information, visit the event page.
To request reasonable accommodations, please contact info@ninr.nih.gov at least five days before the event. Real-time captioning will be available via VideoCast by pressing the CC icon on the video player.