Dr. Regina Spellmon Unleashes Create in Motion A Weekend of Empowerment for Women

Saturday, December 10, 2016 at 10:00 AM (CST)
Event Details
Dr. Regina Spellmon will host a creative empowerment weekend for women along with her amazing panel of guests. We're going to make this a life changing weekend that you will never forget.
As the latest and most innovative style, music, and knowledge is unleashed, you will also have the opportunity to join the movement to get briefed on strategic intervention and education on how to end the widespread abuse, sexual violence, and exploitation of women. It's a weekend to unleash and learn how to create in motion. Parking is free, doors open Saturday at 9:30am. Our featured guests will share strategies that will benefit your mind, body, and soul.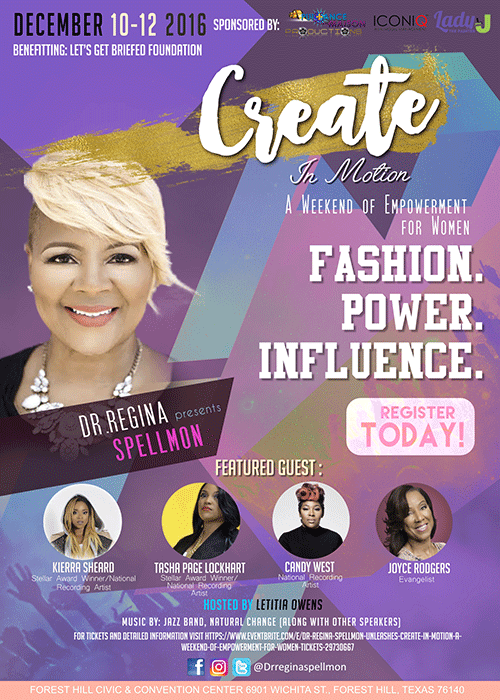 DAY 1: The Creative Mogul
Are you ready to shift the paradigm that has kept you from reaching your full potential?  Join us for sessions of equipping and empowering that will help you redefine your destiny!  You will be led on a powerful journey of self-discovery, unlocking and unleashing the greatness that is within you.  You will leave with powerful tools and strategies to build your personal legacy and destroy limiting beliefs.
One Day Event.  To be empowered. To be Inspired. 
Guest Speakers Dr. Veronica Cochran, Stefani Morrow, and our very own Dr. Regina Spellmon.
Location: Ambassador Today  6300 Nell St., Forest Hill TX. 
Doors open: 9:15 am. Event Starts:  10 am. 
DAY 2: The Creative in Motion
You don't want to miss this interactive, hands-on experience. Step into activity mode for Painting with a Twist (VIP style); Empowerment Moments, Live Entertainment, Fall Fashion Extravaganza, Food, and Fun all designed to teach you how to think inside and outside the box and use your natural creativity and ingenuity to develop your personal and professional brand.  Creativity creates possibilities…come explore your possibilities!
Dessert Mixer and Fashion Show.with Guest Artist Kierra Sheard and other performances. 
Location: Forest Hill Civic & Convention Center 6901 Wichita St., Forest Hill TX
Doors open: 4:00 pm.  Event Starts:  5 pm. 
DAY 3: The Creative 

Unleashed
You've been empowered and inspired, but maybe you're still not sure about what's next.  Here's where things get good. Now that you've been informed and inspired about your business brand's who, what, and how, we must ensure you understand your "when". You don't want to miss this extreme session of The Creative Unleashed.
Sacred Moments with Evangelists Joyce Rogers and Tasha Page- Lockhart and more. 
Location: Forest Hill Civic Center & Convention Center 6901 Witchita St., Forest Hill, Texas. 
Doors open: 6:15 pm.  Event Starts:  7:15 pm.

FEATURED GUEST 
Kierra Sheard
(National Recording Artist/Fashion Designer showcasing eleven60)
Tasha Page-Lockhart (National Recording Artist)
Candy West (National Recording Artist)
Guest speaker Evangelist Joyce Rodgers 
Stefani Morrow
Dr. Veronica Cochran
Music by: Jazz Band, Natural Change
Register Today!




Sponsored by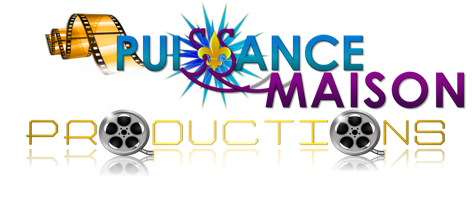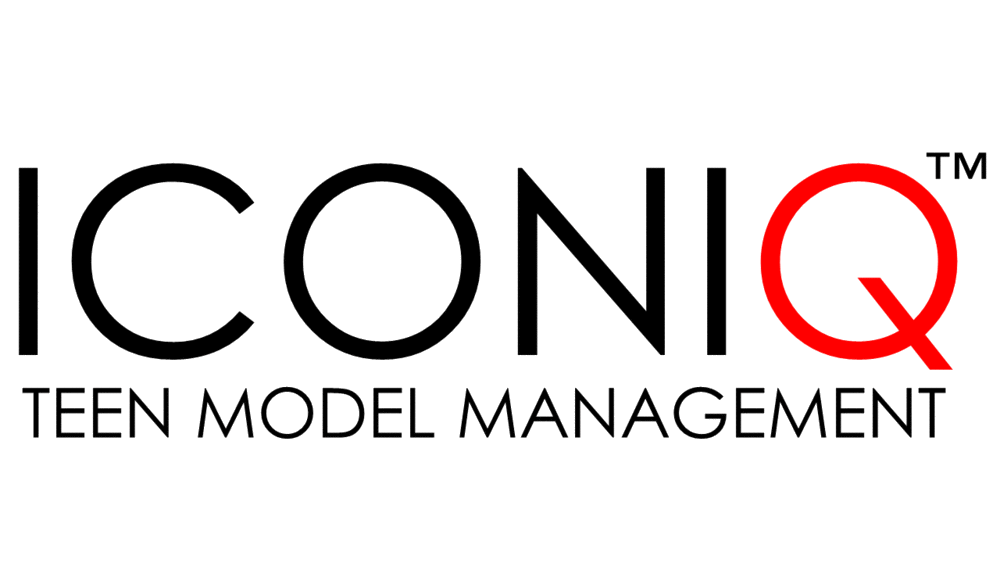 Benefiting
When & Where

Dec. 10 Held at Ambassador Today 6300 Nell St. 76119
Dec. 11-12 Held at Forest Hill Civic & Convention Center 6901 Wichita St.
Forest Hill, Texas 76140


Saturday, December 10, 2016 at 10:00 AM (CST)
Add to my calendar